Building your own home is an incredibly exciting prospect and has all kinds of potential for greatness. If you have been wanting to build a home but have been intimidated by the cost and time it takes, building a barndominium is a great alternative. However, if you want to build a great barndo, you need a great set of barndo floor plans. Specifically, 30X40 barndominium floor plans are an excellent option.
30X40 is one of the most common sizes for barndominium kits. Because of this, choosing from these 30X40 barndominium floor plans can help get you started on your design. Whether you want to combine elements of multiple versions or use one in its entirety, you can make something great. With these sets of 30X40 barndominium floor plans, you can be living in your custom dream home in no time.
Using a barndominium kits under 100k is a great option to cut costs and get your build going quickly once you find your dream floor plan.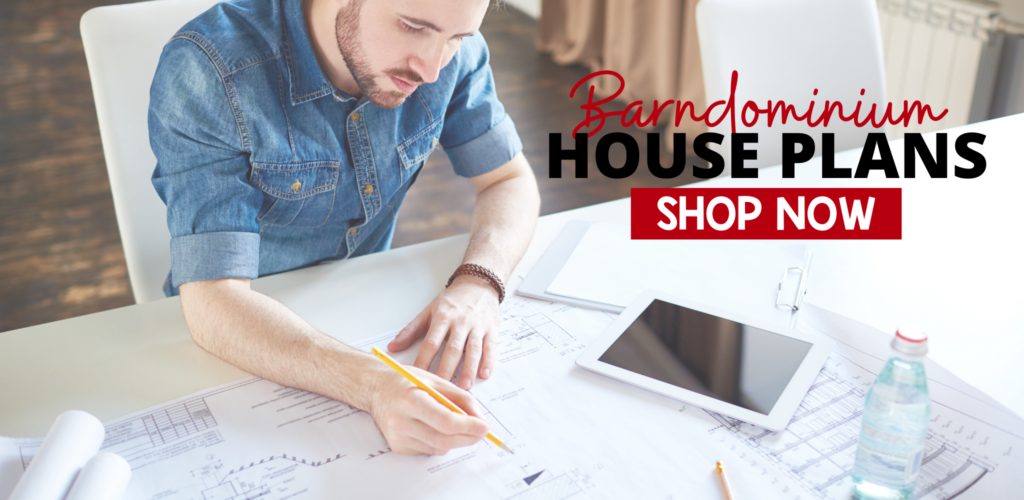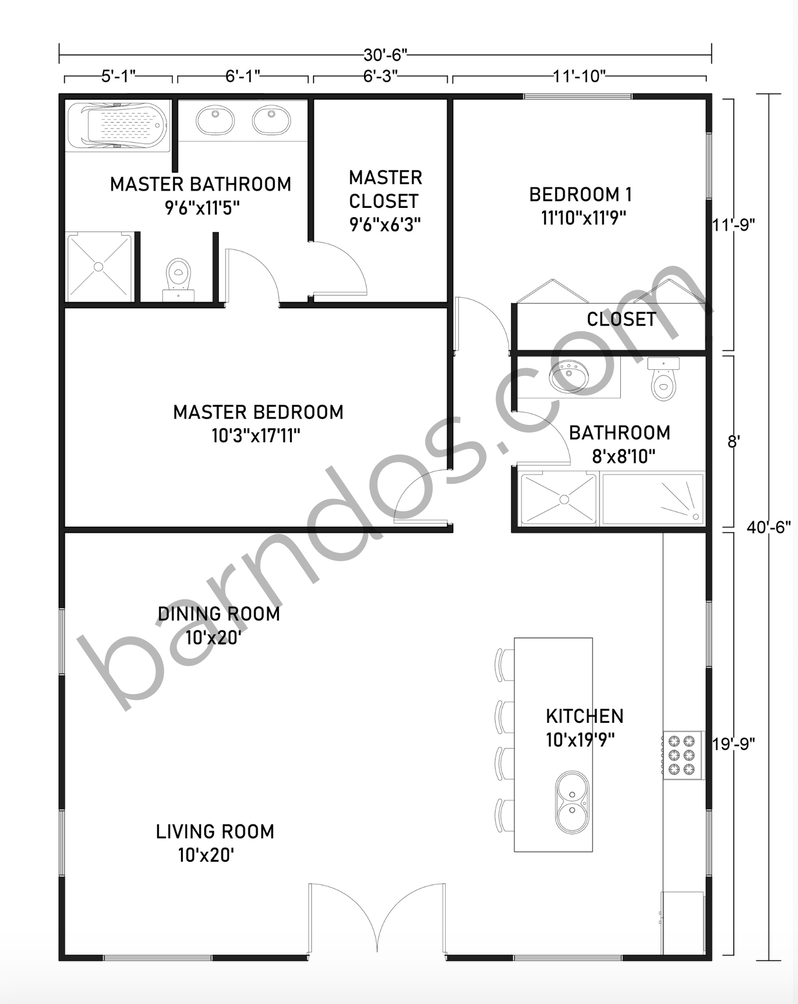 Being able to fit everything in one small space is one of the biggest challenges when building a barndominium. These 30X40 barndominium floor plans manage to include all kinds of versatility in one space. With a large living area and a massive master bedroom, it has everything you could need with a space for a family or individual. Plus, the open floor plan of the living area is great for people who want to entertain or have a lot of gatherings.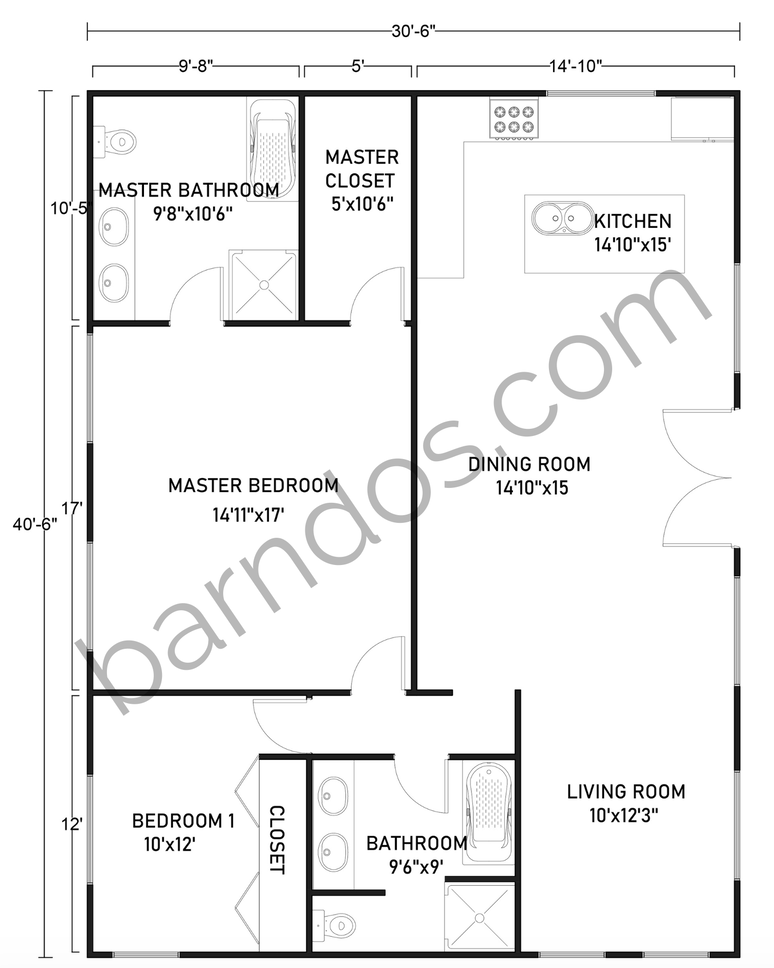 When thinking about your barndominium floor plan, it is essential that you don't get trapped in one way of looking at the design. This set of 30X40 barndominium floor plans is a perfect example of what can be done when you think outside the box. By sectioning off each side of the main area, this plan allows for large sleeping areas as well as living areas. It also has a nice flow that will be incredibly pleasant and functional.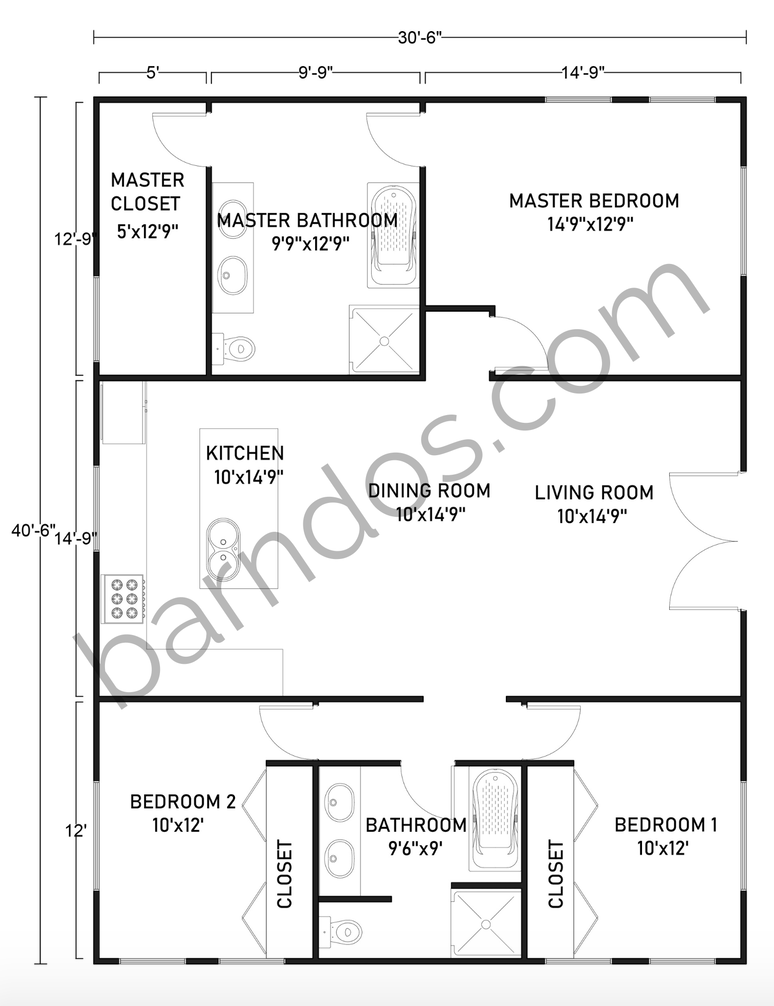 One of the downsides of working with a relatively small kit is that it can be difficult for everyone to get their own space. The last thing you want is for everyone to feel like they are living on top of one another. These 30X40 barndominium floor plans set the two bedrooms on opposite sides of the home. This makes it perfect for people who might have different schedules and want their own area for sleeping when the time comes.
Working with a relatively small area means you have to think up practical solutions for including everything you need. These 30X40 barndominium floor plans have a jack-and-jill bathroom for both of the bedrooms, which is incredibly convenient. Having these two entrances to the main full bathroom means you don't have to sacrifice space with hallways. Plus, with the half bathroom leading out to the kitchen, there is plenty of usable bathroom space.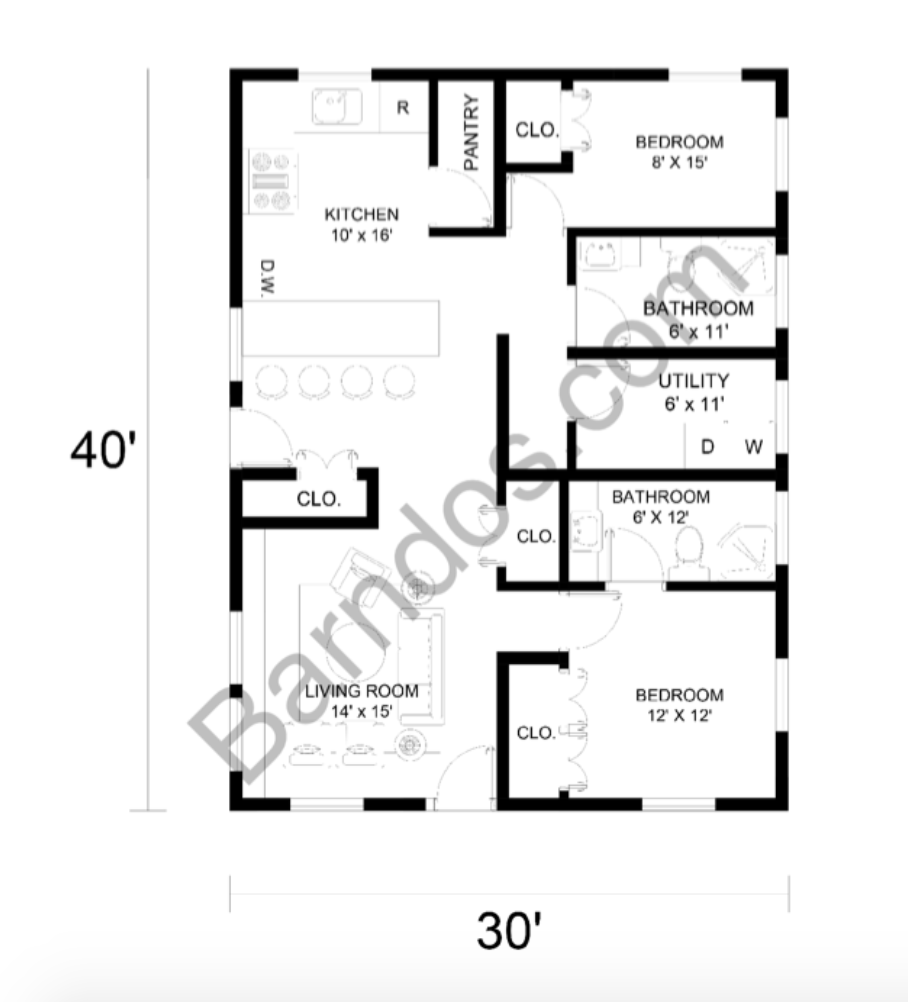 Sometimes, it can be worth it to include some walls for a better flow and a more private and separate space. For example, these 30X40 barndominium floor plans have a wall separating the living area and the kitchen. While most modern designs have an open floor plan, you are not limited to them. This is a perfect example of how you can create a nice, open space while still getting some separate areas for gathering and cooking.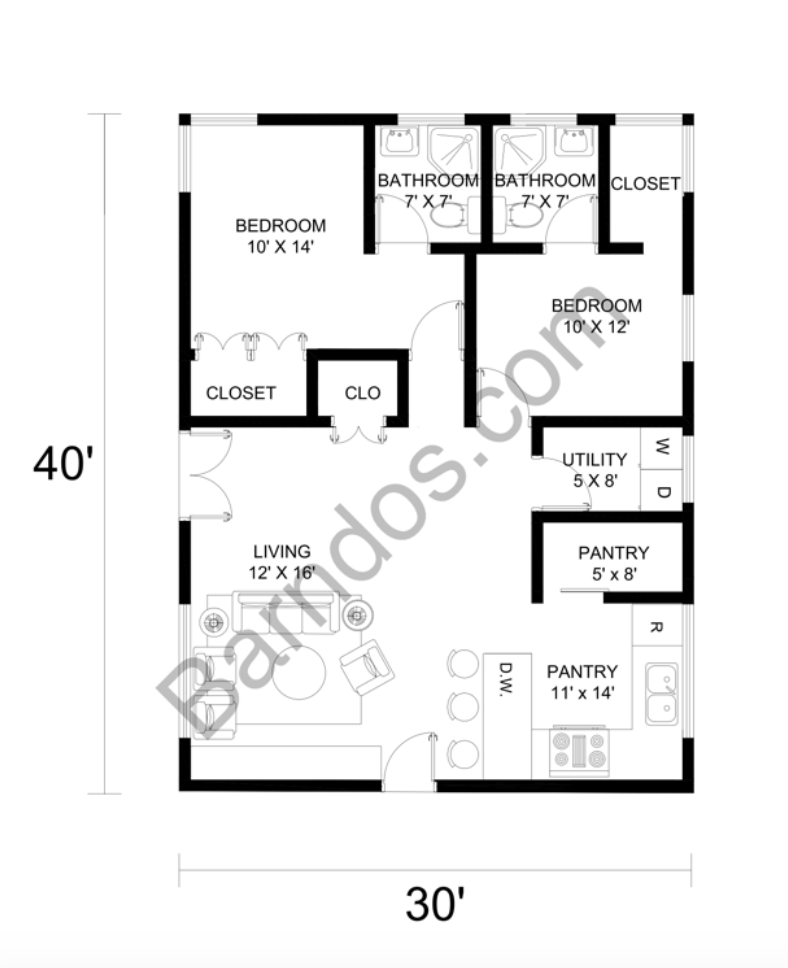 One important thing to remember when designing a barndo is that you need to have closet space. Even if it means giving up living space, you should not let this important consideration go by the wayside. This set of 30X40 barndominium floor plans has plenty of closet and pantry space. While some livable areas are sacrificed, it is worth it to have enough storage for all your belongings.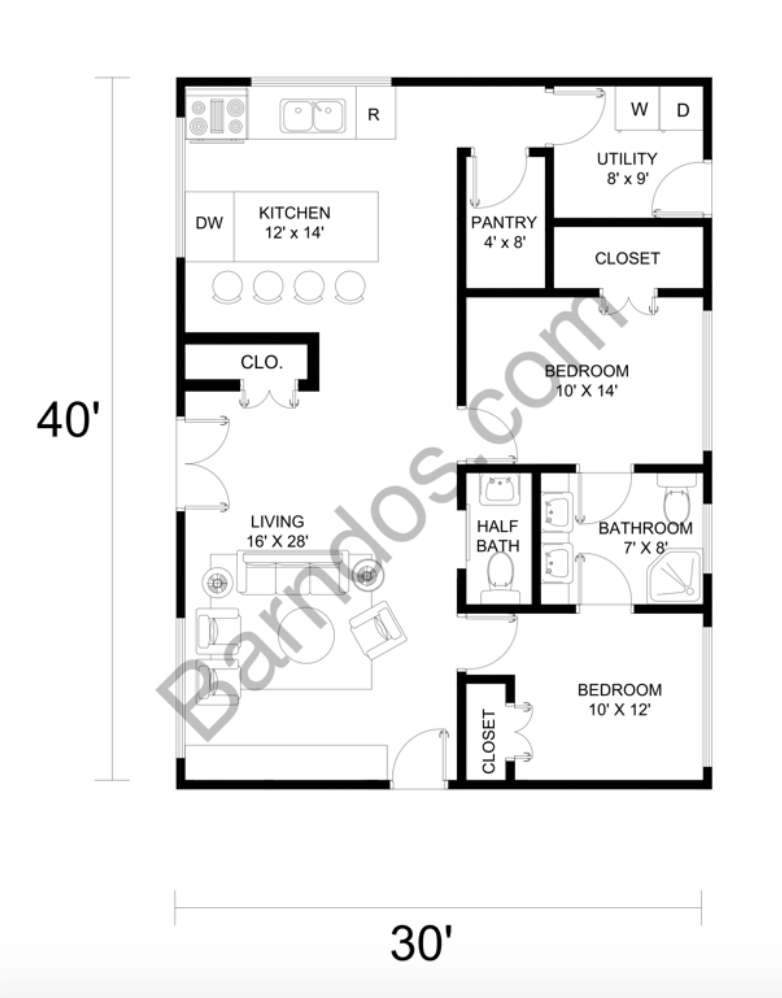 Multiple entrances and exits are something else you should always be thinking about when designing your home. These 30X40 barndominium floor plans have two doors for the living area leading outside. This is a great way to get a nice flow and allow for everyone to move about freely. Bottlenecks can be a big problem, and having multiple doors can prevent them.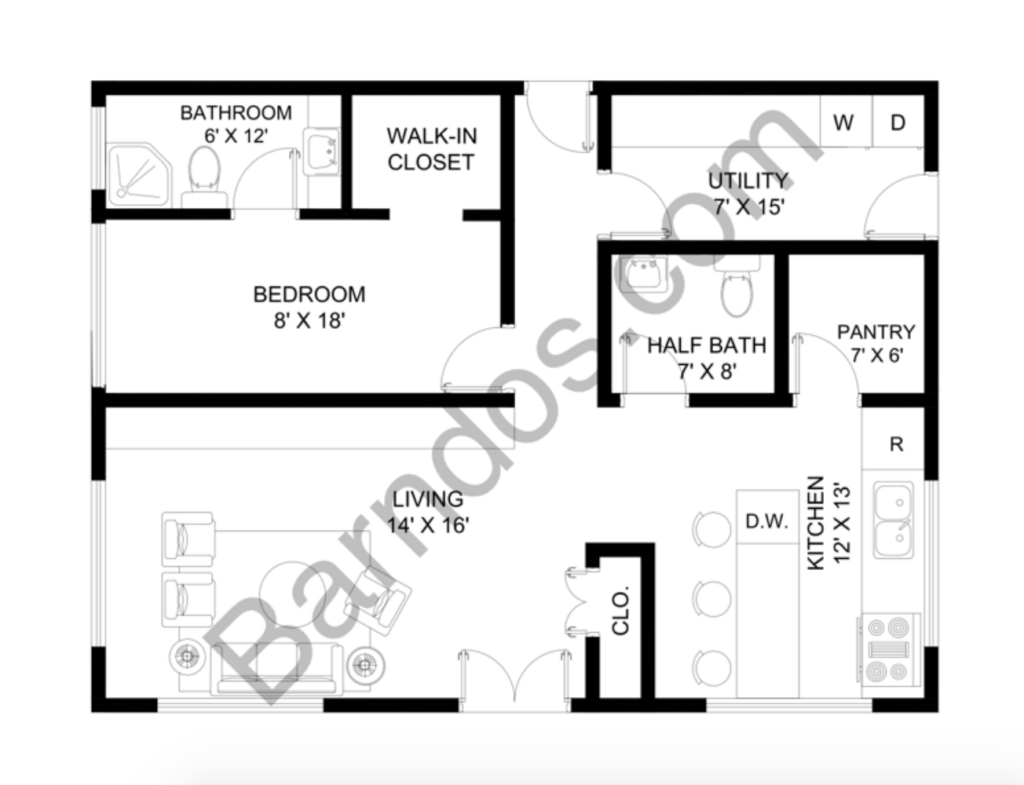 Depending on your situation, you may not need two bedrooms in your barndominium. These 30X40 barndominium floor plans include a large utility space instead of the second bedroom, which is incredibly useful. This space is versatile and very useful if you are a hobbyist or want some extra room. Plus, you can keep your washer and dryer in there and keep them out of sight.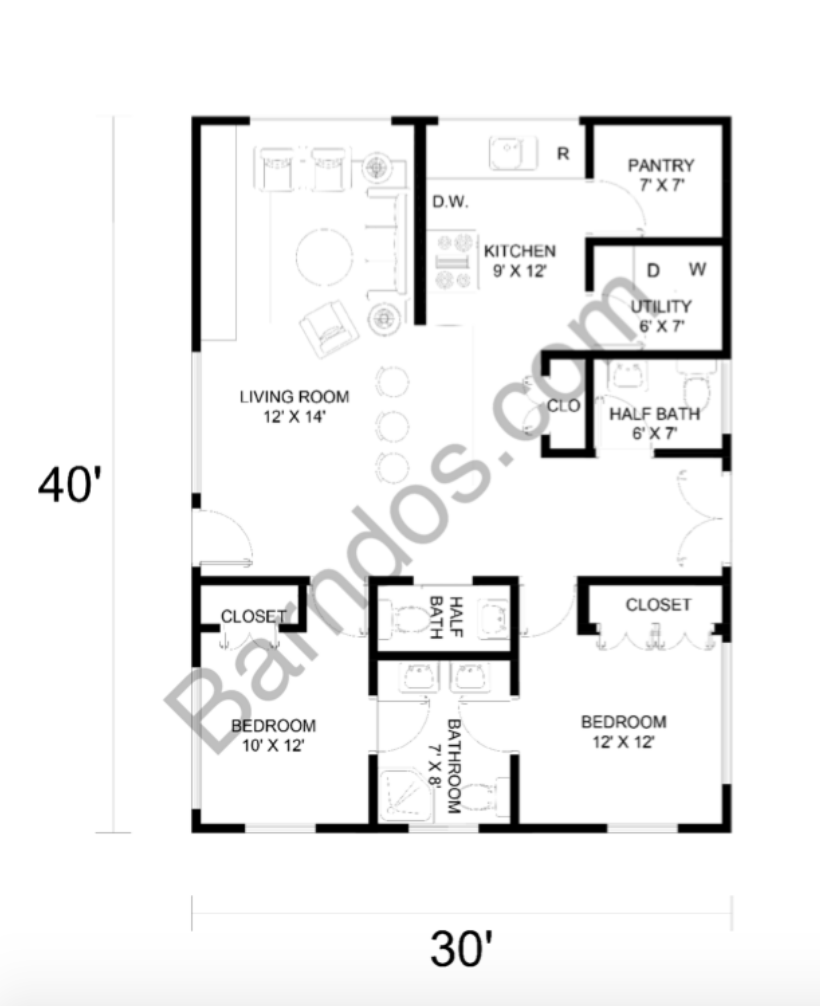 While living space and sleeping spaces are important, bathrooms are one of the things people care about the most. This set of 30X40 barndominium floor plans has two bedrooms and three bathrooms, which is a dream come true for many people. This way, each bedroom has its own bathroom while the third can be for guests, and the residents can maintain their privacy.
30X40 Barndominium Floor Plans #10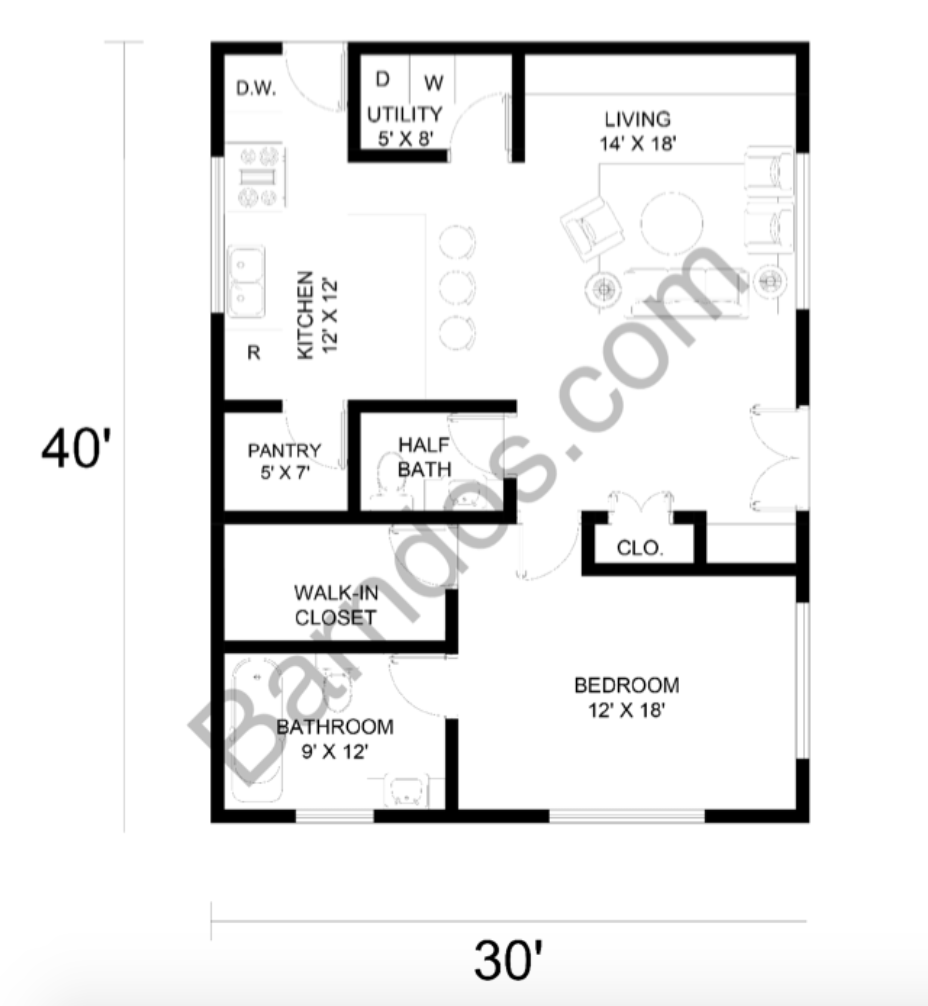 Combining rooms is a great way to make the most of your space. These 30X40 barndominium floor plans have a second smaller bedroom attached to the master. Plus, it has a walk-in closet, which is perfect for families and their storage needs. This way, the sleeping areas are kept completely separate from the rest of the home and have their own portion of the house.
Conclusion
Building a barndominium is an excellent way to get the home of your dreams without spending a fortune. Using these 30X40 barndominium floor plans, you can come up with the perfect design. With a little bit of imagination and a great floor plan, your home will be everything you have been dreaming of.
If you would like to learn more about barndominiums, be sure to check out the rest of Barndos.com. There, you will find all kinds of tips and tricks from the pros and helpful guides like this one. You will also find featured barndominiums to help get you inspired and thinking about your own custom home.