At the time of this writing, #barndominium on TikTok has over 100 million views and "barndominium" is searched for on Google more than 240,000 times each month. The appeal of barndominiums (aka barndos) stems partly from the open space they offer, which lends itself to customization and how they can be adapted according to your particular needs. So where do you begin in terms of designing your own barndominium? You can find barndominium floor plans online to provide inspiration or to build from directly. There are also a number of easy-to-use floor plan creator tools that enable you to make your very own barndominium design. These tools allow you to visualize, plan, and experiment with spaces and layouts, and how they're going to be used. This article provides an overview of the best barndominium floor plan software in 2023. Concise summaries of fifteen different options are listed to help you find a tool that best fits your needs.
Planner 5D lets you design your dream home in three easy steps. It has both a 2D and 3D mode that let you create the layout and design of your choice. You can then furnish and edit your designs using their roster of colors, patterns, and materials to customize your floor plan. Further, customize the look of your dream home with its Snapshots feature. The program is also compatible with all platforms, including Web, Windows, Android, macOS, and iOS.
Designed with amateurs in mind, Planner 5D has an easy-to-use interface, HD visualizations, 5000+ item catalog, and more.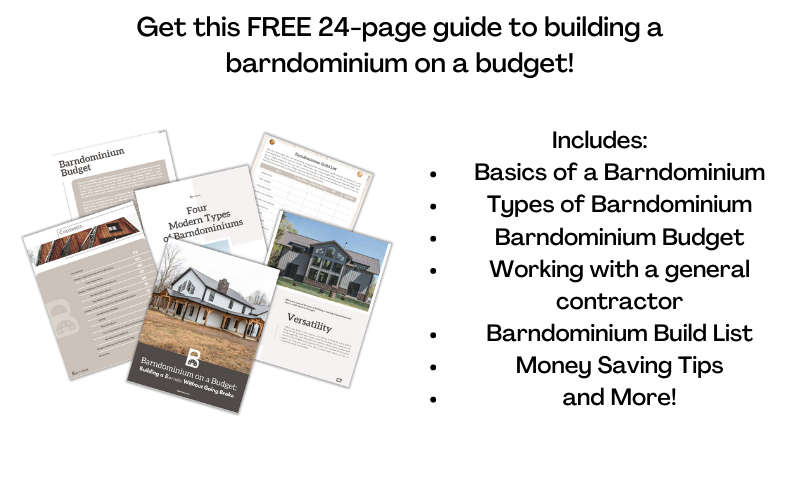 RoomSketcher is another easy-to-use downloadable app that gives you two design options for barndominium floor plan creation: create the plan yourself or order a design from their Floor Plan Services. RoomSketcher offers an interactive floor plan that you can edit online. It offers 2D and 3D floor plans that come with measurements and room names. It also has 3D visualization features including Interactive Live 3D floor plans and 360 views.
Floorplanner makes drawing 2D and 3D plans faster and easier. It lets you create accurate 2D plans that you can render in 2D or 3D. Additionally, it has over 150,000 items that you can use to decorate your plans, allowing you to better visualize your space.
You can choose from four Project Levels that you can upgrade with credits to unlock more features. Floorplanner is a browser-based program that's compatible with a range of devices, such as laptops and tablets. Best of all, it's free for personal use.
SmartDraw is a versatile tool that you can use to create a variety of projects, from flowcharts to color plans. It showcases CAD-like drawing abilities that let you create and print both architectural and engineering diagrams. It's backed by an Intelligent Formatting engine that lets you create and edit diagrams easily.
It can even be integrated with most tools, such as Microsoft Office, Google Drive, OneDrive, Dropbox, and more.
Floor Plan Creator makes creating and sharing floor plans a breeze. It's fast, precise, and multi-platform, allowing you to access projects using your smartphone or your PC. With it, you can create projects that have multiple rooms, have access to accurate calculations via its automatic calculation feature, and enjoy cloud synchronization to automatically save and back up your data.
Magic Plan is the only 100% app-based tool to make our list, but its functionality even for being just an app is excellent and it's easy to use. Created primarily for residential contractors to use in the field, it can also be used by regular, everyday people to casually create floor plans on their mobile phones. Magic Plan enables you to sketch 2D and 3D plans while saving notes and images along with each plan. You can also save your plans in various file formats like PDF, JPG, PNG, XLS, and more.
A popular smart 3D modeling software, SketchUp is used for 3D modeling projects. It lets you create models of buildings, landscapes, and even video game designs. It has a 3D Warehouse feature that lets users select models that they can use for their designs, from furniture to game pieces. There is a SketchUp Free version and a SketchUp Pro version, along with a host of other offerings such as SketchUp Shop and SketchUp Studio.
Cedreo takes designing projects to the next level and lets you create your own unique design in less than two hours. This easy-to-use software can be used by architects, home builders, interior designers, and more. Start designing your barndominium floor plan with Cedreo in just three simple steps: draw, furnish, and create.
Create your ideal interior design with Sweet Home 3D. It's open-source software that can run on Windows, macOS, Linux, and Solaris. Download the program to your computer or use it online and start drawing, decorating, and creating realistic photos of your dream house. Best of all, it's available in English and 28 other languages, including French, Spanish, Greek, and Japanese.
PlanningWiz is an online floor plan design software that lets you create both indoor and outdoor spaces. It has something for everyone, from individuals and interior designers to property developers and property managers. It's capable of handling multiple users and offers data visualization features.
Create 2D or 3D floor plans with relative ease with Homestyler. It's an online design software that showcases 1:1 furniture from real brands. It also has accurate measurements and lets you view your work from various angles. It has a completely free version that offers standard, HD, and ultra HD rendering capabilities.
This web-based floor plan designer offers an intuitive and straightforward solution to creating your barndominium floor plan. It's an ideal option for anyone who doesn't like interruptions of any kind. It's ad-free and has no limited period of access. One of its best features is it doesn't impose limitations on the number of diagrams and shapes that you create. It even supports collaboration and gives you and your team a cloud-based workspace.
Here's something simple, straightforward, and free for Windows users. The latest version Windows 10 carries both the standard and Paint 3D options. The latter is equipped with 2D and 3D tools that you can use to create a customized barndominium floor plan. Paint 3D has brushes, 2D and 3D shapes, stickers, 3D view mode, and a set of unique effects that help bring your designs to life.
Virtual Architect offers a bevy of design software that's geared toward specific projects. The roster includes home design software, landscape design software, and home remodeling software, among others. Its home design software also features a wizard-driven interface that's easy to navigate. You don't need to have prior design software experience to use this program. Not sure where or how to start a project? The software comes with free video tutorials to help you get started.
CAD Pro is a versatile design software tool that can be used for home designing, landscaping, mechanical drafting, and design projects. It's a powerful tool with a user-friendly interface that helps you save time and money. With CAD Pro, you can share your plans with clients, family members, or colleagues using cloud-based storage programs such as Dropbox and Google Drive. It also gives you access to a wide range of free plans and projects, including home plans, deck plans, and outdoor kitchens.