Building your own home is an excellent way to get everything you want out of your home. There are all kinds of ways to prepare, especially when building a barndominium, but having a solid floor plan is essential. If you know what you want from your home, a solid floor plan can help make it a reality. If you are looking for some 5 bedroom barndominium floor plans, it's important to try to use the very best.
In this guide, we have put together some amazing 5 bedroom barndominium floor plans. With a good floor plan in place, you can worry about how the rest of your custom home is going to come together. These 5 bedroom barndominium floor plans will help get you inspired or give you a great plan to work from. However you use these incredible floor plans, you can live in your custom dream home in no time.
After you find your dream floor plan consider a barndominium kit, with so many size options like 2 story barndominium kits or barndominium kits under 100k you will find the one to speed up construction and lower overall costs of the project.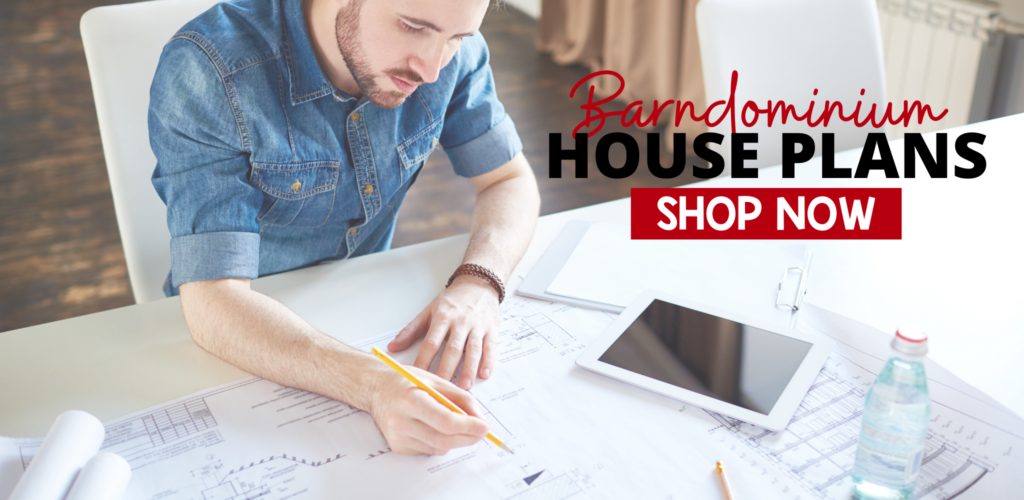 Indulge in the epitome of spacious luxury with this stunning 2358-square-foot house plan. The balance of design and convenience ensures a living experience that is both sophisticated and practical. Boasting 5 bedrooms and 4.5 bathrooms, this single-story residence combines elegance with functionality, creating a harmonious living space. The open-concept design invites a seamless flow between rooms, fostering an atmosphere of connectivity and comfort. With a thoughtful mudroom addition, practicality meets style, providing a designated space to manage the transition from the outdoors.
PL-62509 seamlessly blends style, functionality, and comfort, making it an ideal choice for a spacious and well-appointed home. With ample bedrooms, multiple bathrooms, office space, and a three-car garage, this floor plan caters to the diverse needs of modern living while exuding an air of elegance and sophistication.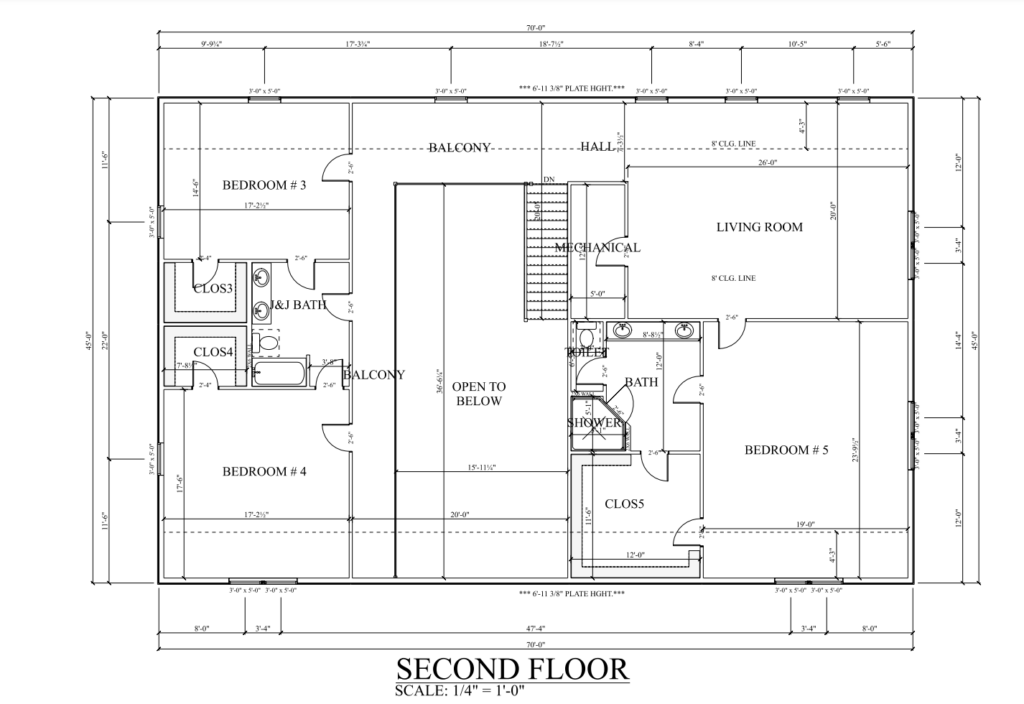 The PL-62511 Morgan Barndominium is an impressive two-story home spanning 6,300 square feet. It features five bedrooms and four bathrooms. The main floor offers a well-designed layout with a spacious open-space family room, dining area, and kitchen, creating a warm and inviting atmosphere. The kitchen includes a sizable pantry and a craft room for creative pursuits or hobbies. Upstairs, the second floor provides a loft-style living room for relaxation and entertainment. The bedrooms are strategically placed to ensure privacy and comfort for each family member. Overall, this floor plan offers an exceptional opportunity to create a stylish and harmonious living environment.
If you have a big family, it is crucial that you have enough room for everyone to have their own space. These 5 bedroom barndominium floor plans have large bedrooms as well as an amazing, open living room space. On top of that, it also features a large veranda, which gives you a lot more usable space for gatherings or day-to-day living. The unique kitchen island and dedicated dining space are perfect for all kinds of applications no matter what your plans are.
On top of the bedroom space in these 5 bedroom barndominium floor plans, there is also plenty of usable storage space. A massive four-car garage leaves plenty of room for projects or storing your vehicles such as boats or four-wheelers. It also has a large back patio which is perfect for warm summer nights or barbecues with the whole family. Having these extra areas for your family or your own projects can really make all the difference.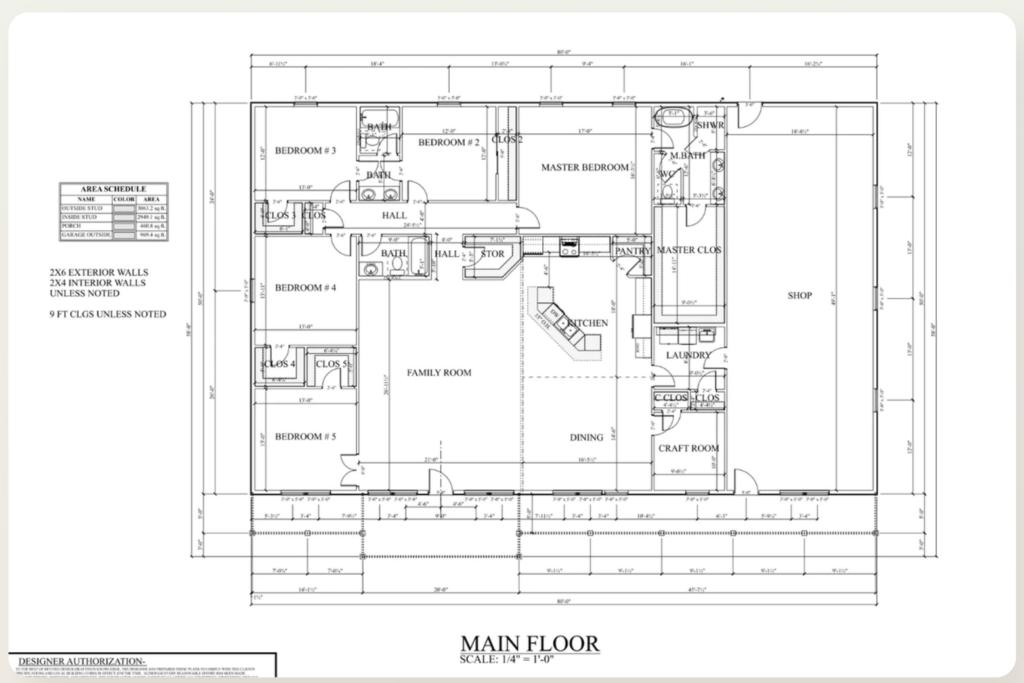 If you are going to keep your barndominium clean, it is crucial that you have enough storage space. These 5 bedroom barndominium floor plans include a huge master closet, which is perfect for all kinds of storage needs. It also includes an attached shop that is on the other side of the home from most of the bedrooms. This makes it ideal for people who work from home and want to get some work done without disturbing the rest of the house.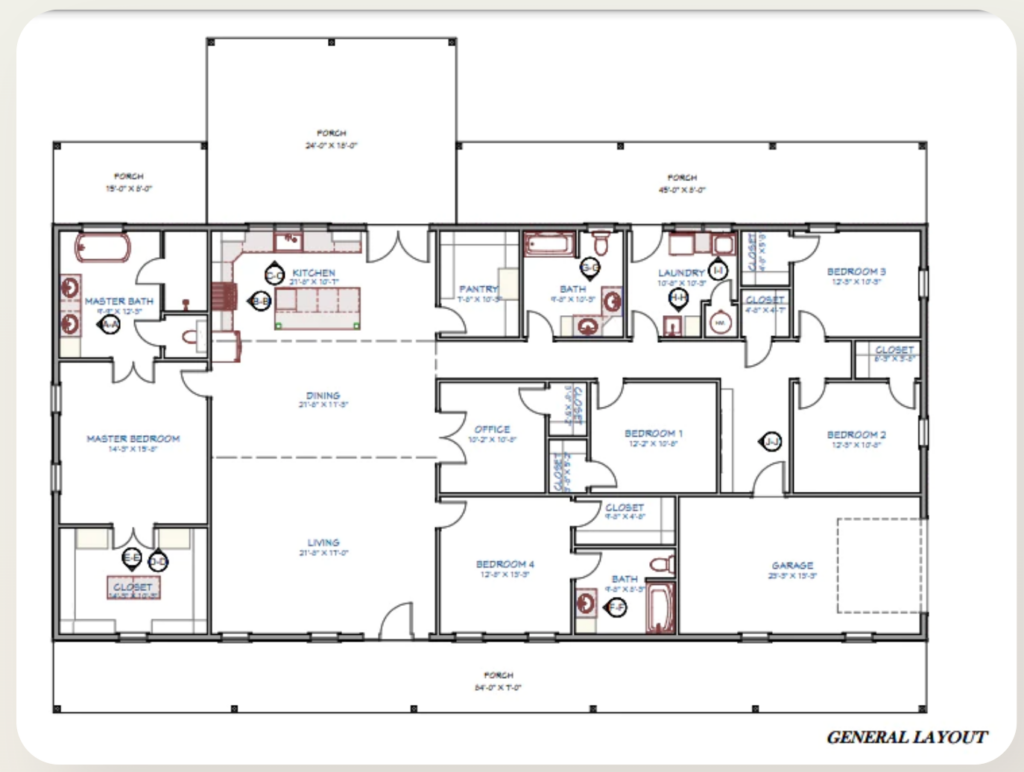 Unique layouts can offer all kinds of benefits to people who want to make the most of them. These 5 bedroom barndominium floor plans include an interesting layout with a large hallway that wraps through the bedroom area. With one of the bedrooms butting up against an office space, this is a great option for people who tend to work from home. Plus, there is a dedicated entrance to the garage, which can be perfect if you want access from both areas of the home.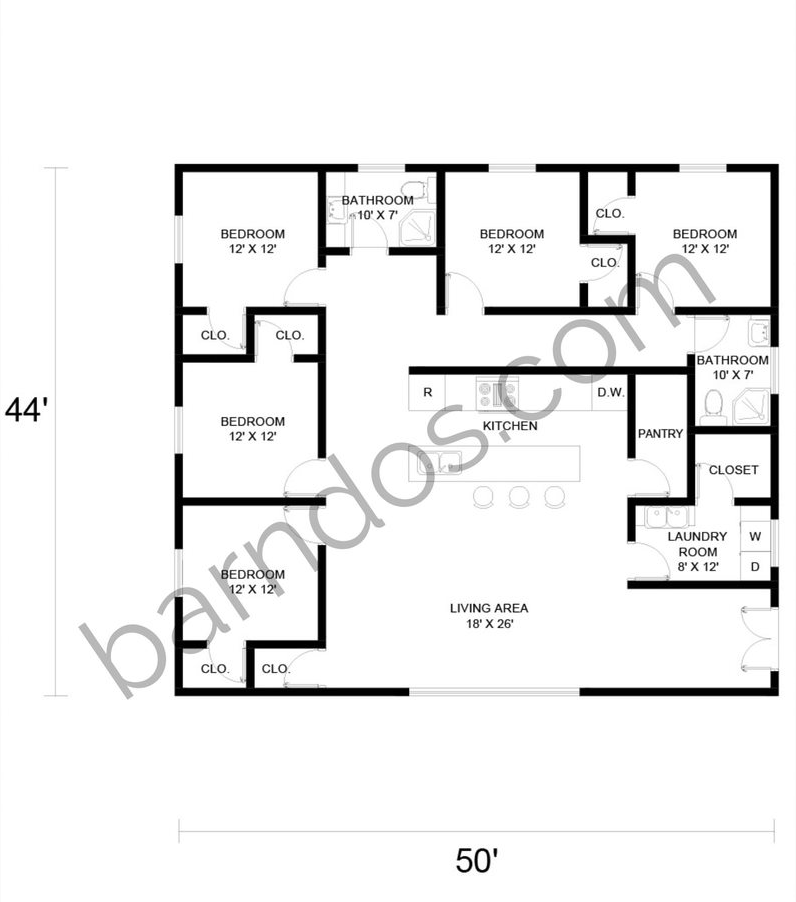 Having a large living area is crucial if you want a place for the whole family to get together. These 5 bedroom barndominium floor plans include a living area right in the middle of all the bedrooms. Plus, it has two bathrooms, which is an essential inclusion for those with a large family leading busy lives. This, and the ample closet space, makes for an excellent set of 5 bedroom barndominium floor plans.
One thing to remember when building a barndominium is that they don't have to conform to any rules. If you have a kit that is long and thin, you can still include five bedrooms if you have a need for them. These 5 bedroom barndominium floor plans include a large living area as well as plenty of sleeping space. With a fairly large laundry room and an open floor plan, it has everything you need for your home.
When planning out your five bedroom barndominium, the kitchen is a crucial consideration. These 5 bedroom barndominium floor plans include a glorious kitchen island with bar seating. This, combined with the open floor plan makes for a very social, fantastic seating and cooking situation. Mixing this with the large living area is a great way to give yourself the space you need for your gatherings or daily get-togethers.
Making the most of your living area is an important part of putting together 5 bedroom barndominium floor plans. Having a large space for everyone to gather is essential because of the individual rooms that take up so much space. These plans include almost half the floor space as a living area. This makes them a great choice for people who want a little more space for family gatherings.
Any member of a large family knows that having enough bathrooms is incredibly important. This floor plan has three bathrooms so everyone can have space in the morning. With a half bathroom right across from a full one, no one will be left out during the morning routine.
If you work from home, having a space to call your own that is just for work is essential. This floor plan includes a large home office or craft room that you can use for work without infringing on your sleeping space. If you want to be as productive as possible, separating these two can be very important.
Using hallways effectively is such an important part of designing a barndominium floor plan. This plan specifically places the laundry room in the middle of the home. Because of this, the rest of the home can rotate around it without losing much space for bedrooms and living space.
Conclusion
Building a barndominium is a great way to get your dream home. With a good floor plan, you can build something that will serve you well for many years. An excellent layout is a great start for your custom home.
If you would like to learn more about barndominiums, be sure to check out the rest of Barndos.com. There, you will find all kinds of tips and tricks from the pros and helpful guides like this one. You will also find featured barndominiums to help get you inspired and thinking about your own custom home.