Building your own barndominium from scratch can be an excellent way to get the home of your dreams. However, the process of a home building project is a challenge and needs to be properly prepared for. Part of this is making sure you have the right barndominium floor plan in place, especially if you are working with a relatively small or uniquely-shaped area. 50×100 barndominium floor plans can be challenging to design correctly and need to be well thought out.
To help get you started on your journey to your barndominium build, we have put together a collection of the best 50×100 barndominium floor plans. You can either use these as inspiration or use them directly, depending on your needs. With the right floor plan, your home can feel comfortable and roomy, no matter what. Knowing that you have set forth the right layout, your home will be perfect for you and your family.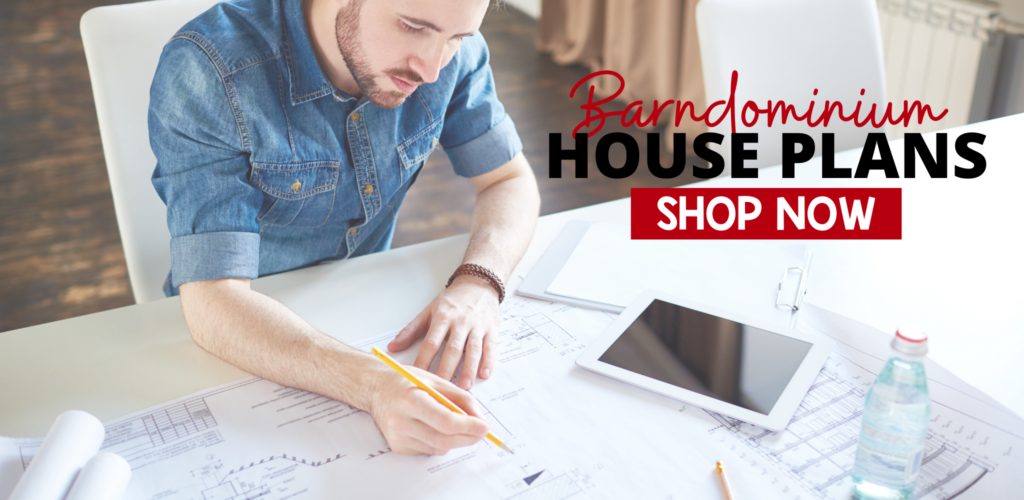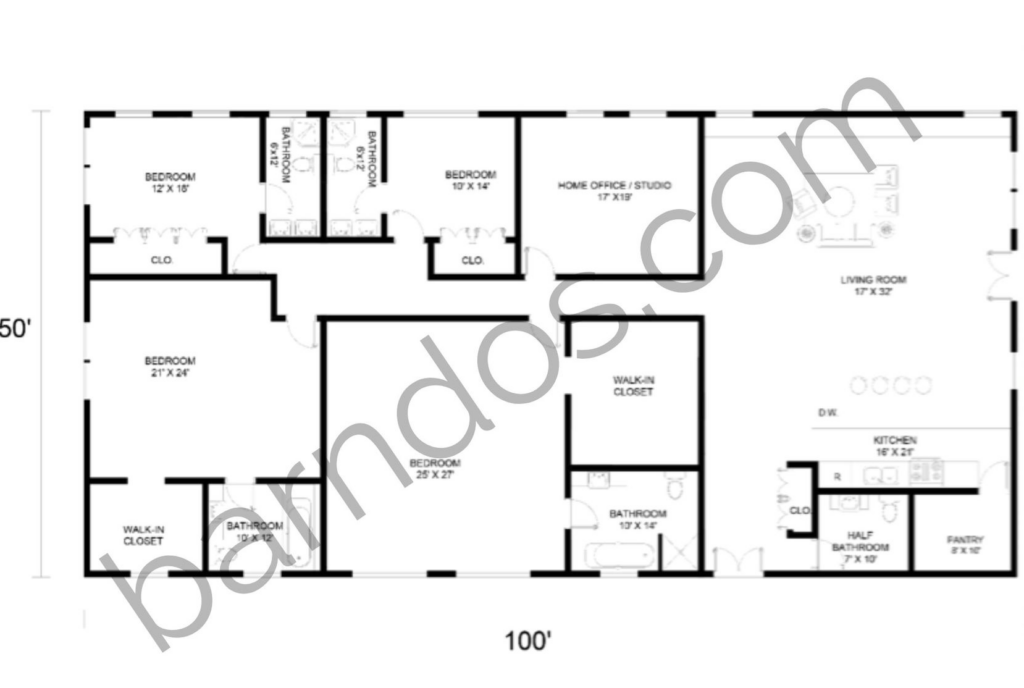 When working with a long, thin footprint like you are with 50×100 barndominium floor plans, hallways are crucial. These plans have a long hallway leading from the living area to the back of the home. The bedrooms are all located off this hallway, which creates a nice sense of separation. Plus, with the two entrances in the living space, there is very little possibility of a bottleneck, which prevents cramping.
You don't always have to have all the bedrooms in your home right next to one another. While having all the sleeping spaces in one area can be nice, it may not be the right choice for your family's needs. These 50×100 barndominium floor plans have bedrooms on either side of the living area. This is perfect for families who might have different schedules and need to have a sense of separation.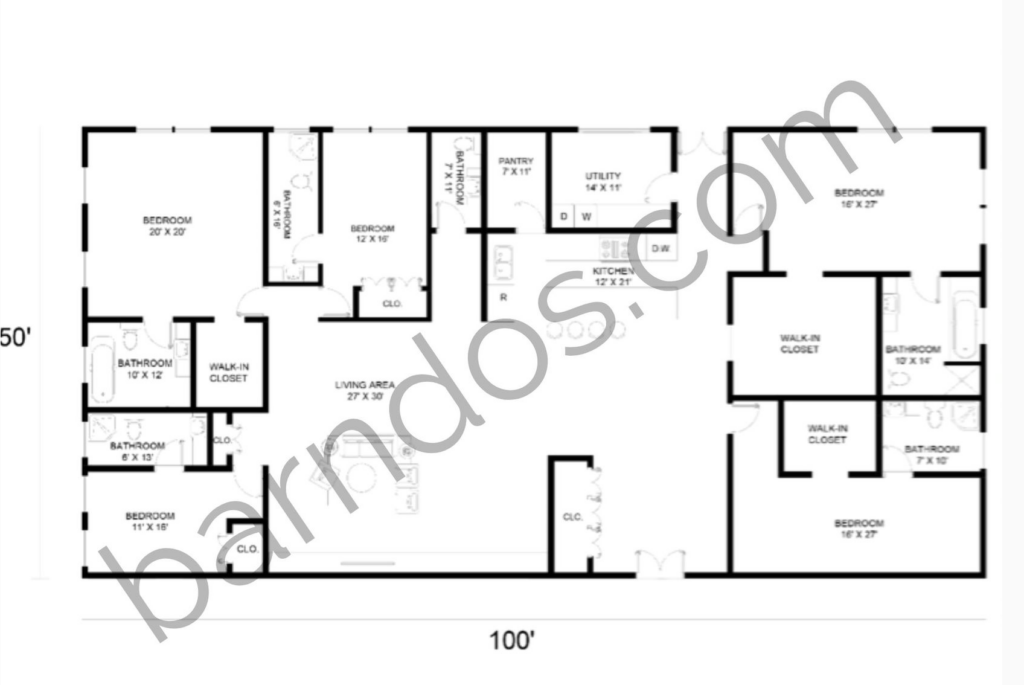 One of the most important aspects of a barndominium is the storage space that is available. Storage and closet space will play a big role when it comes to whether or not your barndominium feels cluttered. These 50×100 barndominium floor plans have a massive walk-in closet in one of the bedrooms. On top of that, there is plenty of closet space in the rest of the rooms as well.
When designing 50×100 barndominium floor plans, functional space is crucial. This plan has a large utility room off the kitchen, which can be used for all kinds of purposes. Whether you need a space for your washer and dryer or just a craft room, a utility space is a great option. This plan also includes a walk-in pantry, a dream come true for any home cook.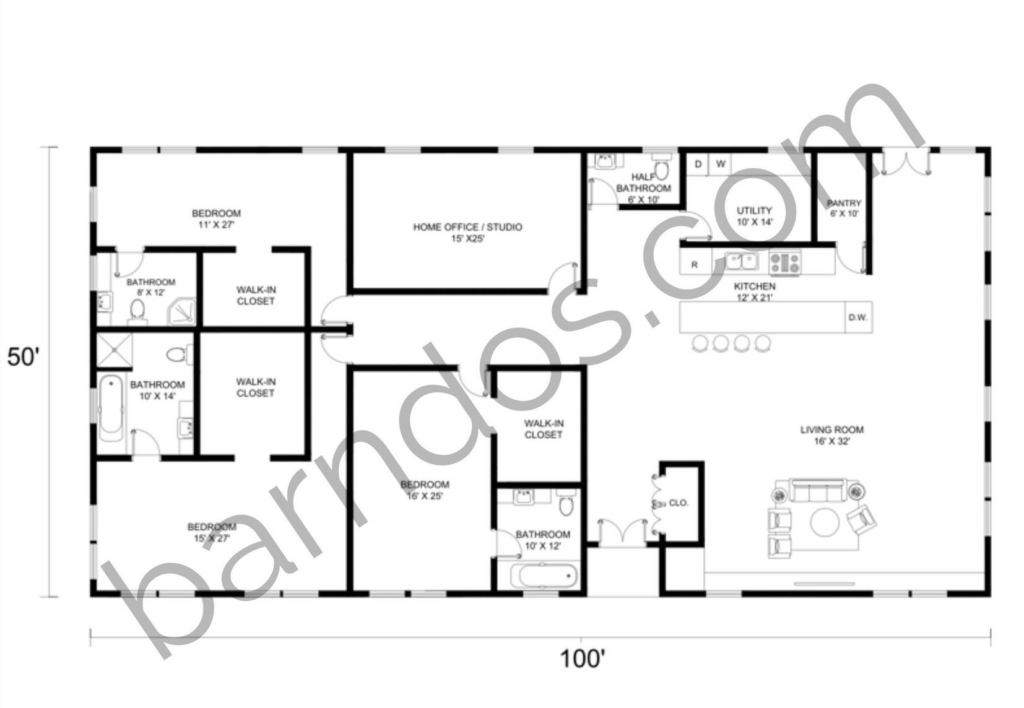 It is important to remember that not all room spaces have to be sleeping spaces. Sometimes, you may want to include an office space or extra room that can have that versatility. This plan includes a large office space that is perfect for anyone who works from home. Plus, in a pinch, it can be used as an extra guest room.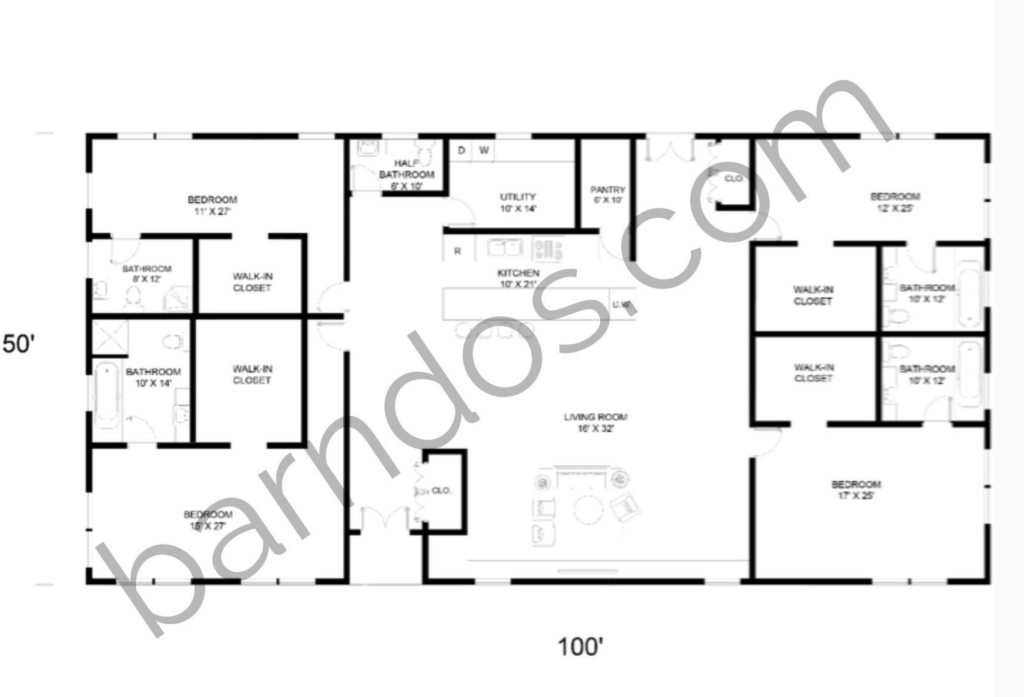 Flow is an important consideration with all 50×100 barndominium floor plans. This plan has a perfectly balanced feel with bedrooms on either side of the living area. While the bedrooms are different sizes, they all have the same amenities. This makes this a perfect plan for people with big families who need to accommodate them all.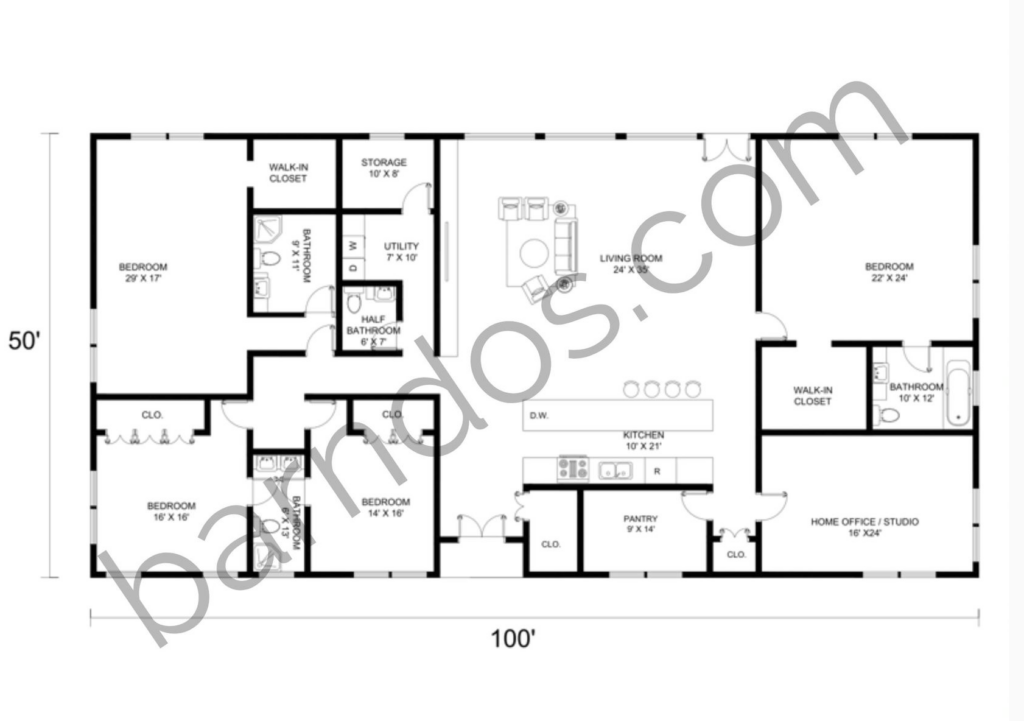 In some cases, you may not need as much living space as others. If this is your situation, you could be better off delegating more space to bedrooms and offices. These 50×100 barndominium floor plans have four bedrooms plus a large home office. While the living area is slightly smaller, this could be more than workable for many families and individuals.
Conclusion
Building your own home is an incredibly exciting undertaking and a great opportunity for creativity. With the right planning and preparation, you can be certain that your home will be suitable for you and your family. These 50×100 barndominium floor plans are a great starting point and can offer the inspiration you need to get your project rolling. With a little bit of imagination and dedication, you can be living in your perfect dream home in no time.
If you would like to learn more about barndominiums, be sure to check out the rest of Barndos.com. There, you will find all kinds of tips and tricks from the pros and helpful guides like this one. You will also find featured barndominiums to help get you inspired and thinking about your own custom home.