Building a barndominium can be an incredibly exciting project with a lot of possibilities. However, you might be thinking that a barndo requires you to give up certain aspects of building a home. The truth is, you can have anything in a barndominium that you would have in a traditional house. That is something that these barndominium floor plans with a garage prove.
This set of barndominium floor plans with a garage includes all kinds of designs and layouts. Depending on how many people are in your home and what you need in terms of space, one will be perfect for you. By having a solid floor plan in place, you can get everything you need for your barndominium. These barndominium floor plans with a garage can help get you started and get you thinking about your perfect dream home.
Using a barndominium kit under 100k is a great option to save time and money while building your barndo.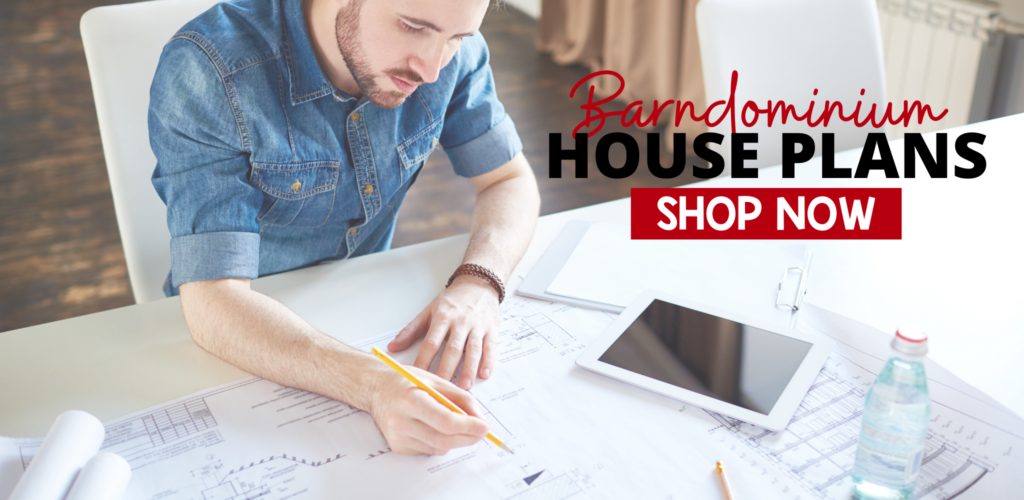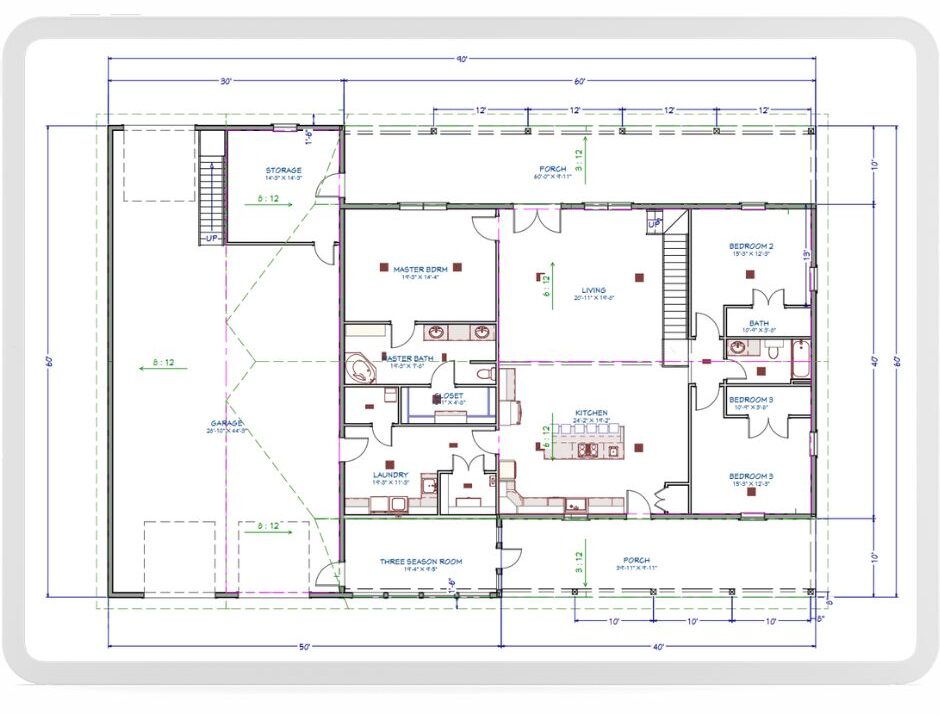 Experience spacious luxury in this stunning two-story home spanning 2600 heated square feet. Boasting a generous 1800-square-foot attached garage, this residence offers ample space for both living and storage. With three bedrooms and two bathrooms, this home is designed for comfort and convenience. The open-concept layout enhances the flow between rooms, creating an inviting atmosphere for gatherings and relaxation. Enjoy the beauty of all seasons in the charming three-season room, adding a touch of versatility to your living space. Welcome home to a perfect blend of style and functionality.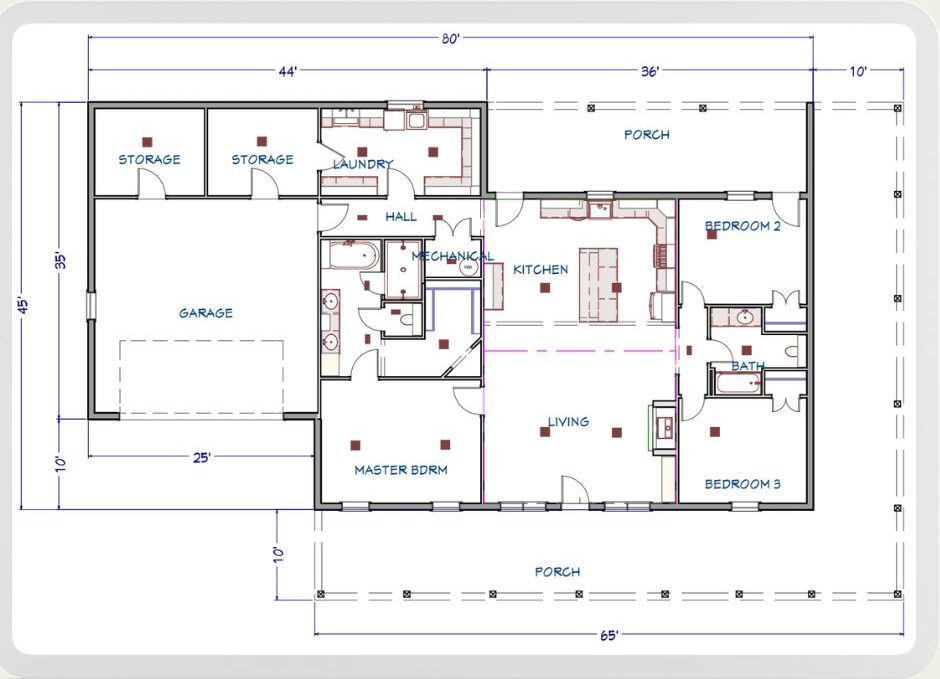 Discover the perfect blend of comfort and style in this charming 1-story home spanning 2,110 heated square feet. Boasting 3 bedrooms and 2 bathrooms, this residence invites you into a seamless open-concept living space. A generously sized wraparound porch welcomes you to enjoy the outdoors, creating a delightful space to relax and unwind. Complete with an attached 875-square-foot garage, this home is a testament to modern living with a touch of classic charm.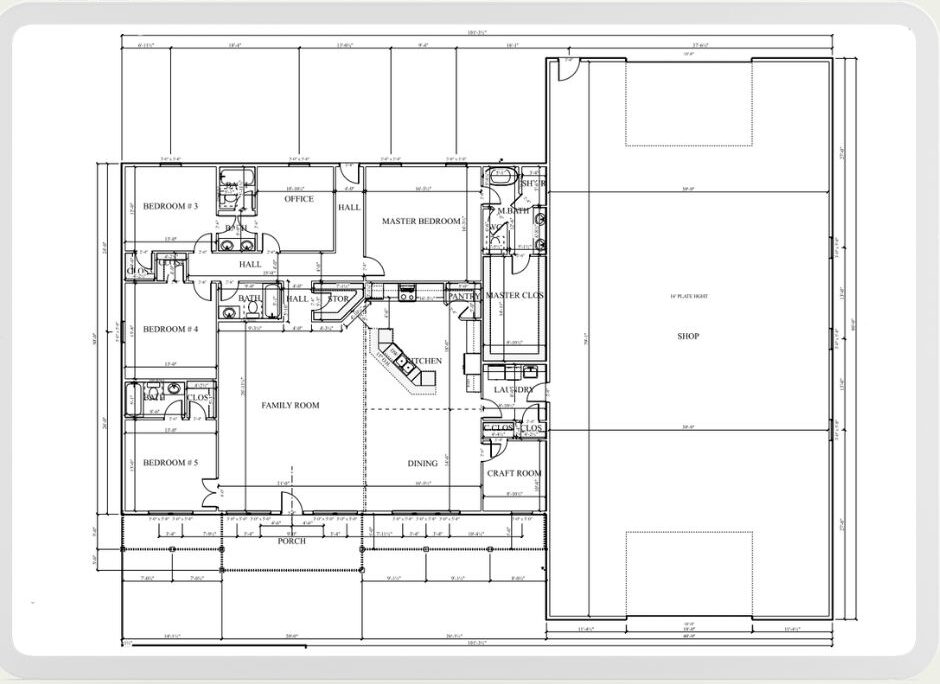 Step into luxury with this exceptional single-story home boasting 3,072 heated square feet of exquisite living space. With four spacious bedrooms, four luxurious bathrooms, a dedicated craft room, a versatile office, and a convenient shop, this residence offers the perfect blend of style, functionality, and comfort. Embrace the epitome of modern living with this thoughtfully designed property, where every detail is crafted to elevate your lifestyle.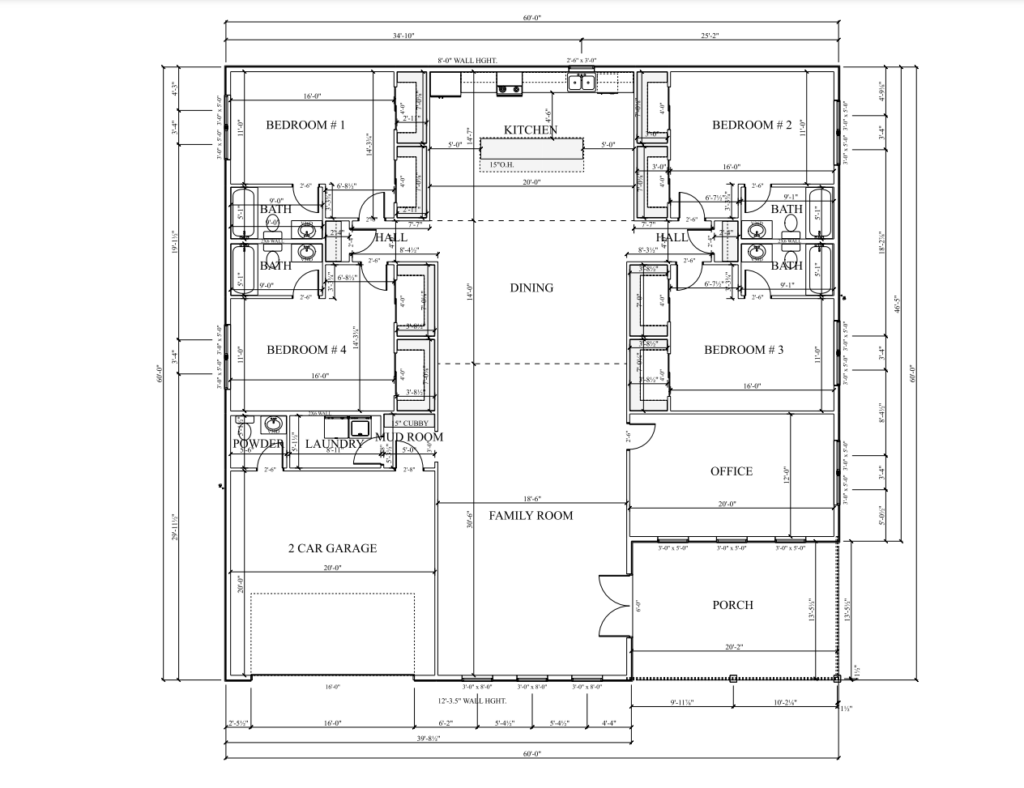 A brilliant take on accessibility, this blueprint positions the open area in the middle of the home, and in a linear fashion. It allows family members to enter the dwelling from either side – through the porch on the right or via the garage on the left. You will appreciate the amenities incorporated in various parts of this barndo: The garage includes a utility room and a closet. A half bath is added to the open area. Also, note that an office is available for family members working from home. Ideal for large families, this residence boasts 4 bedrooms, each with its own bathroom.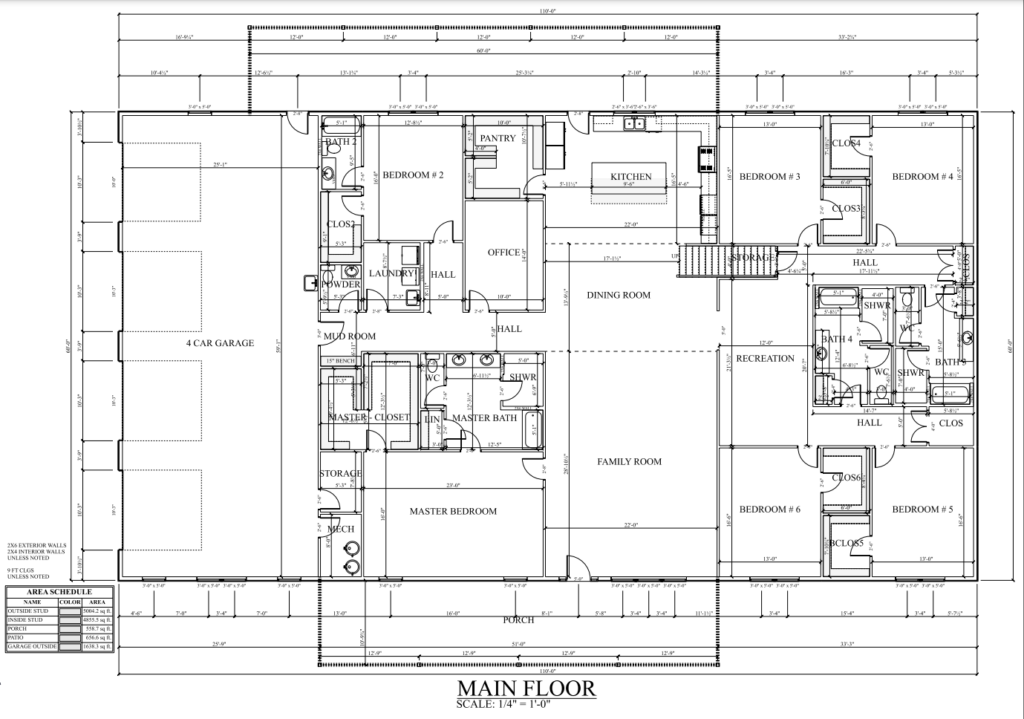 A stunning and spacious property offering 9,361 square feet of living space across two floors. This remarkable home features 8 bedrooms, 5.5 bathrooms, an office space, and a recreation room for relaxation and entertainment. With two school rooms and an unfinished attic for storage, there is plenty of space for educational activities and belongings. The property also includes a 4-car garage and front and back covered porches that provide beautiful views of the surrounding meadow. PL-60707 Meadowview Barndominium combines the charm of a barn with the comfort of a modern home, offering a versatile and inviting living space.
PL-62509 seamlessly blends style, functionality, and comfort, making it an ideal choice for a spacious and well-appointed home. With ample bedrooms, multiple bathrooms, office space, and a three-car garage, this floor plan caters to the diverse needs of modern living while exuding an air of elegance and sophistication.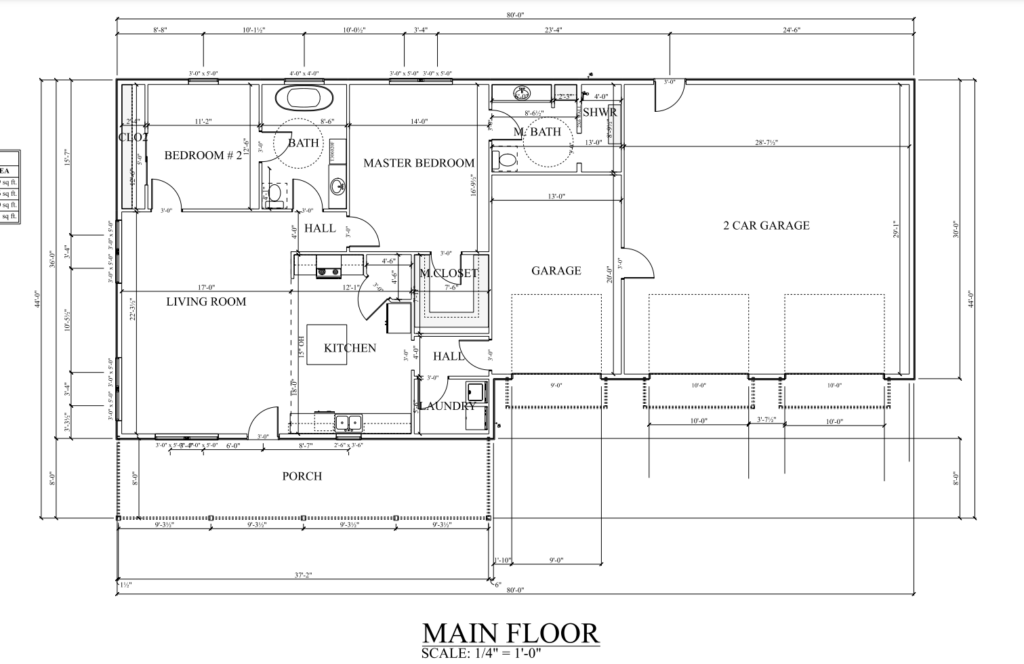 The PL-62510 Jordan Barndominium is a stunning and spacious home with a well-designed layout spanning 2,939 square feet. It features two bedrooms and two bathrooms. The barndominium offers a contemporary design with thoughtful details. The home's seamless flow and smart design make efficient use of every square foot, and the inclusion of a 2-car garage accessible through the kitchen adds practicality. Whether enjoying the front porch or hosting gatherings in the open living space, this floor plan offers a harmonious blend of comfort, convenience, and style, where modern living meets rustic elegance.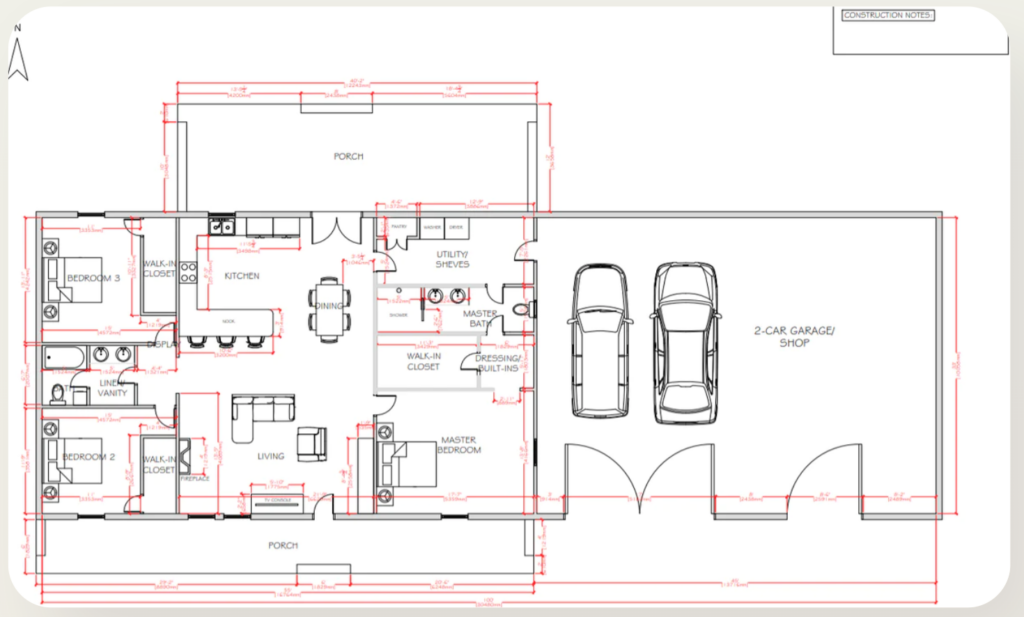 This set of barndominium floor plans with a garage includes almost half the home is taken up by the garage. This large 33×45 garage is big enough for almost any application and any kind of storage or work. Whether you have a boat or some small recreational vehicles, you will have enough space for all kinds of uses. Plus, this set of barndominium floor plans with a garage also includes a large living room and plenty of sleeping areas for the whole family.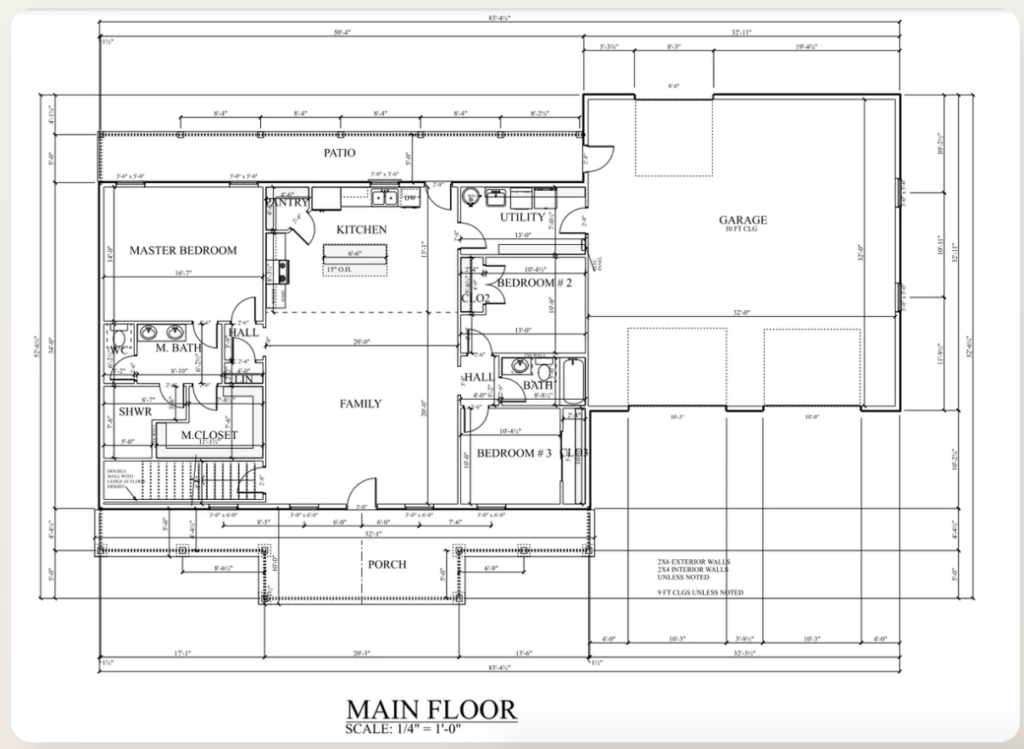 If you are going to be building a barndominium with a garage, you need to make sure you have enough vertical space. This set of barndominium floor plans with a garage includes ten-foot ceilings in the garage, which gives you a little extra headroom. With this, you can work on a boat or large vehicle without worrying about clearance. This set of plans also includes a large porch and back patio for lots of outdoor square footage for gatherings and parties.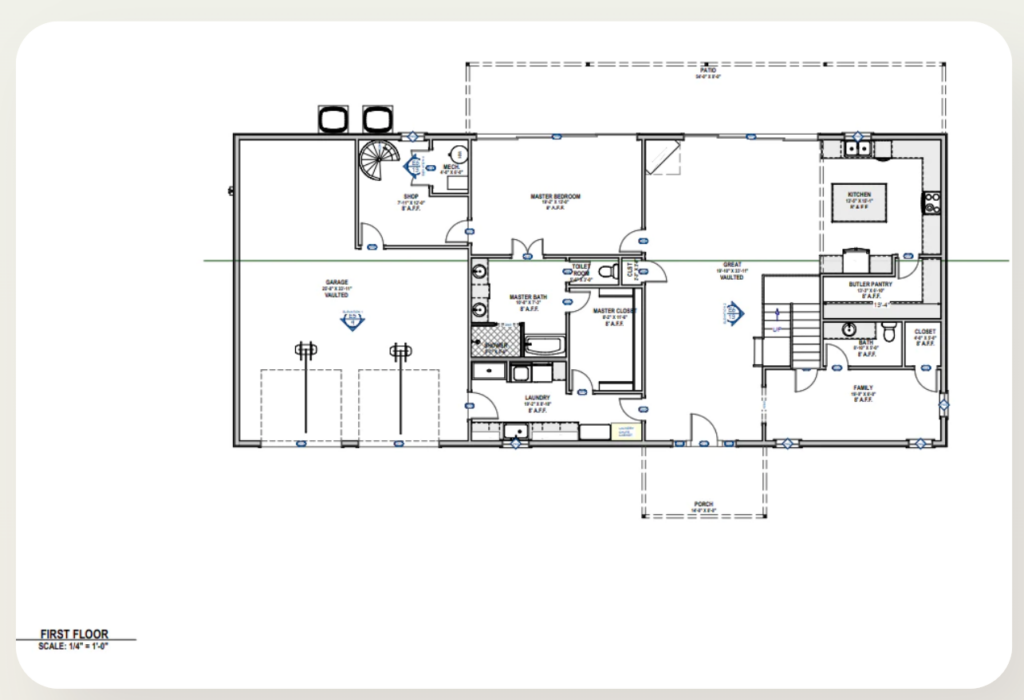 Whether you want barndominium floor plans with a garage for work or storage, this set has both available to you. With a two-car garage and a shop area, you can work on anything you might have in your fun arsenal. The shop is also attached to and accessible by the master bedroom. This is perfect for people who work from home and want everything to be available at all times.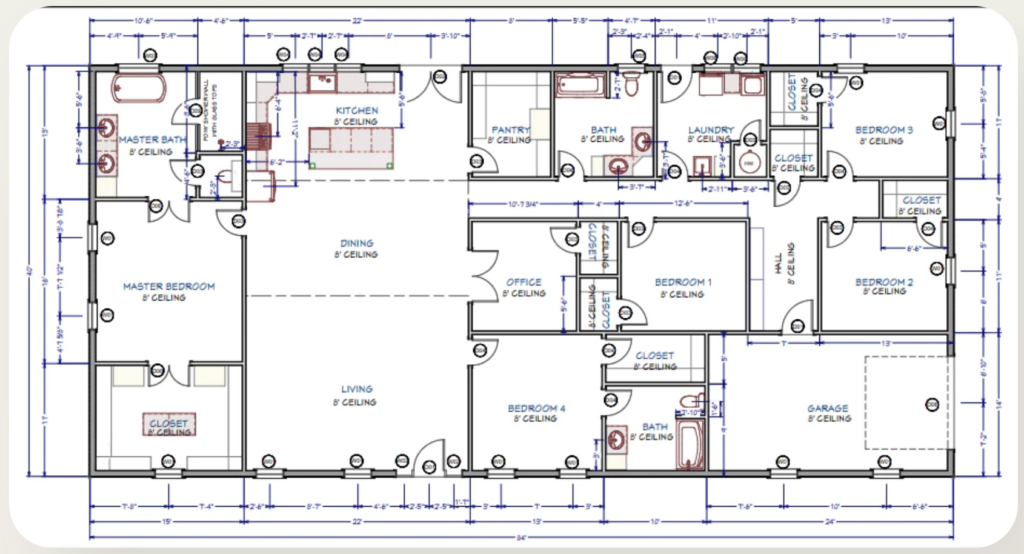 When looking for barndominium floor plans with a garage, you want to be certain that you don't sacrifice sleeping areas. This set of plans includes four bedrooms on top of a large garage with plenty of access points to get in and out. Plus, it includes a large living area and kitchen with an open floor plan for a lot of space for gathering. Being able to sleep everyone that you want while still getting your garage space is a great way to make the most of your barndo.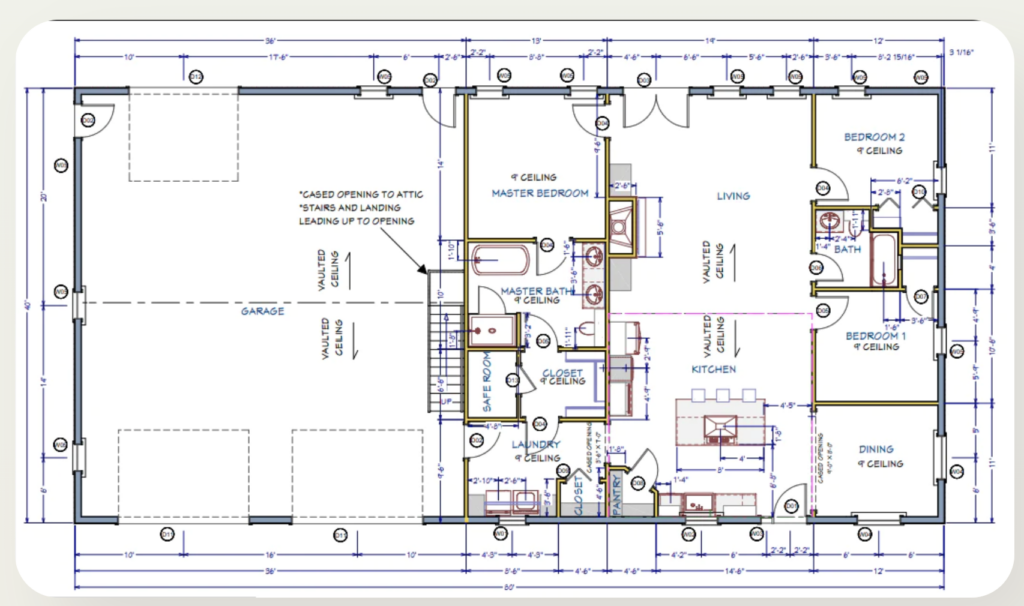 High ceilings are not only important when designing a garage, but they are also important in the home itself. This set of barndominium floor plans with a garage has vaulted ceilings in the garage as well as in the living area. This gives the home an excellent sense of space and is both practical as well as aesthetically pleasing. It also has great access from the shop to the laundry/utility room, which is convenient for getting cleaned up after work.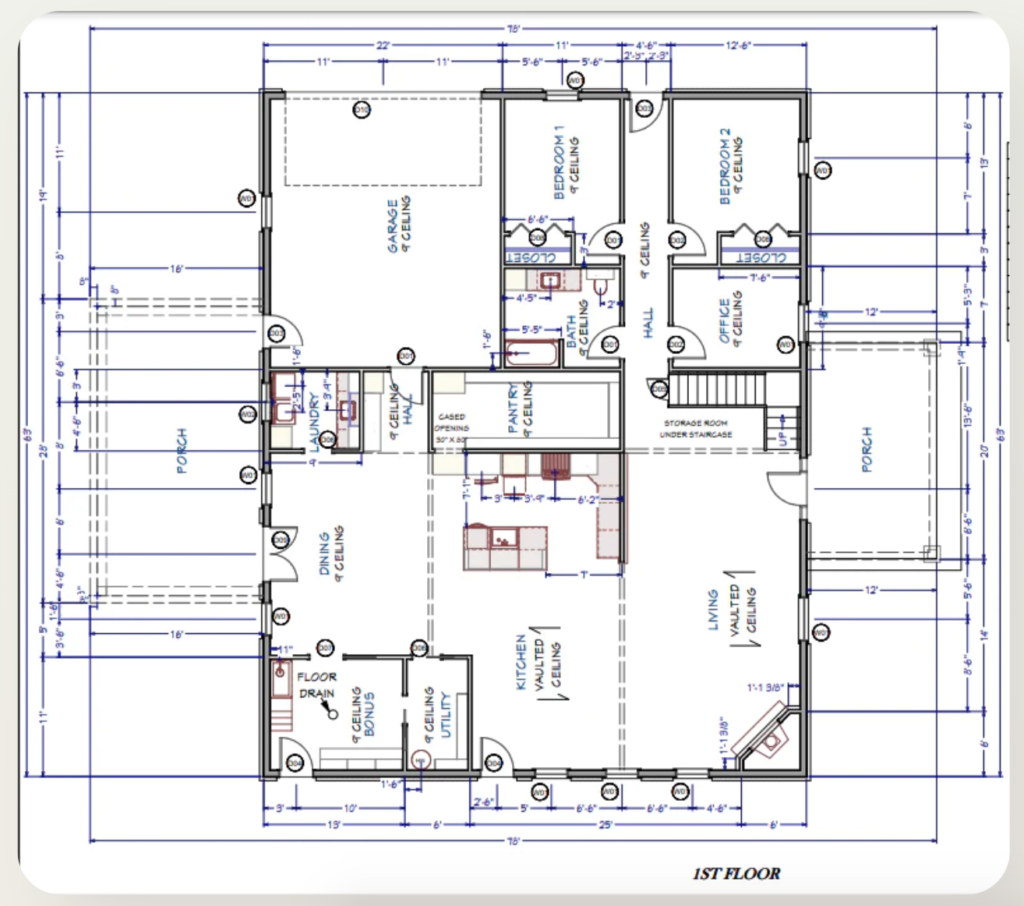 One of the choices you have when building a barndominium that is often overlooked is making it a two-story home. These barndominium floor plans with a garage include a large garage as well as a whole top story. Even on the bottom floor, it features nine-foot ceilings for plenty of vertical space. This gives you plenty of room and doesn't make the home feel cramped at all.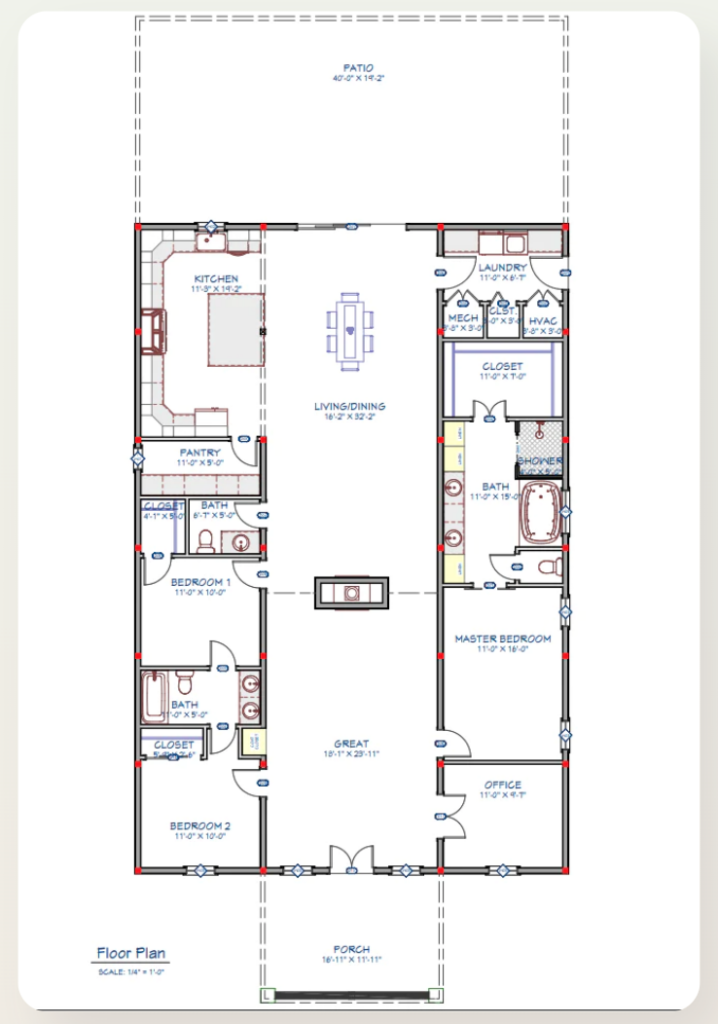 When putting together barndominium floor plans with a garage, it is important to be creative. This set of barndominium floor plans with a garage includes a kitchen off to the side with a living and dining area right in the middle. All the bedrooms and bathrooms run along the sides, making great use of the entire space. Without hallways to block access, everything is open and spacious, which is perfect for your home.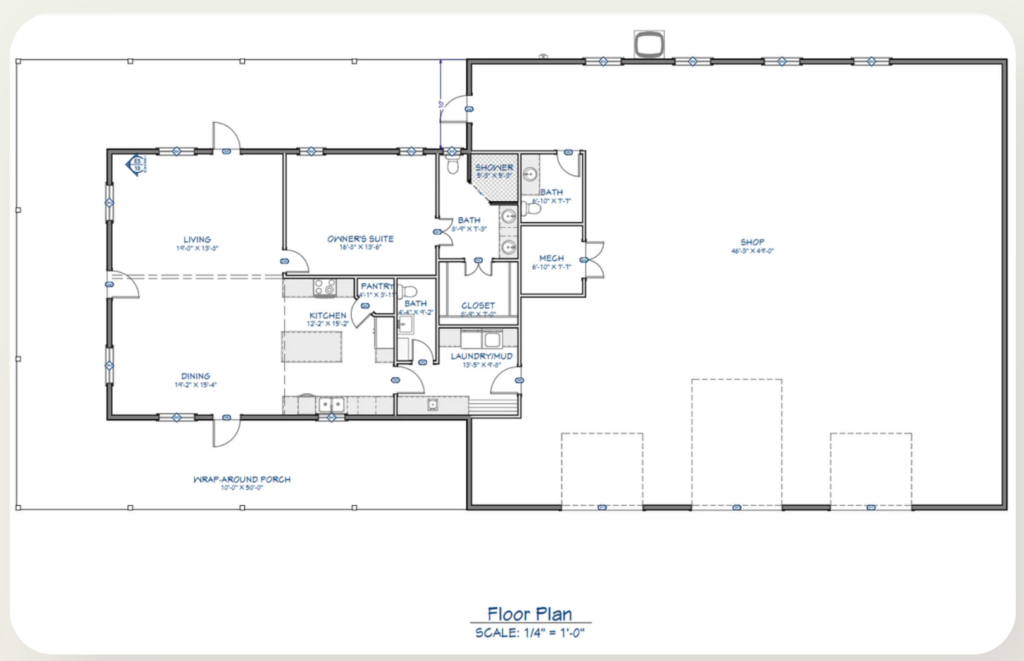 In the category of barndominiums, there are a lot of variants and genres, including the shouse, which is a mixture of a shop and a house. These barndominium floor plans with a garage are more in line with a shouse with the shop area taking up much of the floor space. The massive shop is big enough for almost any kind of work. If you are serious about having your workspace, this is an excellent option for your barndo.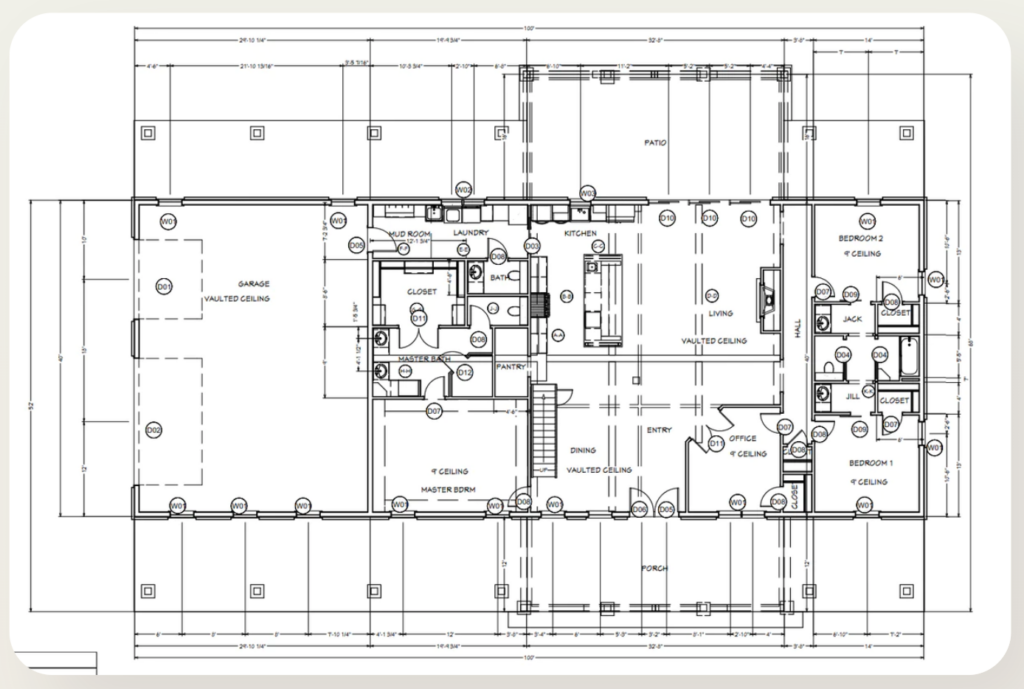 When looking for barndominium floor plans with a garage, you need to think about access points. This set of floor plans includes two doors for the garage area, one of which is smaller while the other one is much bigger. The interior of the home features a large vaulted ceiling and a massive dining room and living area. It also features a jack-and-jill bathroom in the smaller bedrooms for convenient shared access.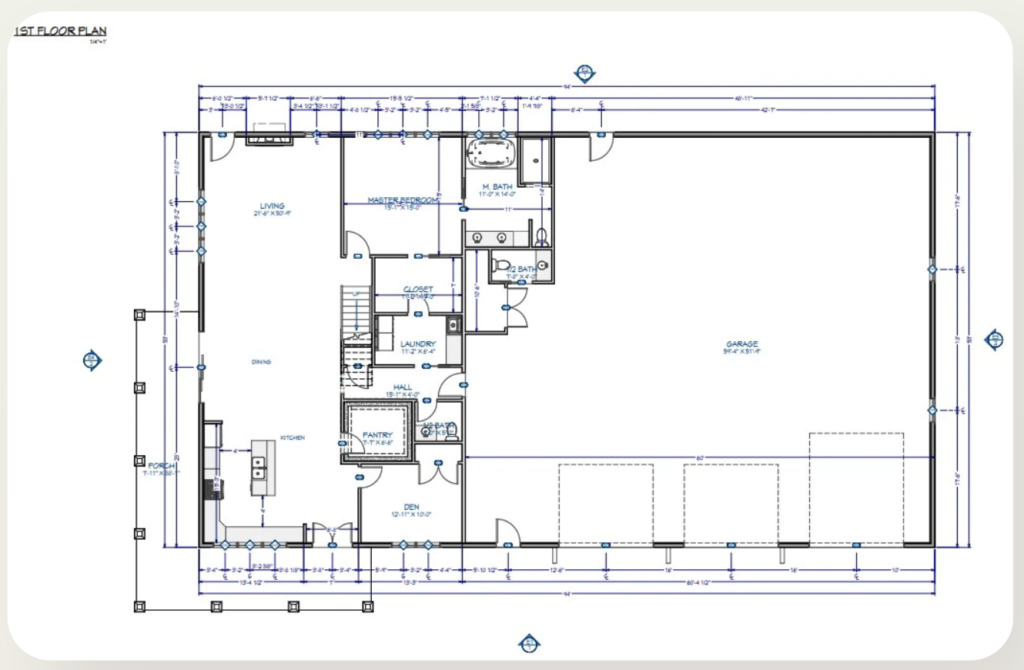 While the garage in this set of barndominium floor plans with a garage takes up most of the space, the home itself is very well-designed. This floor plan features a large master bedroom as well as a den that could be used as an extra bedroom as well. Depending on your needs, this is an incredibly adaptable and versatile set of barndominium floor plans with a garage.
Conclusion
Building a barndominium is an exciting project but you need some outstanding floor plans. These barndominium floor plans with a garage are an excellent example of what can be done with these homes. With a little bit of planning, you can create something truly amazing.
If you would like to learn more about barndominiums, be sure to check out the rest of Barndos.com. There, you will find all kinds of tips and tricks from the pros and helpful guides like this one. You will also find featured barndominiums to help get you inspired and thinking about your own custom home.