In recent years, barndominiums have taken America by storm. Move over tiny homes, barndominiums are the new building craze. Barndominiums offer homes that have a lot of space, and quirky designs.
In addition to this, they can be used to both live in and work in. They really are a fantastic option, especially if you are looking to do a lot of the work yourself. However, they can be purchased if you would rather not take on the DIY project.
If you are looking to purchase a barndominium then look no further, this is the article for you. We will be discussing the steps you will need to take in order to own your very own Barndominium.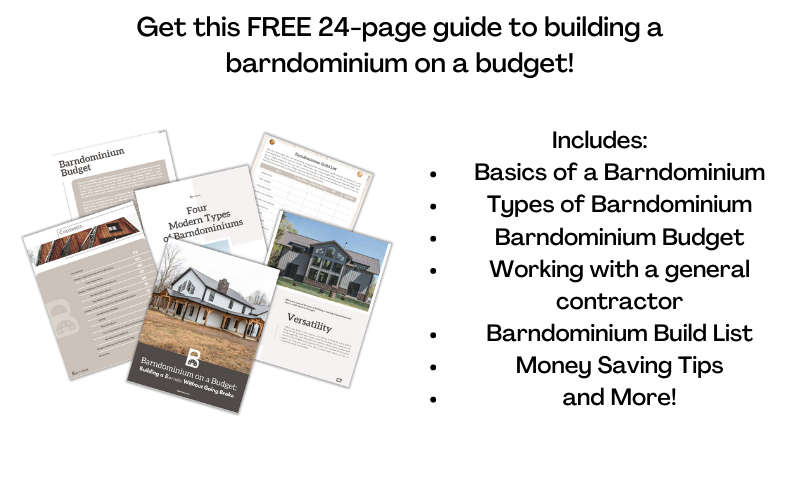 What Is A Barndominium?
To begin with, it is useful for you to know what a barndominium is. A barndominium is what you get when you combine a barn and a condominium. It is essentially a barn that has been converted into a living space. However, many people choose to incorporate their workspace too.
As you can imagine these barns are typically made using metal and wood. They are surprisingly energy efficient when built correctly, and they vary greatly in their designs. While you would not assume that a barn can be created into a beautiful house, it is entirely possible. In fact, it is becoming more popular over recent years.
How do I buy a Barndominium?
The process of purchasing a barndominium is a fairly simple one when you know the steps you will need to take. We have broken down these steps to help make the process easier for you:
Saving For A Barndominium
Before you start thinking about purchasing a Barndominium, you will want to save up and take into account how much barndominiums cost.
Typically, if you are purchasing a barndominium, it is more expensive than building your own. This is because it is a complete project, and you cannot source your own materials, for example.
While it is slightly more expensive to purchase instead of building, the likelihood is that the barndominium will still be far cheaper than purchasing a house. Even so, we would recommend having a good amount of savings to begin with.
Researching Barndominiums
While you are saving up for a barndominium, it is worth looking into the type you want to purchase. By looking at the current market, and the prices they are being sold for, this will give you a better idea of how much you will need to save.
There will be a plethora of different choices available, and some that will have more features than others. Typically, barndominiums are quite eco-friendly, and will feature energy saving techniques, and good insulation. However, this will depend on the individual build. Some are more efficient than others, which is worth taking into consideration.
You will want to carry out as much research as possible to ensure that you are choosing the right Barndominium for you. You will want to research into how many rooms are needed, what the plot is like, the energy costs, and whether you will want to carry out any renovation work.
Finding A Barndominium
When you have saved the money required, and you know what you are looking for, it is time to purchase your barndominium. There are a number of different ways in which you can choose a barndominium, but the most popular option tends to be online.
If you research into the barndominiums that are for sale in the area of your choice, you should be able to find the listings you require. Alternatively, you may know of someone that is advertising locally.
Visiting The Barndominium
Before you decide to purchase a barndominium, you will want to visit the property and inspect it thoroughly. This is to ensure that you are happy with the barndominium. You should always look at the property in detail before deciding to pay a down payment on it.
Purchasing The Barndominium
If you are not looking to purchase the barndominium outright, there are options available to borrow loans. While many people assume that this is not possible, obtaining a loan for a barndominium is quite similar to how you would take out one for a regular property.
While it will vary, typically companies do require you to be able to have a down payment of around 20% of the property. This is why the saving process is essential. After you have agreed the terms with your lender, the rest of the process is very similar to how you would purchase a regular house.
Building Your Own Barndominium
Alternatively, if you cannot find a suitable barndominium, you can choose to build your own. While many people will build one themselves over a number of years, others will choose to hire a contractor.
Building your own barndominium is better in some respects as you can tailor it to you and your family specifically. However, this is a long process, and it will require much time and energy.
There is a lot more to organize when you are building your own property in comparison to purchasing one. However, it can be cheaper overall. Given this, there are pros and cons to both purchasing and building your own barndominium.
Summary
We hope you have found this article useful. As you can see, buying a barndominium is surprisingly easy to do. It is very similar to how you would purchase any other property, especially in regard to down payments. Though, you can choose to buy the barndominium outright if you have the available funds.
The most important thing to remember is to ensure the property is the correct one for you before committing. You will want to carry out the right amount of research on the property and the lot it is on.
While building a barndominium can be less expensive overall, it does require a lot of time and patience. Given this, purchasing a barndominium can be the easier option.