Barndominiums may be considered rustic, but that doesn't mean you can't spruce up your barndo's exterior to boost its curb appeal. With just a handful of handy barndominium exterior ideas, you can create an eye-catching home without breaking the bank.
It has long been known that curb appeal increases the value of a home and enhances the overall living experience. In the end, your love for your house makes it a home. Besides their affordability, barndominiums offer a wide range of customization options, making them a worthwhile investment. 
Research shows that improving the curb appeal can increase a home's perceived value by between 5-11%. For example, this would mean an increase of around $20,000 in value for a home originally valued at $200,000.
While we also have some noteworthy barndominium interiors, today's guide will provide you with five great barndominium exterior ideas that are sure to enhance your curb appeal and make your family's home living experience that much better. Let's get going!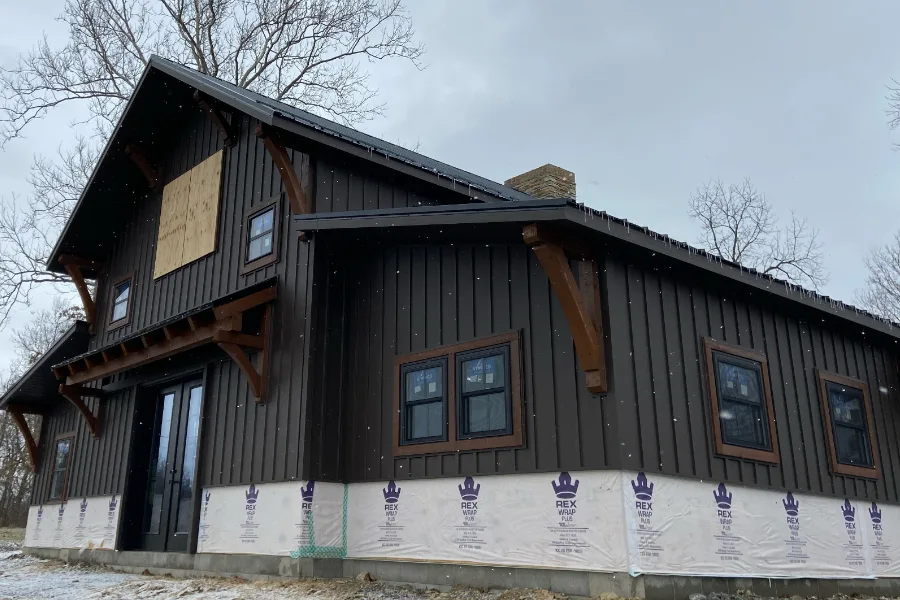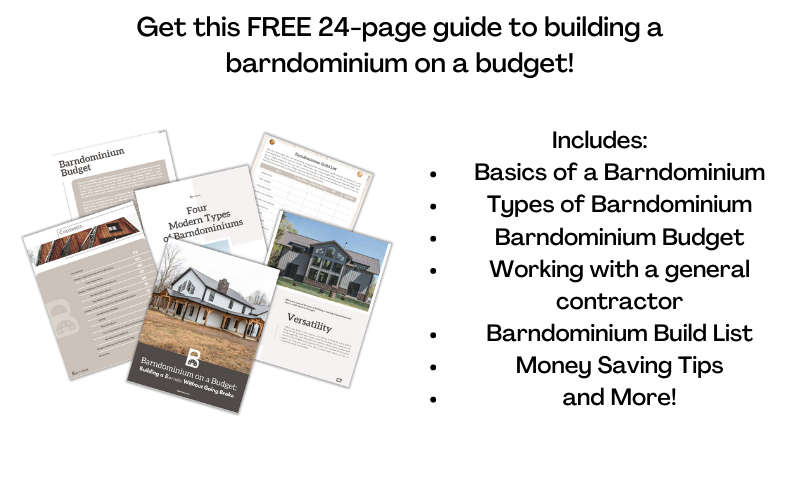 Choose the Right Siding
When you're considering a barndominium, it is essential to choose a siding material that will not warp, crack, or fade. However, it is equally important to select one that looks attractive and enhances curb appeal.
There is no doubt that cost is an influential factor when deciding what siding to install, but generally, barndominiums already have a lower cost than traditional homes. So, it is wise to choose the right material that fits your budget and also complements the look of your home.
Fortunately, there are many types of siding available in a range of colors and textures for a barndo home – so it's easy to create the look you're after.
Some popular options include wood (like cedar shake) for a rustic feel, stone veneer for a more natural, organic look, and metal siding (such as aluminum or steel) for a sleek, modern aesthetic.
Consider a Covered Porch
From rain or snow in the wintertime to the hot summer sun, a well-designed and properly constructed porch can provide comfort all year round.
When designing your covered porch, consider the architecture of your barndominium. Do you want a traditional look with exposed beams and wood railings? Or would you prefer something more contemporary?
For example, if you're looking for a place to hang out with friends or family, you might opt for a larger space with plenty of seating. If you want your porch to be a bit cooler, consider installing ceiling fans for added air circulation. The result is both stylish and practical.
Besides adding value to your home, a covered porch will also provide you with a comfortable and inviting space without taking up additional land space.
Invest in Landscaping
You can customize your outdoor space through landscaping based on how you like it and your budget. What's great about this is that it is not necessary to take everything on at once, as you can do it as a series of projects.
When planning the layout, think about how you can use existing features such as trees, shrubs, and rocks. Also, consider factors such as climate, soil type, and sunlight when making your plant selections.
Using pathways, walls, decks, and patios can create a welcoming outdoor living area. You can also transform your landscape design by adding mood lighting. 
Install Large Windows
A simple yet effective way to boost your barndominium exterior is by installing large windows. Not only do they allow natural light into the home, but they also provide stunning views and open up interior spaces.
Larger windows bring added visual interest and architectural detail to the building's facade. They also help balance out material design choices like siding or stone that may otherwise appear too stark or monotonous on their own.
Ultimately, large windows add a sense of drama and grandeur to the barndominium exterior that smaller windows simply cannot provide.
Style Your Roof
Roofs are an essential part of any home exterior, as they provide protection from the elements and ensure the structural integrity of the building. But they can also be used to enhance a home's facade by adding visual interest, color, texture, and character.
To give you an idea, metal roofs come in many styles and colors that can give your barndo home an updated look while still maintaining its rustic charm. You could also opt for shingles, or wood shakes for a more traditional look.
Another way roofs can enhance your barndominium exterior is by using dormers and cupolas. If you want to take it one step further, you could opt for a copper roof for an even more luxurious look.
As a whole, roofs can enhance your barndominium's exterior in several ways. There's something for everyone regarding adding visual appeal while still providing protection.
Final Thoughts
By enhancing your barndominium exterior, you can create a unique and inviting space that will impress for years to come.
Barndominiums offer a great deal of customization, which is why more and more potential homeowners are becoming interested in adopting a barndominium lifestyle. Interested in learning more? Visit Barndos.com to learn more.
In addition to helpful FAQs, we also provide state guides to help you build the barndo home of your dreams. Along with that are barndominium floor plans to assist you in getting started.