One of the latest and more popular trends sweeping across the United States is the trend of building a Barndominium. These are renovated, decorated, and stunningly designed barns that have been transformed into living areas, homes, and hangouts, and this means it is a great idea to build a barndominium.
With all of the charm and nuance of country living, whilst also being a beautiful place to live, a Barndominium is an attractive concept for more and more people. It is harder now than ever to become a homeowner, with real estate prices going through the roof. So, building your own home, or a Barndominium can be more appealing than ever before!
In addition, a Barndominium is so different, unique, and outside of the norm that this creative living space is so popular and yet so affordable!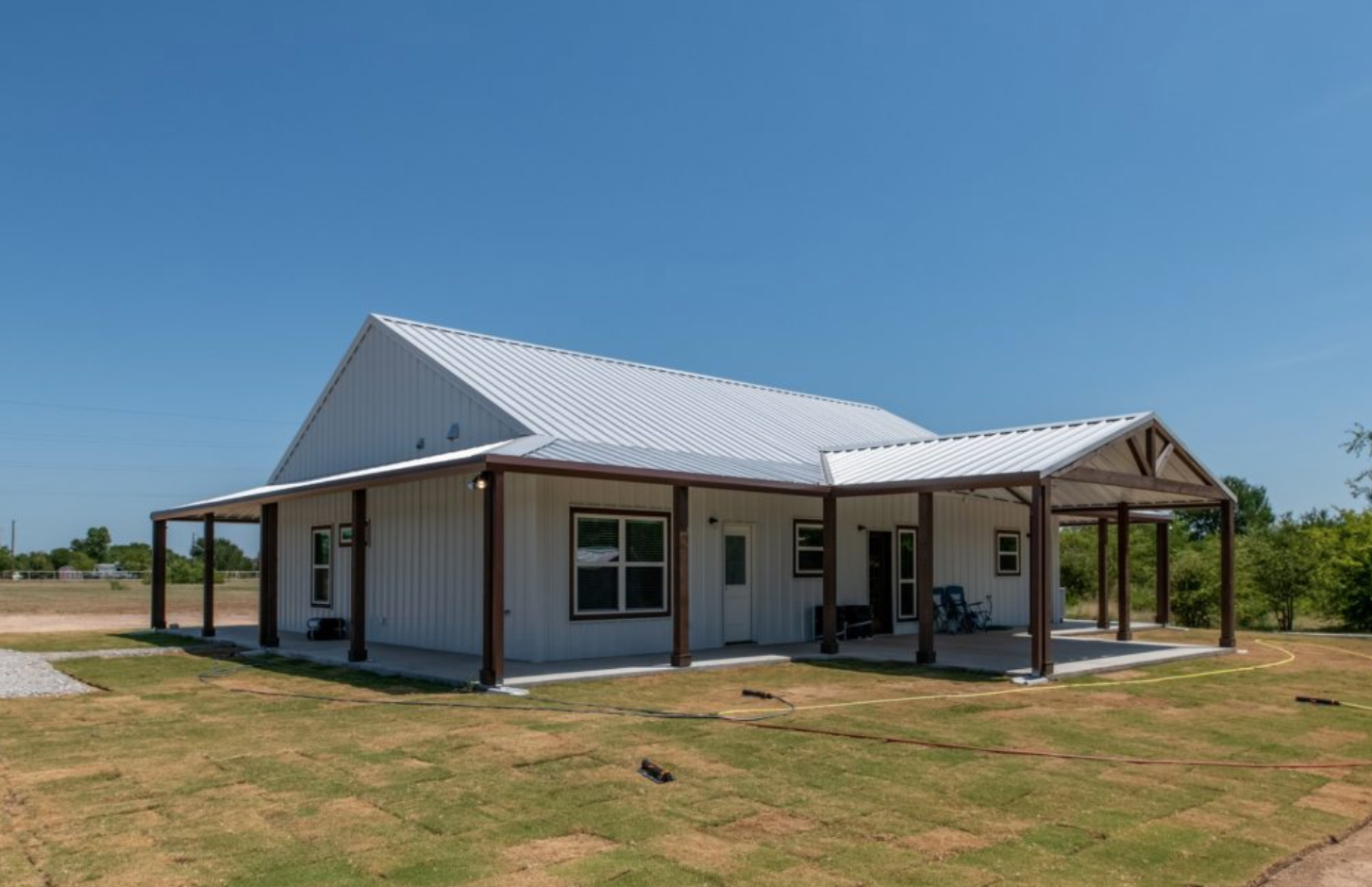 What's not to love? If you are thinking about building a Barndominium for yourself, then you will need to know exactly what it will cost, and how much you should be budgeting to make your own country-inspired living space.
What is a Barndominium?
A Barndominium is everything the word entails. It is simply a barn that has been converted into a living space or a home. These are growing vastly more popular as they cost far less than it does to build a house, and many people in rural areas already have a barn ready to renovate.
You can use a Barndominium as a home, or just convert a barn into a cool space to relax, chill or do some of your favorite activities and hobbies. The appeal of a Barndominium is that they are so much more cost-effective than regular homes, and cost almost half the price to build as a conventional house would!
Not only this, they are energy efficient and constructed of durable metals for a long-lasting, reliable and eco-friendly living arrangement.
If this sounds like a total dream to you, and you want your own Barndominium, then you will need to know exactly how much it would cost to build a barndominium or renovate an old barn in the yard. So, how much does it cost to build a Barndominium?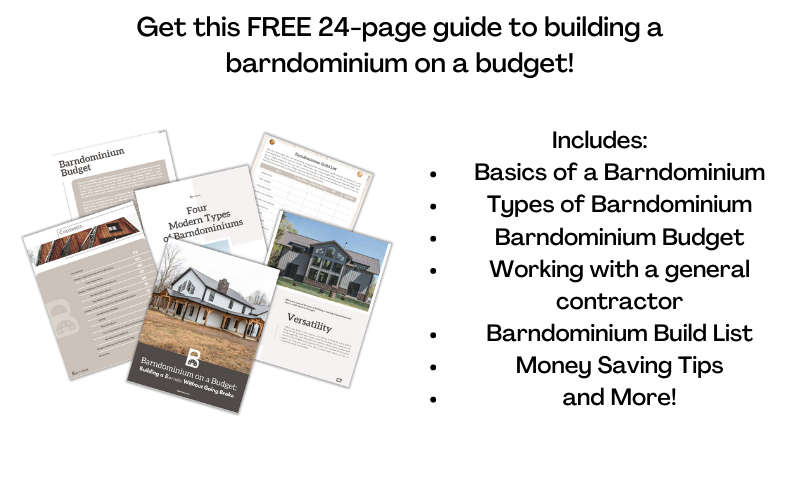 How much will it cost to build a Barndominium?
One of the biggest appeals of building a Barndominium is the reduction in costs to build it. Building a new Barndominium costs nearly half of the price to build a new home, and renovating an old existing barn is even cheaper than that.
Building a Barndominium can sometimes cost from $30-$50 per square foot for the basic assembly, whereas a regular house would cost around $100- $200 per square foot. This is because they are constructed from metal, which is far cheaper than building out of wood and other materials as new homes usually are.
On average, metal homes such as Barndominiums can cost around $150,000 to build. However, it will depend on the features included, the function, and the size of the Barndominium. Most range from around $75,000 to $228,000, depending on the style and size of the project.
For instance, on average, you can expect to spend about $50 to $120 per square foot of Barndominium. However, you would need to spend about $20,000-$100,000 for a kit to get you started, as most of the Barndominiums that are constructed brand new can have the shell ready-made, and all you need to do is put it together.
On top of that initial $20,000 to $100,000, you can expect to spend about $25,000 to $50,000 on assembling it, and then from $40,000 to $80,000 for additional features, services, and design.
Despite all of those factors seeming to add up, this is still a lot cheaper than building a regular house and can seem like the right, affordable idea if you have a lot ready to build upon.
We would recommend that you thoroughly plan what you want, and do your research first. Using a barndominium kit under 50k or a barndominium kit under 100k can help you finish your project quicker and cheaper.
The great thing about Barndominiums is that they are pre-built and ready to install quickly. All you have to do is worry about additional services and needs that the home requires such as insulation, electrics, and plumbing.
How Much is a 2000 Square-Foot Barndominium?
How much it costs to build a 2000 sq ft Barndominium will depend on a variety of factors. For example, it would cost more to have a higher-end finish, or extra added features, bathrooms, renders, or exterior features.
That being said, on average, a 2,000-square-foot living space Barndominium could cost anywhere between $200,000 and $270,000 to build and construct.
You could cut the costs down if you wanted a more basic Barndominium, but you may prefer to have a new sleek and stunningly renovated Barndominium with a pool area or patio, that could cost much more to build. It depends on the plans and personal preference of the person constructing.
How Much is a Barndominium Shell?
A Barndominium shell is a great way to get you started. These are like Barndominium building kits equipped with everything you need to make a basic Barndominium. The Barndominium shell will come with the slab, plumbing, building, metal or wood, vents, showers, sinks and washrooms, and electrical stub outs.
A Barndominium shell can be purchased from as low as $20 per square foot of living space, but this can range from $28 to $50 per square foot depending on the size, extra added options, and configuration of the Barndominium.
Some Barndominium retailers will sell Barndominum shells from $7,000 to $50,000 and upwards depending on what you want and what supplies you need to make your own Barndominium.
What is the Average Cost of a Barndominium?
If you are ready to build your Barndominium, but you do not know where to start, you should begin by setting out a budget. To do this, you will need to do some research to see what your dream Barndominium could cost you.
On average, the cost of building a Barndominium can be as low as $40 per square foot, and as high as $140 per square foot. The average cost of a Barndominium in the United States is around $150,000. However, the cost of your Barndominium will be affected by the size, specifications, and all of the features that you want for your Barndominium.
For instance, if you want custom-made wardrobes and kitchen cabinets, or granite countertops, with light-up features and multiple bathrooms, then the cost of your new build Barndominium or barn renovation will be a lot higher than most others.
Keep in mind that a basic Barndominium could cost you under $100,000 and a fully renovated, high quality and custom Barndominium can cost upwards of $250,000, so it depends on what your plans are and what you intend on doing with the Barndominium!
Conclusion
If you are ready to start building the barndo of your dreams, check out our barndominium floor plans to help you create the barndominium of your dreams or use a barndominium design software program to help you plan out your space for your new home. When in the planning stages, be sure you also check out the barndominium financing and insurance options that are available. For more helpful tips, visit our FAQ barndominium section to get answers to all your barndo questions.