Today's featured barndominium is another impressive feat by HL Custom Homes and is nestled in lovely Chico, Texas. This board and batton barndominium beauty has all the modern amenities and comforts you could hope for, while still maintaining a chic country charm.
Perfectly perched, this chic Chico, Texas barndominium is found on a large private lot surrounded by trees. Somehow, both blending in and standing out, HL Custom Homes created a country masterpiece that is chic, unique, and stylish.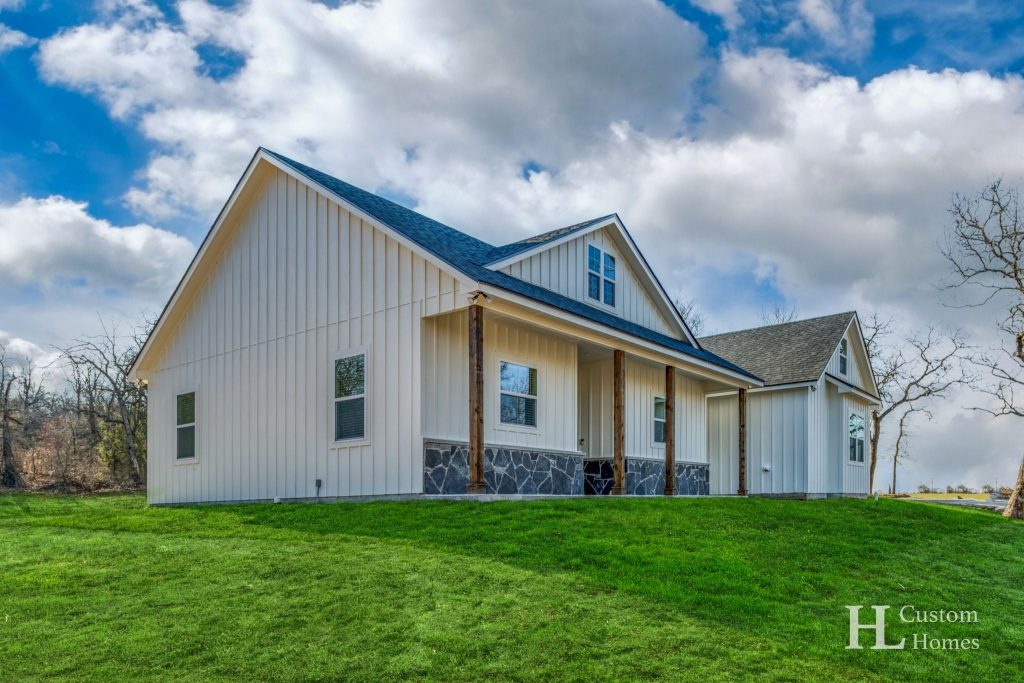 Exterior
At first glance, we notice the high contrast that the light exterior batton in a soft neutral provides against the slate-style stone facing that wraps around the home's base and dark shingles on the roof.
Moving in closer we can see finer details such as the polished wooden pillars and matching farmhouse french-style front doors. A long, narrow patio gives the home a sense of space and grandeur, despite its rather compact size. We can just imagine the beautiful decor that is set out to welcome various holidays and celebrations.
Looking at the beautiful barndominium by HL Custom Homes from the side we find an attached garage and large concrete driveway. Small but impactful detailing has been added (wooden trim around the garage door) which ties the entire exterior perfectly together.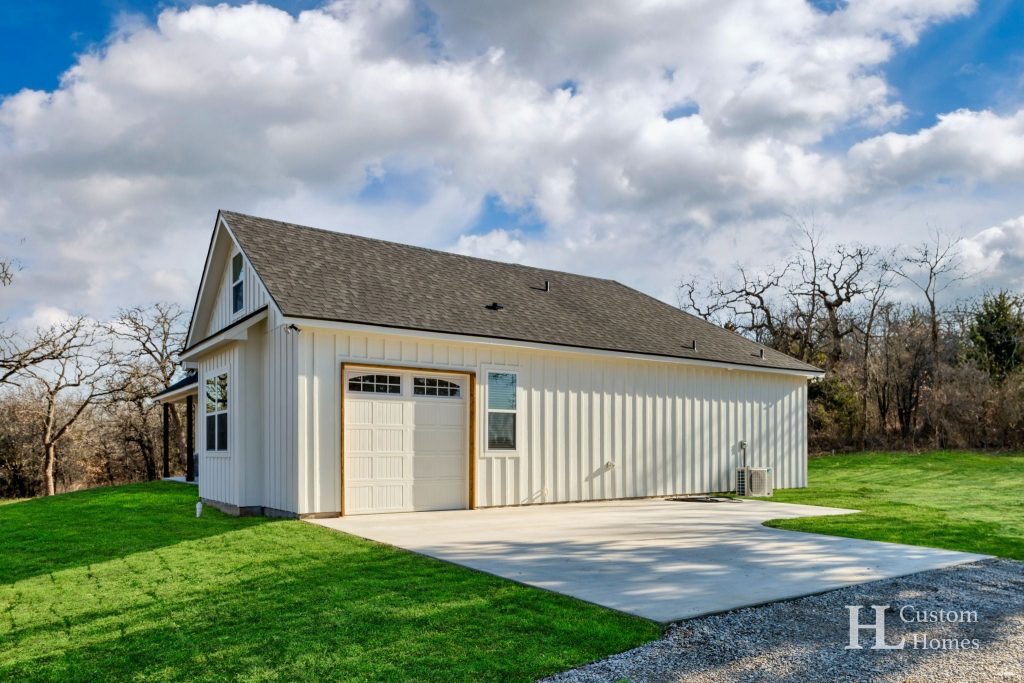 Out the back of the property further continuity is found in the patio area with more wooden pillars. Opting for neutral french doors instead of the wooden ones found at the front ensures the focal point is the towering stone fireplace.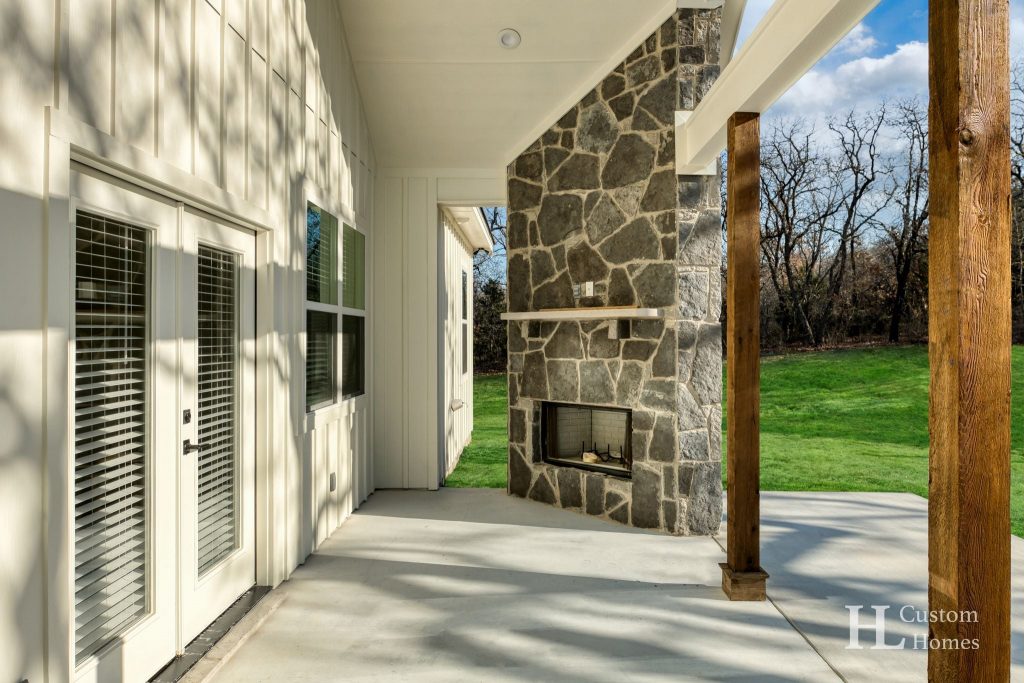 An extended cement patio can be used as more space for entertaining family and friends or could hold a hot tub or other outdoor furniture.
The high steeped canopy allows for sunlight to pour in, while also protecting against unexpected weather. This feature also ensures that the back windows and doors capture as much natural light as possible.
The side entry, which also is blended with the exterior board and batton, provides a separate access point to the indoors.
Taking a step back, we can take in the full view of HL Custom Homes' beautiful Chico, Texas barndominium, and all its wonderful features.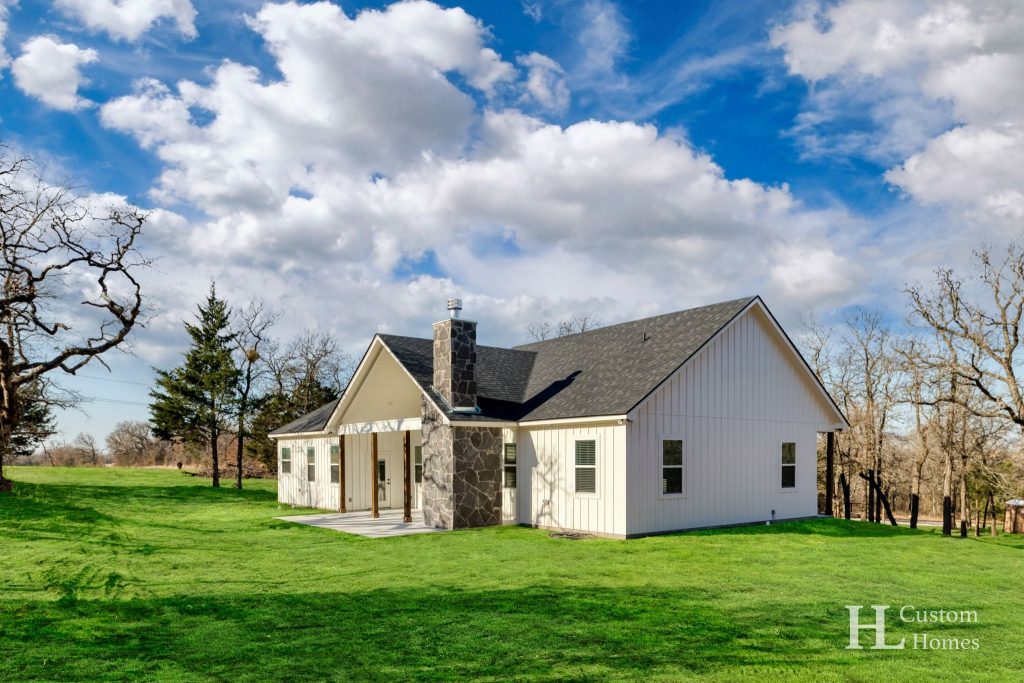 This home is compact but mighty and sure to make an impression on anyone who sees it. From the curb to the backyard this home has been well-thought-out, designed, and constructed with love.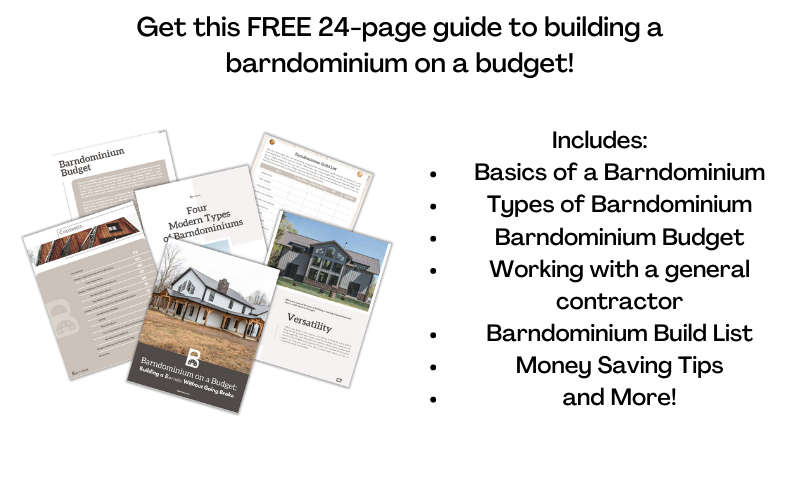 Interior
The color scheme found on the exterior of the property is the inspiration for indoors as well. Looking inside we can find the neutral hues adorning the walls while the shining hardwood floors and black fixtures and kitchen island provide a beautiful contrast.
The wood french doors are one of the first things you'll notice and they provide such a unique and cozy element to the home. We love how they were kept in their natural state and simply varnished to provide protection and sheen.
Living Room
The living room offers ample space and light thanks to the many large windows and glass french doors leading to the back patio. Drawing your eyes upward we notice the exposed black beam and dramatic industrial-style fan in the vaulted ceiling.
Kitchen
HL Custom Homes is known for their carefully planned and well-thought-out design from start to finish which can be found in just about any barndominium of theirs that we have toured.
Peeking into the kitchen area we see the continuing contrast with the white countertops and white subway tile backsplash against the dark wood island and matching wood range hood. Finding just the right amount of balance, the light fixtures are industrial style enough to match the other fixtures but white so as to not overpower the space.
Master Bedroom
The master bedroom also features a separate patio door entrance, which can come in handy on those mornings when you just want to step outside and enjoy a cup of coffee in the fresh air.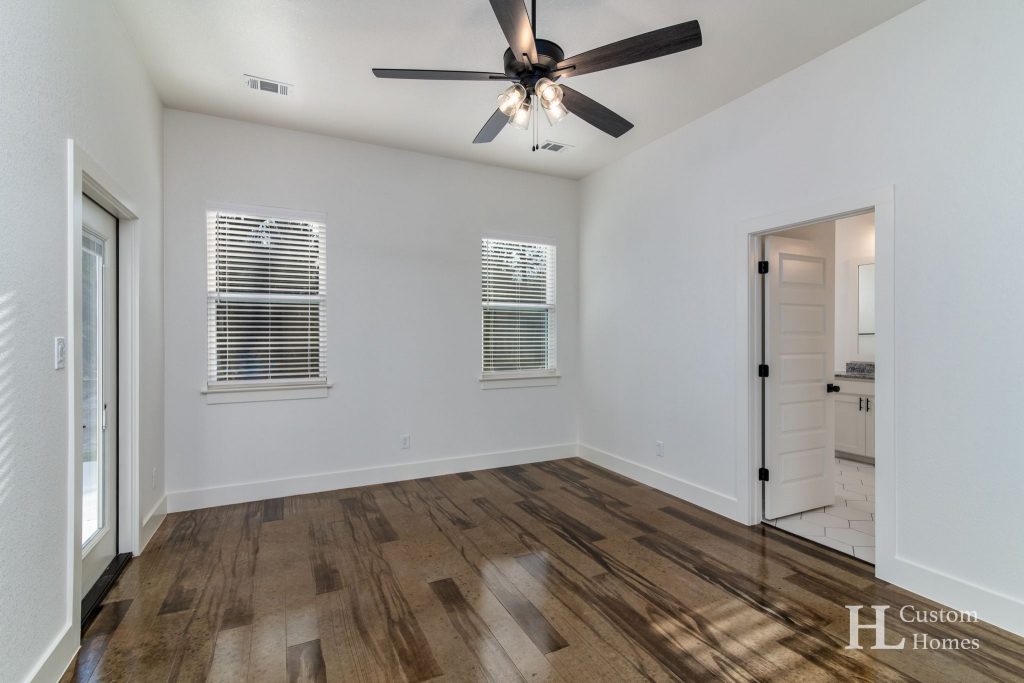 The master bedroom is a blank canvas just waiting to be tailored to the perfect space for any owner. With its simple but effective design, this room can easily be turned into a luxury master suite or a cozy and intimate retreat.
One of the most enviable features of any home is a large walk-in closet, however, this barndominium has truly stepped up in that department. Filled with an exceptional amount of storage and even an island in the center, this barndominium's walk-in closet is sure to satisfy even the most demanding of fashionistas.
Ensuite Bathroom
This master ensuite bathroom is a beautiful example of mixing black and white tones to create a neutral space. The floor is classic white hexagon tiles, but with a modern twist of dark grout. The vanity is sleek and simple, with white cabinets and black drawer pulls.
The countertop is a unique patterned black and white stone, which ties in nicely with the black fixtures throughout the room. The soaker tub and glass shower are both spacious and inviting, with a mix of white subway tiles and mini hexagon tiling. Overall, this bathroom feels clean, stylish, and inviting – perfect for starting or ending your day.
Bedroom
The second bedroom is also a great space, with plenty of room for a bed, dresser, and other furniture. The large windows let in tons of natural light, making this a bright and cheerful space.
Guest Bathroom
When designing the guest bathroom, HL Custom Homes makes sure to leave some luxury left over from the ensuite. The black and white theme continues in this bathroom, with a sleek vanity, black fixtures, and a separate tub/shower and toilet area, which also features hexagon tiles.
Laundry Room
Last, but definitely not least is the spacious and well-equipped laundry room. With plenty of storage, a large sink, and ample counter space (with the coordinating countertop), this room is sure to make laundry day a breeze.
We hope you enjoyed this tour of the chic Chico board and batton barndominium by HL Custom Homes! This home is truly a work of art, inside and out, boasting both style and function.