HL Custom Homes is making a splash with this private oasis barndominium in Poolville, Texas with today's featured barndominium. Another custom constructed masterpiece, this beautifully designed barndominium offers everything one would need, or want, right at home. Beyond the expertly crafted barndominium, the luxury-style private pool provides an exceptional way to beat the Texas heat and cool off in the summer.
If you are wondering just how stunning barndominiums by HL Custom Homes can be, this is one featured home tour you won't want to miss! At first glance, we can spot the traditional and popular layout option which provides tons of living and entertaining space as well as ample outdoor areas to enjoy.
Exterior
Today's barndominium by HL Custom Homes is a beautiful example of natural colors and elements mixing perfectly together to provide a muted by impactful look. The light vertical siding and matching stonework soften the starkness of the black roof. As found through many of HL Custom Homes' barndominium, we see right away the home features plenty of large windows to provide natural light.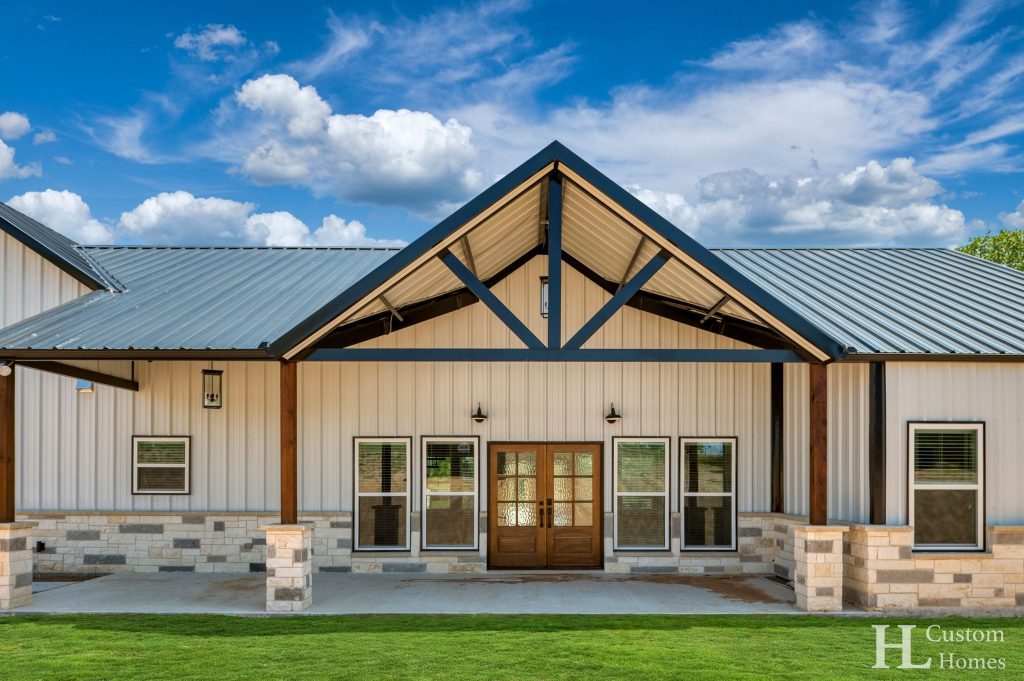 A closer look at the entranceway showcases the large porch area. The large peaked covering ensures no light is blocked and provides a perfect covering for those who want to sit outside and enjoy the beautiful weather. From outdoor furniture to beautiful holiday decorations, this barndominium's entranceway can be perfectly customized to show off the owner's individual style.
Set against lush green grass, this Poolville, Texas barndominium by HL Custom Homes ideally balances wanting to make a statement all while blending into the natural surrounding. The carefully planned brickwork continues around the entire home adding a touch of luxury and uniqueness.
Checking out the property from the other side we can see there is a large attached garage area with complimenting black doors as well as further storage offered in the detached shop. A large driveway ensures ample parking and can even be the perfect place to teach kids how to ride bikes, skip rope, and more.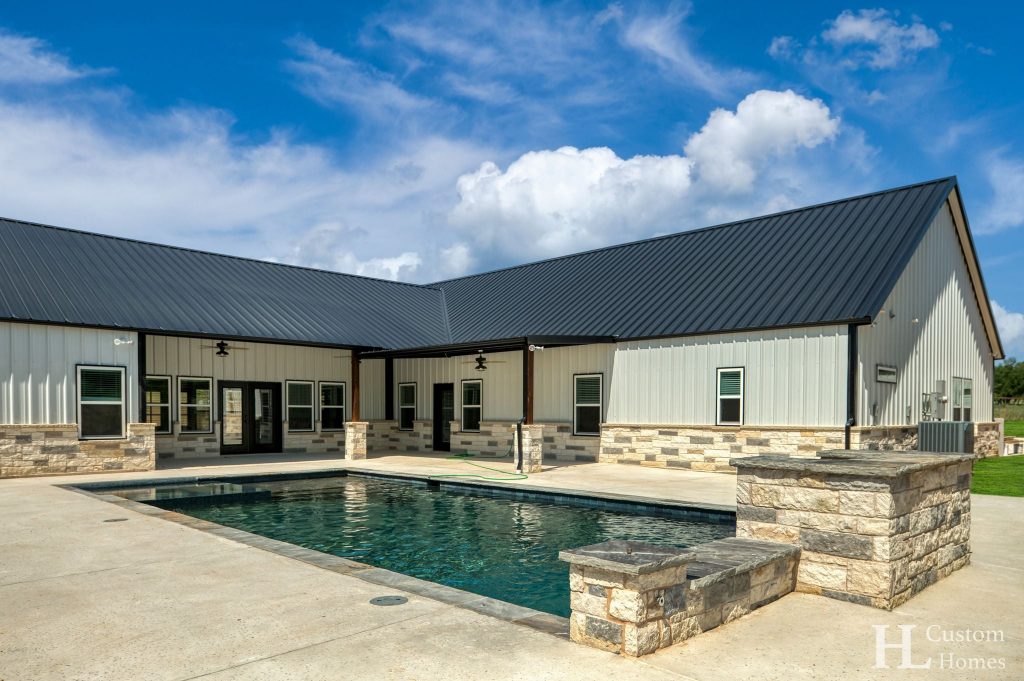 As we make our way around to the back of the property we quickly find one of the best features of this HL Custom Homes' Poolville, Texas barndominium. Deep turquoise waters and a large concrete pool area offer the perfect location to enjoy warm days. From pool parties to family BBQs, there is no telling the number of memories that will be made in this barndominium.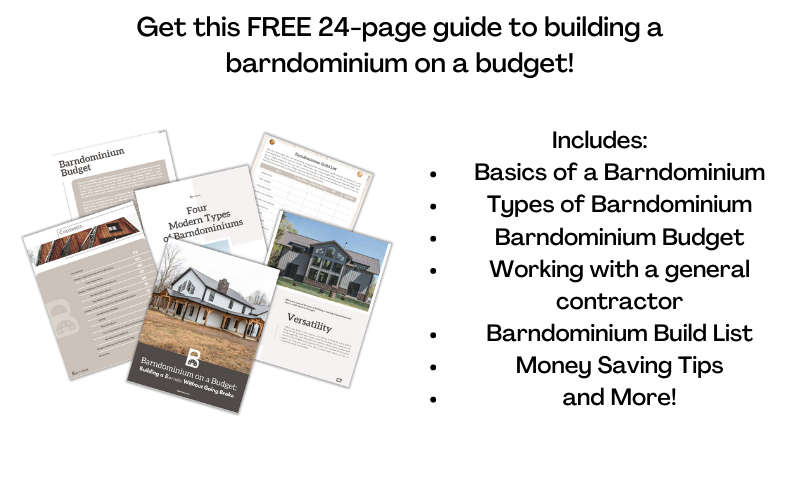 Interior
Entering the stunning home, we are welcomed into a light and spacious open-concept living room and kitchen area. Towering ceilings and the open upper loft make the room bright and airy. The living room flows perfectly into the kitchen and making entertaining a breeze. From family gatherings to game nights, this home has everything you need to make lasting memories with those you love.
The kitchen is a chef's dream come true! Complete with plenty of counter space, shaker-style cabinets, and a farmhouse sink, this kitchen has it all. The beautiful granite countertops and backsplash help to tie the entire room together. A large island with bar seating offers the perfect spot for quick meals or a place to gather with friends while you cook.
Alternative views of the kitchen show off many of the subtle details and features added such as the pot filler, wooden range hood, and open concept floating shelves. We can also see the ample amount of storage space and modern appliances included.
Located off of the kitchen, through the beautifully detailed sliding barndoor we find a multi-functional room that can be used for a number of purposes. Providing separate access to the pool area, this space is ideal for drying before heading indoors, storing pool materials, or even being a separate pantry area.
Built-in units on either side of the barndominiums fireplace offer up storage while floating shelves are the perfect place to add decorations, photos, and more
The black industrial-style spiral staircase is one of the most striking features of this HL Custom Homes barndominium. The sleek, modern lines of the staircase are offset by the warm wood floors and neutral walls, creating a space that is both stylish and inviting.
The staircase winds its way up to the second floor, where there is a carpeted bonus room. This space can easily be transformed into a home office, playroom, or even an extra guest bedroom.
Venturing back downstairs, we find what appears to be a laundry area or separate pantry area. Located off of the kitchen or behind the fireplace area, whatever this space is used for it is beautifully designed. Floating natural wood shelves, subtle tiling, and a separate sink area ensure this room is both beautiful and functional.
Bedrooms
Continuing our tour of HL Custom Homes' stunning Poolville, Texas barndominium we check out the home's bedrooms. Featuring three bedrooms, there is plenty of space for family or guests throughout this home. The first bedroom is tucked away behind the fireplace and is separated by a bathroom from the second bedroom, which is accessed on the alternate side of the fireplace.
The front bedroom appears to be a mirror image of the back bedroom, which is located through the adjoining jack and jill bathroom. Open and spacious, this room is just waiting to be perfectly customized to fit its occupant's wants and needs.
Bright and airy these matching bedrooms are great for children, and guests or could even be converted into an office, hobby room, or more.
With one of the rooms providing a view of the front of the property, this room looks out over the sparkling waters of the property's stunning pool.
The third bedroom is located on the other side of the home and features a lovely and spacious ensuite. With two large windows, this bedroom can enjoy plenty of natural light as well as fresh air and a cool evening breeze.
The final bedroom is also located behind the kitchen area and is presumably the master. The large room features a beautiful muted color and is attached to a luxurious master ensuite by way of a custom-made sliding barn door. Two large windows provide natural light as well as a great view of the pool area.
Bathrooms
The final rooms on today's tour will be the FIVE bathrooms dotted throughout the home. All with unique features and finishes, each bathroom is just as stylish and well-designed as the last.
The first bathroom, located on the ground floor and attached to one of the bedrooms, is a sleek and modern space with a walk-in shower. The large vanity with plenty of storage space is perfect for a child or guest. Beautiful tile work and dual shower heads give this bathroom an ultra-luxurious feel that anyone is sure to appreciate!
Bathroom number two is located off of one of the additional bedrooms found behind the fireplace. Providing a separate shower and toilet area, this jack and jill ensuite is spacious and convenient.
The third bathroom, which appears to be a guest washroom, is a more traditional space with a walk-in tile shower. The tile's color scheme is continued in this bathroom with pops of black throughout.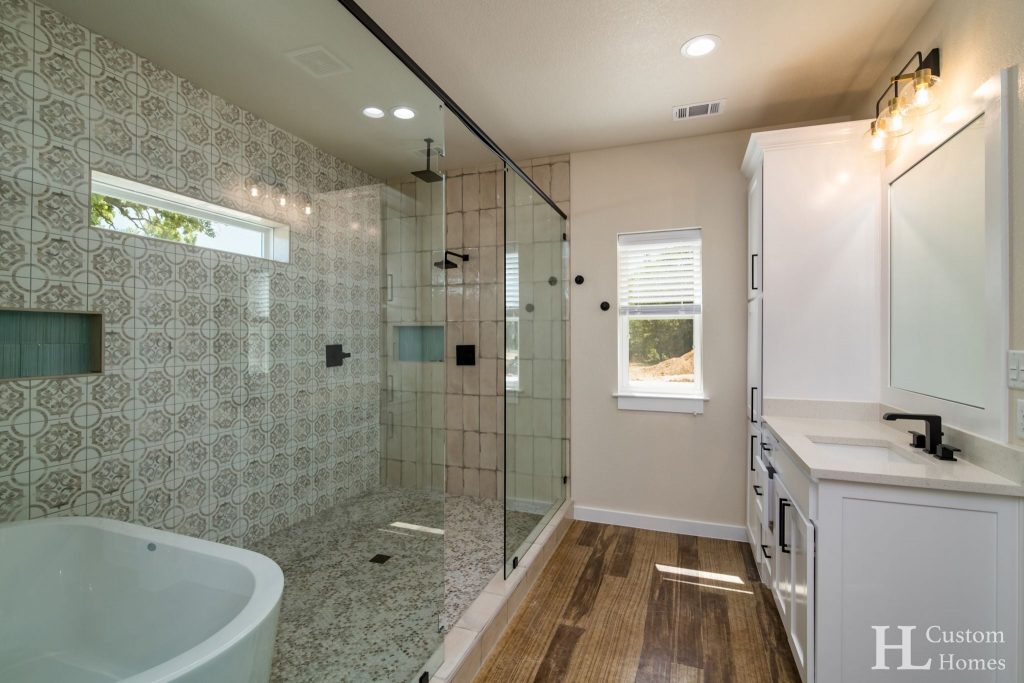 The ensuite bathroom in the master bedroom is a beautiful and functional space. The his and her vanities provide plenty of storage and counter space, while the large tile shower with a glass divider is both stylish and functional. The soaker tub is perfect for relaxing after a long day, and the overall layout of the bathroom ensures that everything is easily accessible. This is a perfect bathroom for any couple who wants both style and function in their home.