Who would win in the battle of barndominium vs shouse?
The appeal of large open-concept homes is not new. In fact, agricultural buildings have been converted into residential spaces for as long as they have existed. They work as great locations for hosting big family get-togethers. They can serve as a multipurpose space without doors or walls getting in the way of a remote lifestyle. And they can even be great getaways with easy built-in storage for the family with lots of outdoor equipment.
But as housing market prices continue to fluctuate, post-frame homes have gained new traction because of their low cost for a lot of square footage in the long run. Plus, their building timeline is perfect for any home construction show, as a barndomonium or shouse can be designed and built in as little as eight weeks.
Of course, there's always going to be a point when watching the housing design show isn't enough. If you're interested in building a barndominium vs shouse, you need to be prepared to get off your couch and do some research upfront. Sure, post-frame homes are cheaper than traditional home designs – but you still want to make sure you end up with a residential space that you can enjoy for years to come.
Read on to learn about the main details you need to consider in the barndominium vs shouse debate – and how to pick your dream post-frame home today.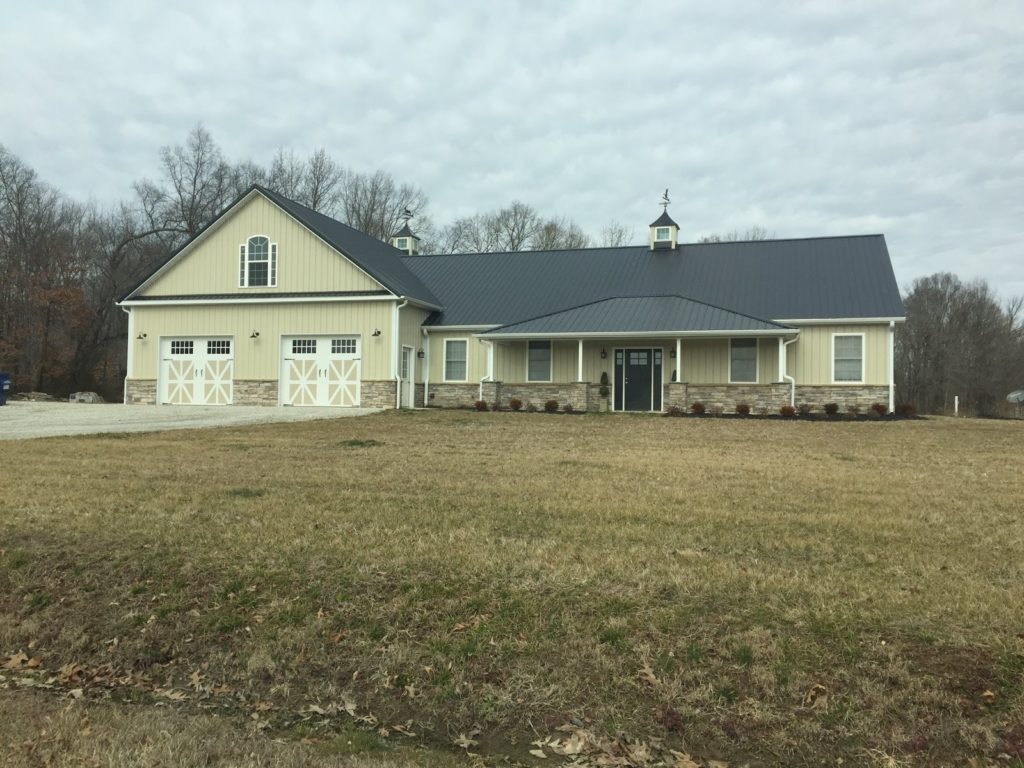 What is a barndominium vs shouse?
The goal of any post-frame layout is to shift the weight distribution of a building to the poles set at each corner of the space and the roof. This removes the need for load-bearing walls and beams throughout a structure. Barndominiums use metal building construction materials, such as steel siding and roofing, which allows them to remain impervious to traditional home rot from water damage and mold over time. The average size of a barndominium is 3,000 square feet.
Based on the family tree of post-frame houses, a shouse is a descendant of the barndominium. Just like a barndominium combines an open-concept barn and a customizable condominium, this building concept also does exactly what the name implies. A shouse combines a shop and a house under one roof. Shouse floor plans accomplish this by either connecting a workshop space to the residential barndominium building, or the residential space of a shouse is lofted above the main floor working area. As a result, the average size of a shouse is more than 4,000 square feet.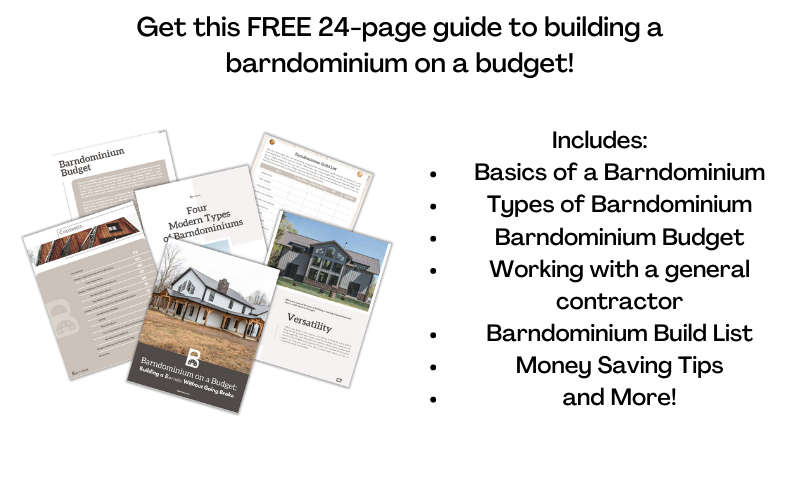 Why should I build a barndominium vs shouse?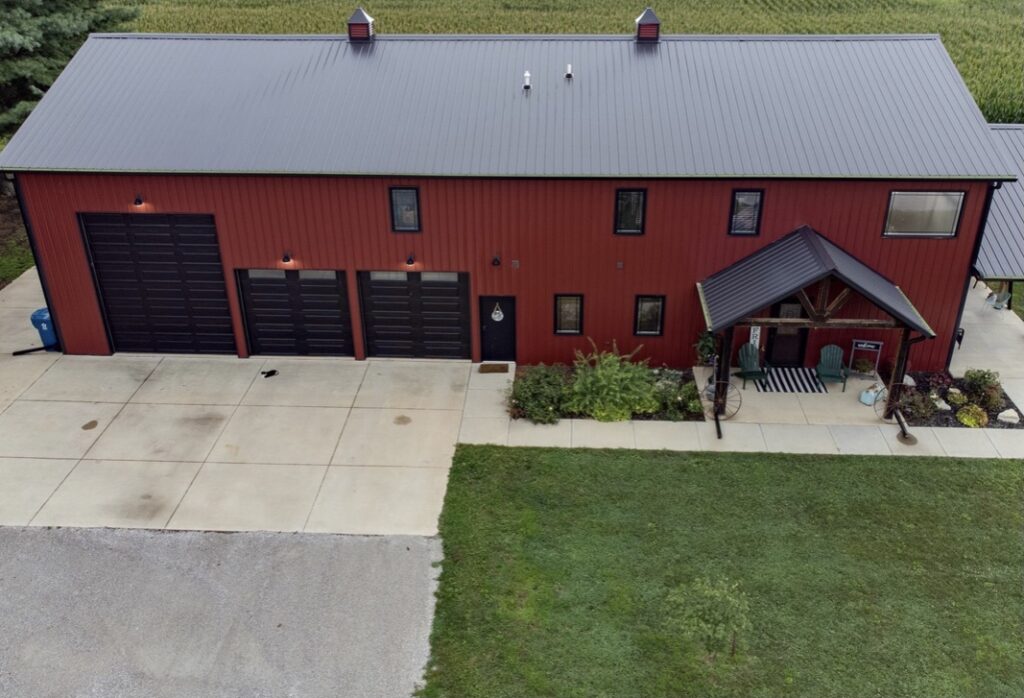 Your main consideration when considering if you want to build a barndominium or shouse is what type of lifestyle you want your new space to support.
For example, a barndominium will work efficiently as a residential building or open-concept vacation home. A shouse is more readily designed as a primary residence you plan to work out of. And with the help of a shouse design, you can even double your home as a storage space or location for your business. Maybe you've always dabbled in furniture-making or car maintenance. With the help of your shouse, you can finally make this your full-time source of income. You'll never have to worry about your commute to the office again!
Both barndominiums and shouses are great options if storage is a major concern for your home design. If you have an RV that you use for vacationing or boats you need to store during the winter, a barndominium or shouse will give you the square footage you need to have a wide open living space and room to store all your toys. However, if you most need a large garage that is attached to your residential area, a shouse could be a better option for you and your family.
How much does a barndominium vs shouse cost?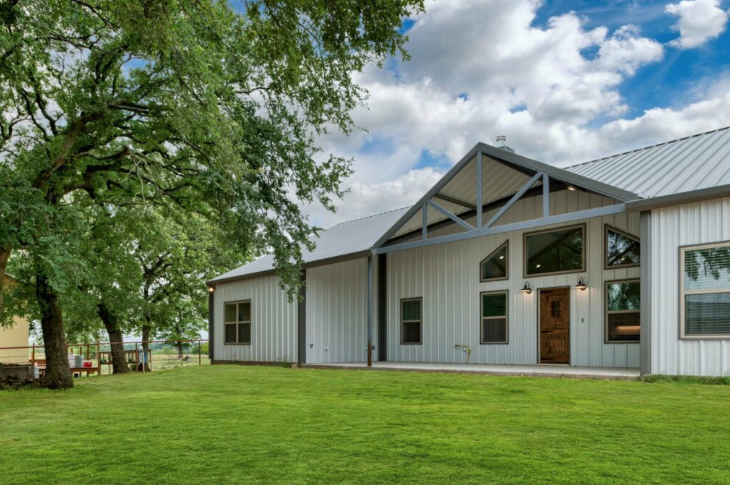 The two main factors that can most impact the cost of any post-frame construction are where you plan to build and the floor plans you commit to.
It's especially important to research building zone laws in the area where you hope to build your barndominium or shouse, as this can impact where you're allowed to break ground. Many rural counties have unique laws around home sizes and where you are allowed to build residential vs commercial buildings. For this reason, you might have to be a little more open-minded about where you plan to buy land to build your shouse. A barndominium is not going to be as limiting when it comes to location.
Post-frame building floor plans are only as small as your vision for your new home. But it is important to remember that a shouse is a workspace or storage unit first and a living space second. A barndominium is a residential building first, and any other uses you come up with for the space are a lower priority. Both barndominiums and shouses are usually two floors, but you can also add a basement if you want.
When it comes to the average cost for these two building designs, a shouse is going to be more expensive because of the extra square footage included in the floor plan. With that in mind, the average cost per square foot for both buildings is between $10 and $30. You can plan to pay up to $120 per square foot for a traditional home, so you'll be saving money either way with the help of a post-frame home.
Designing a floor plan for a barndominium vs shouse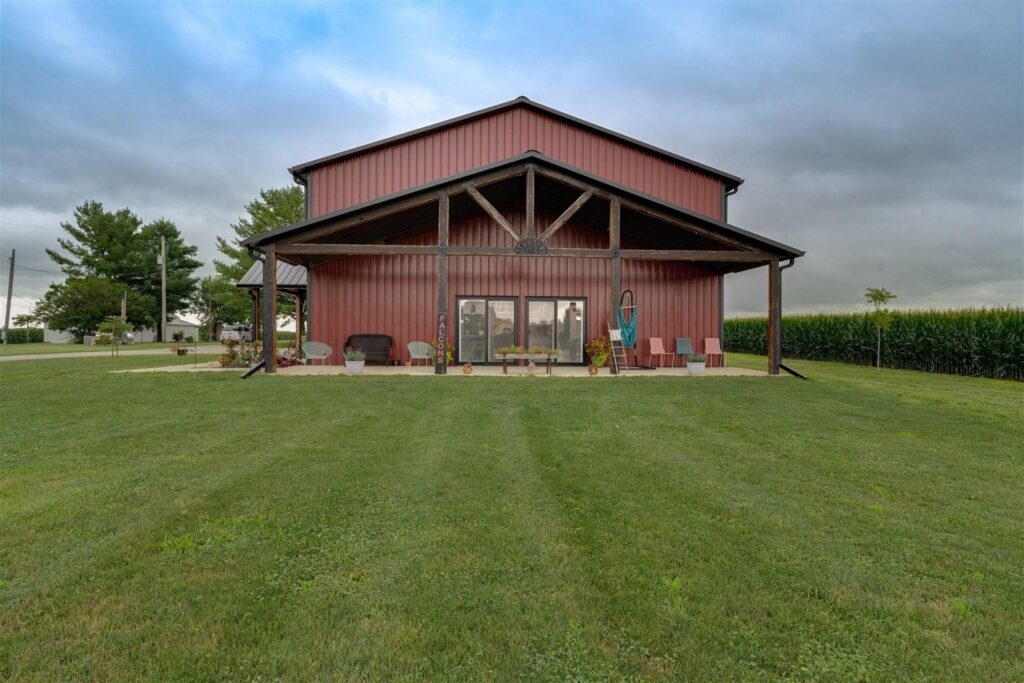 To start a floor plan for a shouse, you first need to decide where you want to include your residential space. Do you want it to be in a completely different building from your workshop, or are you okay with separating the two functions of your home with the help of a lofted area and doors?
A barndominium floor plan is going to work best if you think through the zones of your new living space. Where do you want people to watch TV together? Where do you want people to gather to eat? Remember, you won't have walls and doors to divide up your open-concept home, so it's important to think about how you can arrange your home layout to accommodate everyone in your family moving around without bothering each other.
You can save money on both barndominium and shouse floor plans and building supplies with the help of post-frame home design kits. These options come with floor plans designed by post-frame design experts, and they will also include all the materials you need to build your new home. With the help of a barndominium kit under 100k, you don't have to shop around for both your home blueprint and construction supplies to get your new post-frame house started.
How to finance a barndominium vs shouse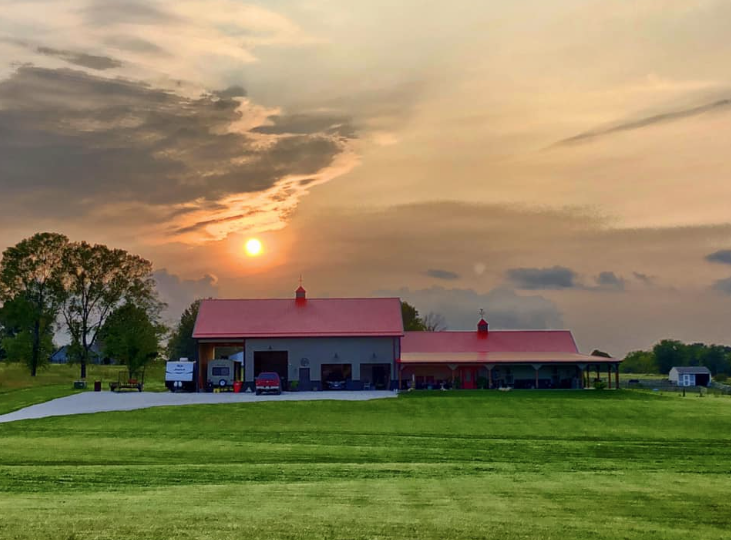 Both a barndominium and a shouse are harder to get financed. Post-frame home designs may have been around for a while, but the widespread popularity and frequency of their construction are still relatively new across the United States. For this reason, you will need to work a little harder to guarantee a loan for your new build.
The first step you can take to help a bank or mortgage lender know you are serious is to pick and stick with clear floor plans. Writing out the budget for your home and proving that you've already talked to metal building construction experts in your area is also helpful. These people can be architects who have helped you create your home blueprint, or you can reach out to contractors and construction crews in your area. Contractors are especially great to help you navigate any extra permits or zoning laws you may need to work around when building your new barndominium or house.
Finally, you can always connect with current post-frame homeowners. Online spaces like Barndos.com and post-frame homeowner social media pages can help you learn from the mistakes and triumphs of previous post-frame home design projects. None of your post-frame new build construction is impossible, especially with the help of fellow metal building owners.
Conclusion
In the end, you should consider a barndominium if you want an open-concept home at a lower price that will last for years to come. A shouse is better if you want to combine your work and play under one roof. Both are affordable post-frame home designs that can be built and moved into in the blink of an eye.
Now that you've read through our comparison of a barndominium vs shouse, the only thing left to do is to get started on your new post-frame home design! Feel free to check out our barndominium FAQs, including the three most effective ways to soundproof a metal building.
If you want to learn more before you commit to building your post-frame home, check out our eBook Building Your Dream Barndominium. It's affordable, informative, and will give you every resource you need to move forward confidently with your post-frame home build.