Building your own home can be a glorious and incredibly exciting undertaking. However, if you have ever looked into what it takes to get a custom home built, you know how much it costs and how stressful it can be. That's why building a barndominium in Montana is such a great option for so many different types of people.
In this article, we have compiled a comprehensive guide to building a barndominium in Montana. By being as prepared as possible, you can ensure your barndominium project is a success. Having this knowledge before you get started will only serve you well as you start your barndominium journey.
What is a Barndominium?
A barndominium is a home built using the shell and frame of a metal pole barn or post frame building. These buildings are constructed using metal poles driven into the ground using a concrete slab foundation. While they are usually used for things like warehouses, stables, or storage, they can also be turned into amazing custom homes with a little modification.
There are many advantages to building a barndominium in Montana. However, one of the most important ones is the fact that they are so durable and can withstand a lot of harsh weather. This is incredibly important in a state like Montana, where there is a lot of snow and ice.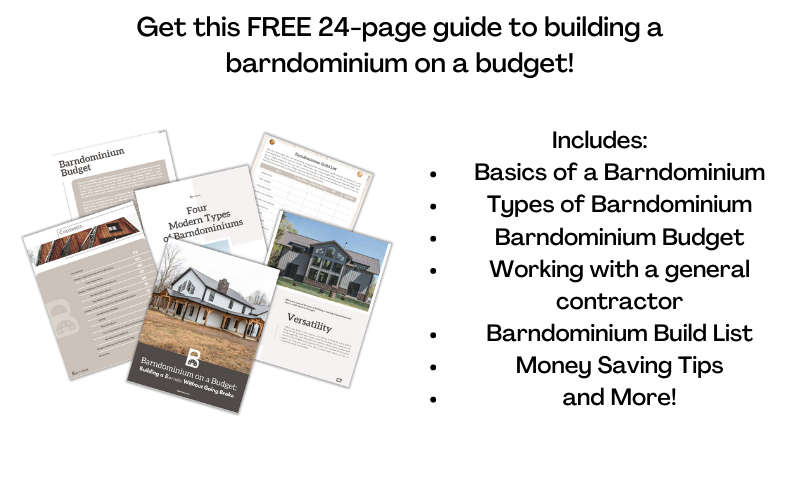 Barndominium Builders in Montana
MQS Barn
The team at MQS Barn is dedicated to helping you build your barndominium in Montana as easily as possible. They have years of experience in the industry and have built all kinds of steel buildings in the area. This means that they will have the know-how that is necessary to get your barndominium in Montana built to your exact standards.
MQS Barn stands behind their work every step of the way throughout the build of your barndominium in Montana. They offer a one-year workmanship guarantee on everything they do, and they back up all their work. If you want to work with a builder who believes in their final product, they are a great option.
Alpine Custom Builders
Alpine Custom Builders is a relatively new builder for your barndominium in Montana. However, they have years of experience between the two owners, and they have been waiting to perfect their process. This is a great opportunity for you to work with an up-and-coming company on your barndominium in Montana.
Alpine Custom Builders is a modern company that uses old-school techniques and methodology. They work with Amish building designs and techniques that are time-tested and built to last. With this kind of philosophy behind them, they can build the perfect barndominium in Montana for you and your needs.
Barndominium Kits in Montana
A barndominium kit is a great option when it comes to building your new home. This option allows you to keep the cost down as well as work at your own pace. When you order a kit everything is delivered right to your property and you can then hire someone to assemble it at your own pace.
H&H Custom Homes
H&H Custom Homes has been in business for over ten years, and they have turned this experience into amazing barndominium kits. They consider all your needs before they deliver a kit to you, and they want to be sure that you are taken care of. They believe in the versatility and beauty of barndominiums and want to deliver a good final product.
One of the things that set H&H Custom Homes apart is their well-rounded approach. They not only deliver kits, but they also are a full-service construction company. This means that they know everything there is to know about building a barndominium in Montana.
DC Buildings
DC Buildings is one of the leading manufacturers of barndominium kits in the United States. Even though they are a national company, they have delivered hundreds of steel kits to Montana. Because of this, they understand what needs to go into a project like your barndominium in Montana.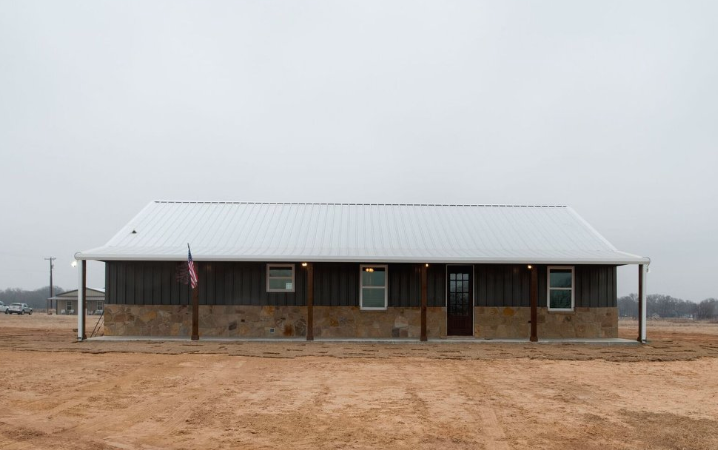 When you go with a national company like DC Buildings, you can be sure that they have the resources you need. They will even be able to offer comprehensive support for your project every step of the way. This is perfect if you are a first-time builder or don't have much experience in construction.
Barndominium Floor Plans in Montana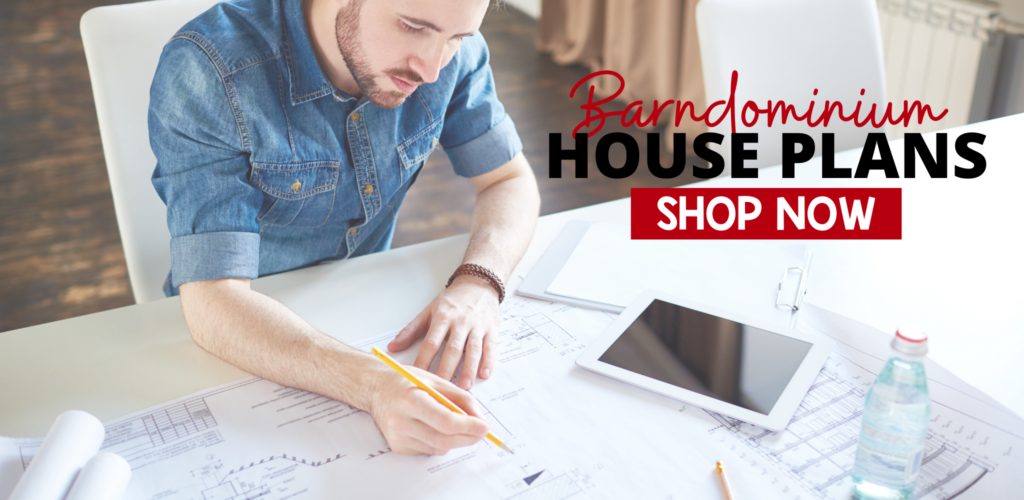 Barndominium Financing in Montana
For the most part, you will have to get financing for your barndominium in Montana instead of paying all at once. Unfortunately, getting the financing you need for such a unique building can be a little more difficult. Many lenders won't know the ins and outs of building a barndominium in Montana.
One of the best resources for getting barndominium financing is by using BarndominiumLoans.com. They are a quote service that takes down your information and works behind-the-scenes with vetted lenders who are best for your location and financial situation.
Whether you have a perfect credit score or a subpar one, and whether you're located in South Carolina or South Dakota, you can submit your information to get a quote within 24-48 hours.
Barndominium Financing Request
You will have to be as prepared as possible when you try to get financing for your barndominium in Montana. Have a detailed construction plan ready to go and a floor plan to work from. You should also know who you are hiring and where you are going to be building.
Barndominium Insurance in Montana
Getting insurance for your barndominium in Montana can also be a challenge. Many insurance companies won't know how to value your home or what it could be worth. Because of this, they won't know what kind of policy you might need and may not want to cover you.
To help with this, you should keep track of all your expenses throughout the build process. Then, get the home appraised by a professional home appraiser when it is all done. Using these figures, your insurance agent should be able to find the right policy for your barndominium in Montana.
Cost of Building a Barndominium in Montana
One of the biggest benefits of building a barndominium in Montana is the fact that it is so much cheaper. For example, building a traditional home in Montana will cost around $280 per square foot to build. This price, though, does not include any of the extra features you might want with a custom home.
However, a barndominium in Montana will cost quite a bit less. For the most part, you should be able to get this project built for around $205 per square foot. With this extra money, you can afford all the extra furnishings you will want to include with your custom dream home.
Don't want all the hassle of building a barndominium from the ground up? Then you may want to buy an existing barndominium in Montana! With our Barndominiums for Sale Marketplace, you can browse to your state and find a barndominium for sale near you.
The beauty of buying an existing barndominium is that it can be really easy to customize the floor plan to your liking. The previous owners' setup is just a starting point! Also, by buying a barndominium in Montana, you bypass the potential troubles of the building process – delays, dealing with contractors and subcontractors, and city or county bureaucrats trying to make your build process a nightmare.
Don't delay – find a barndominium for sale in Montana now!
Conclusion
Montana is one of the most beautiful states in the country and has so much to offer the people who live there. Building a barndominium in Montana is a great way to get the most out of it for a lot less money. If you would like more guides like this one and tips and tricks from the pros, check out the rest of Barndos.com.
If you are ready to start building the barndo of your dreams, check out our barndominium floor plans to help you create the barndominium of your dreams or use a barndominium design software program to help you plan out your space for your new home. When in the planning stages, be sure you also check out the barndominium financing and insurance options that are available. For more helpful tips, visit our FAQ barndominium section to get answers to all your barndo questions.