Building a barndominium is a great way to get the home you have been dreaming of. They can be built very inexpensively with post frame kits or even from scratch. However, even if you are using a kit, you will still have to frame a barndominium on the inside.
Knowing how to frame a barndominium and what goes into it is a great way to start planning your project. This essential step of the building process should be handled with care and requires a lot of forethought. In this article, we have laid out how to frame a barndominium and what you should look out for. 
Using a barndominium kit under 50k or a barndominium kit under 100k can help you finish your project quicker and cheaper.
What is a Barndominium?
A barndominium is a home built using the shell of a post frame building or pole barn. These types of structures are usually reserved for things like stables or warehouses. However, with a little bit of modification and imagination, they can be turned into amazing modern homes.
Barndominiums aren't framed up like traditional homes. The inside, though, still needs to be framed up with the walls and door frames that separate the rooms. Knowing what goes into this process can help you make the best choices when building your barndominium.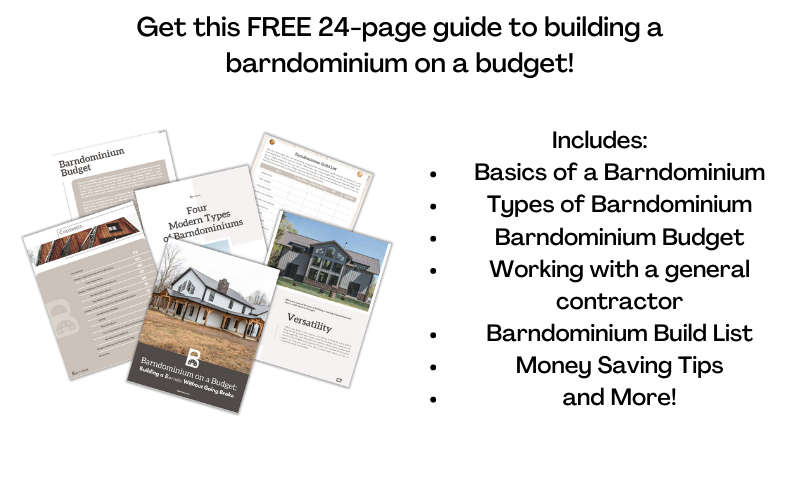 Design the Floor Plan
Before you start framing a barndominium, you will have to design your floor plan. This will tell you where everything needs to be placed and how it will be built. To get started on your floor plan, write out everything you want for your home, including the room count and the number of bathrooms.
Then, take this list to an experienced draftsman. They will work with you to create the perfect floor plan that will suit all your needs. You will then use this plan to frame a barndominium and create an ideal space for you and your family.
Build the Wall Frames
When you frame a barndominium, you will want to build the wall frames first before putting them up. This way, everything will go up in one piece, and you won't have to worry about missing any studs or door frames. It will also help make the interior more structurally sound so you can comply with building codes.
When building the wall frames, make sure you include studs. Studs make the frames more stable and give you a strong surface on which you will hang furnishings and fixtures. Studs should be no more than 16 inches apart on each frame.
Raise the Wall Frames
Once your frames are built, you can then raise them on the concrete slab. For the most part, you will want to use masonry nails to secure the frames to the slab. Make sure they are long enough to penetrate the slab at least one inch so they can be secure and up to code.
Use your floor plan to place the wall frames in the correct spot and make sure they are creating your correct layout. Continue putting up the frames until you have the whole interior up. Doing things in this order is the best way to frame a barndominium.
Add the Ceiling Beams
Once your wall frames are up, you will then want to add your ceiling beams. These beams will stretch across the wall frames and give you a surface to hang your ceiling. Ceiling beams are usually made using 2x4s but three one-inch planks are also acceptable as long as your local building codes allow it.
Nail the beams horizontally across the frames and make sure they are no more than 12 inches apart. This will give you enough structural integrity to hang the ceiling. It will also be strong enough if you are framing a barndominium that has two stories or more.
Add Utility Fittings
Once you frame a barndominium, you will then want to add all your utility fittings. This includes things like light switch boxes, plumbing, and electrical boxes. Consult with a professional electrician and plumber to make sure you are installing things correctly.
You will also want to have your floor plan as accurate as possible for this step. Knowing where all the different rooms are going to be will also help you plan for your utility fittings. All of this will be worked out with the draftsman in the planning stages so you can feel confident during the building portion of your project.
Add Your Insulation
Once you have framed a barndominium, you will want to figure out your barndominium insulation. Insulating your barndominium properly is essential, especially if you live in a hot or cold area. Barndominiums can be drafty due to their steel construction but with proper insulation, they will be comfortable.
Most of the time, you can use spray foam insulation in your wall frames. This type of insulation is sprayed into the walls and is very easy to install. We recommend closed-cell spray insulation for the best possible results.
Cover the Frames With Drywall
Once your frames are up, and your utility fittings are installed, you can then put up the drywall. If you have opted for spray foam insulation, you may want to install your drywall first. Then, you can simply fill the gaps with the spray and you don't have to worry about missing any sections or forgetting them before you put up your drywall. This is an integral part of the process when you frame a barndominium.
Make sure that you have everything wired up and ready to go before you put up the drywall. This will allow you to simply plug and play all your appliances, plumbing fixtures, and lighting. You may want to consult with a drywall professional or hire them to do the work if you are unfamiliar with the drywall process.
Conclusion
If you are ready to start building the barndo of your dreams, check out our barndominium floor plans to help you create the barndominium of your dreams or use a barndominium design software to help you plan out your space for your new home. When in the planning stages, be sure you also check out the barndominium financing and insurance options that are available. For more helpful tips, visit our FAQ barndominium section to get answers to all your barndo questions.