Today's featured barndominium takes us to beautiful Springtown Texas as we get the pleasure of walking guests through another one of HL Custom Homes' stunning properties. This absolutely flawless home is comfortably situated on a spacious lot and is chock full of amazing luxury features.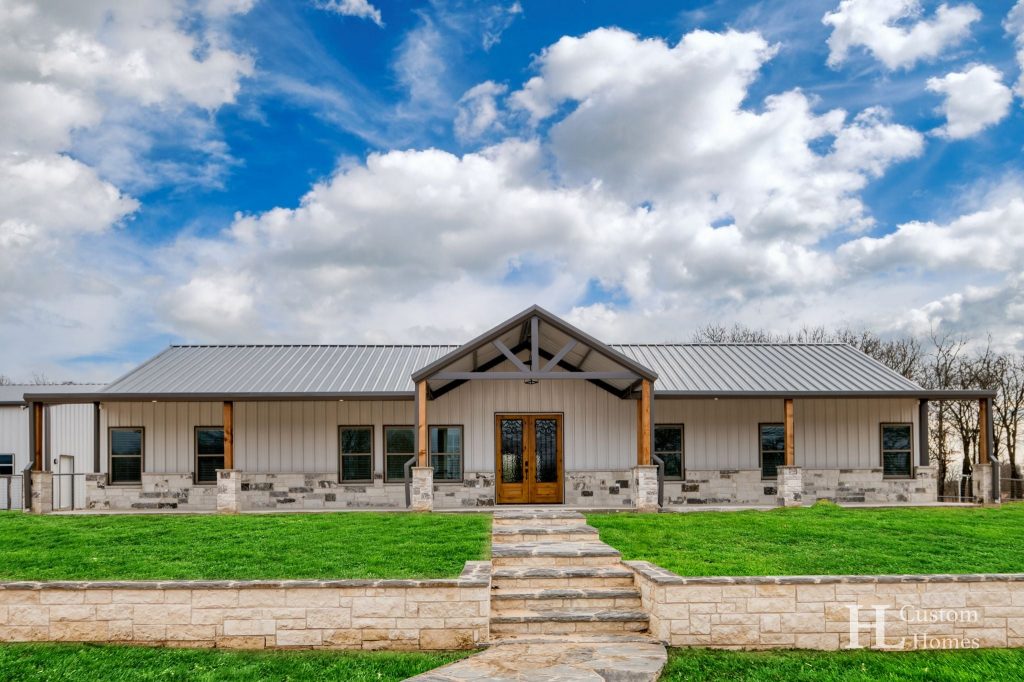 HL Custom Homes' barndominiums are quickly becoming known for their exceptional style, quality craftsmanship, and overall value. This Texas Barndominium is no exception and perfectly embodies everything that the company stands for.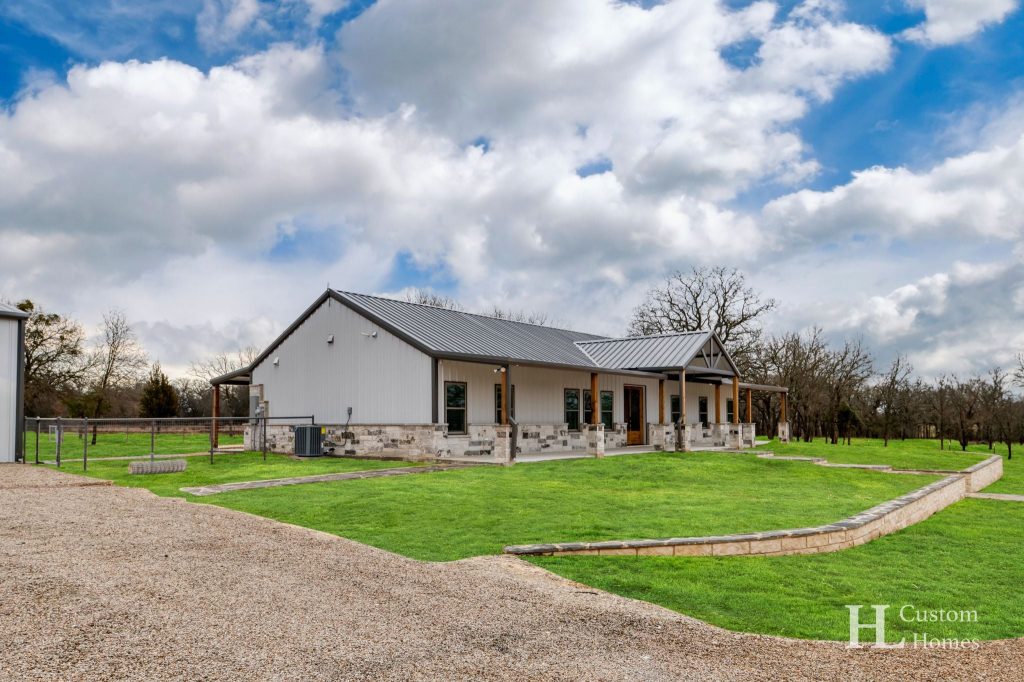 As soon as you pull up to this property, you'll be able to tell that it's something special. The clean lines and stunning retaining wall accent the home perfectly and create a warm and inviting curb appeal. Once you step inside, you'll be able to see just how much attention to detail was put into building this home.
Exterior
The excitement for this HL Custom Home barndominium in Springtown, Texas begins as soon as we head to the front door. A dramatic entranceway welcomes us with beautiful stonework, elegant wood doors, and a large canopy that is adorned with dark trim detailing. This home is sure to make a statement from the street.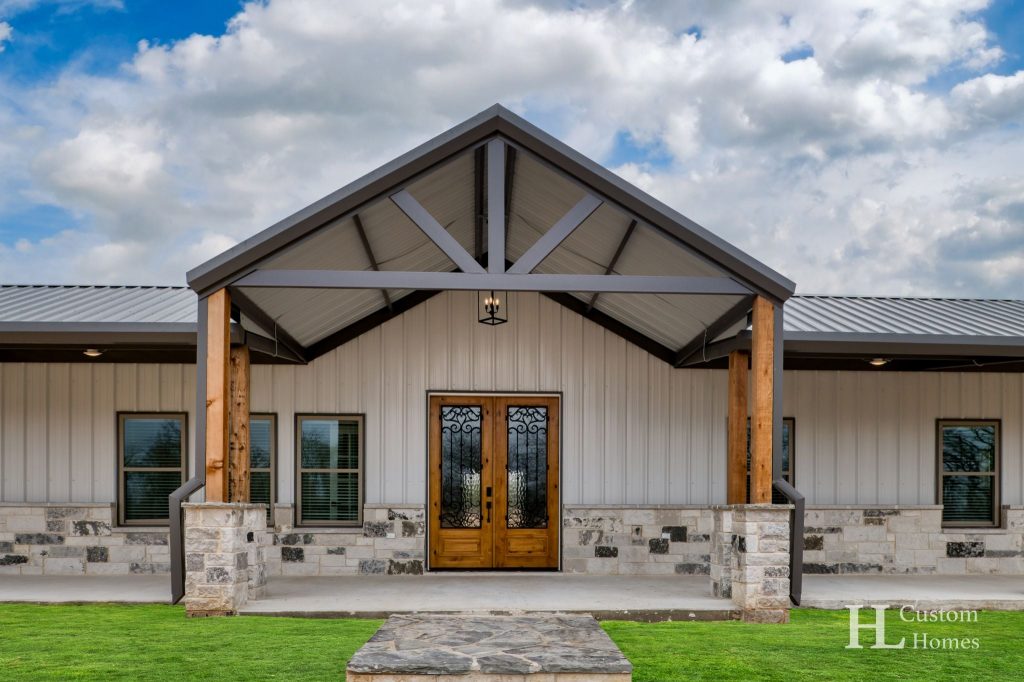 Exposed, natural wood pillars tie in perfectly with the front door giving the home a rustic yet refined look. Iron detailing on the door is subtly matched with the porch light fixtures for a touch of coordination.
The large front patio offers ample space for one to sit out and enjoy a morning coffee or a late-night beverage and can be cheerfully decorated for any season or holiday.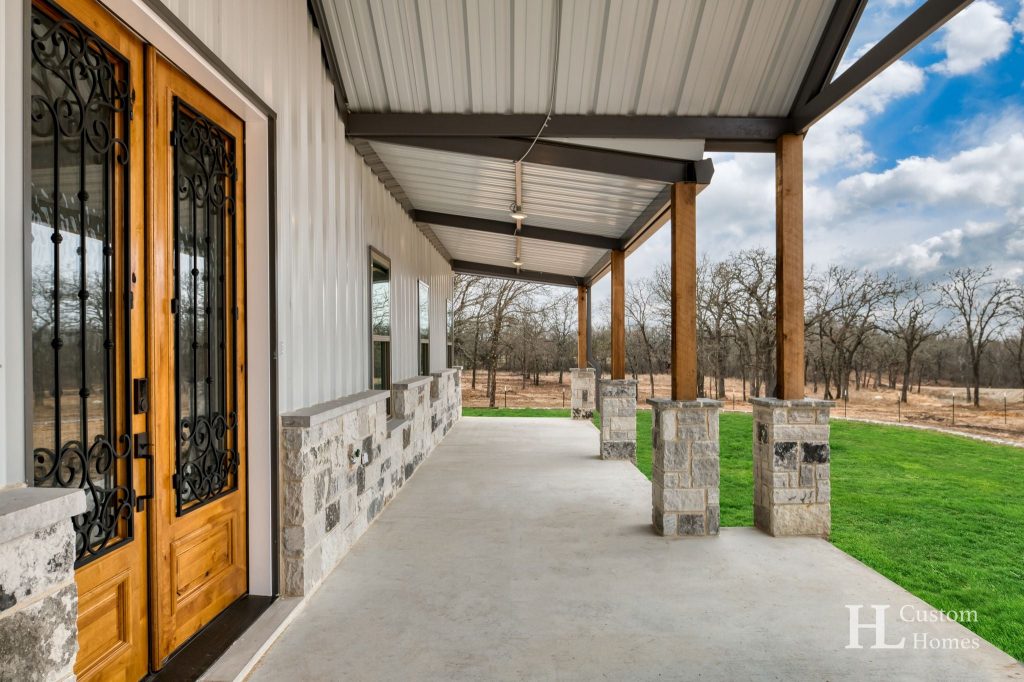 The home's simple and clean lines are continued around the back where we find an expansive outdoor living space that is perfect for entertaining. A large pergola covers a good portion of the back patio area and mimics all of the design and decor of the front entranceway.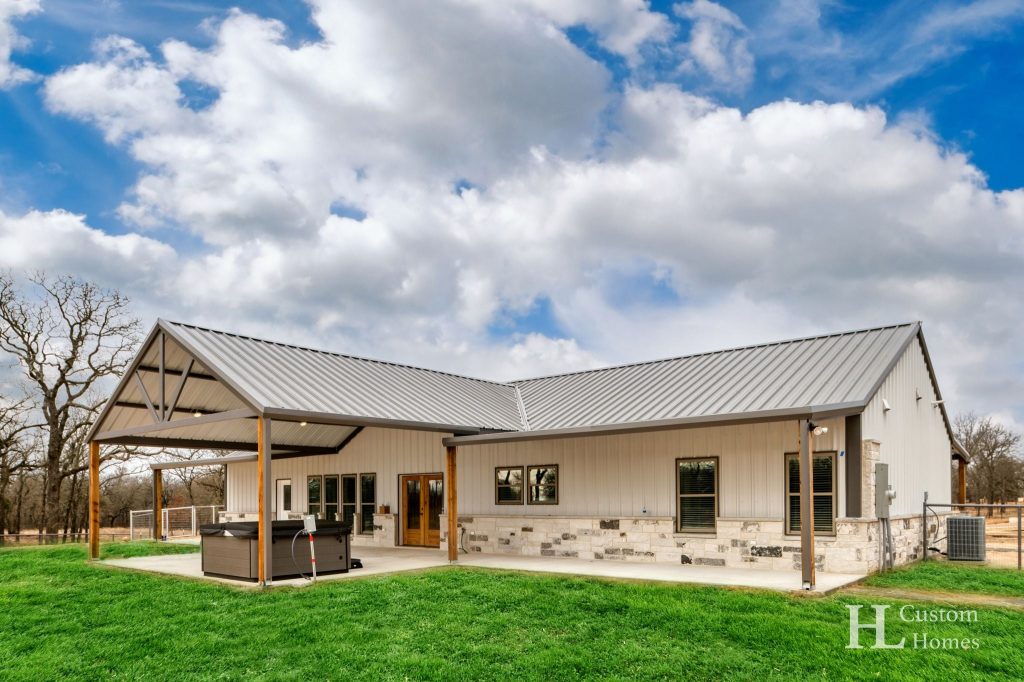 Off to the side of this Springtown, TX barndominium, we can see a matching garage/barn which no doubt provides ample amount of storage and space.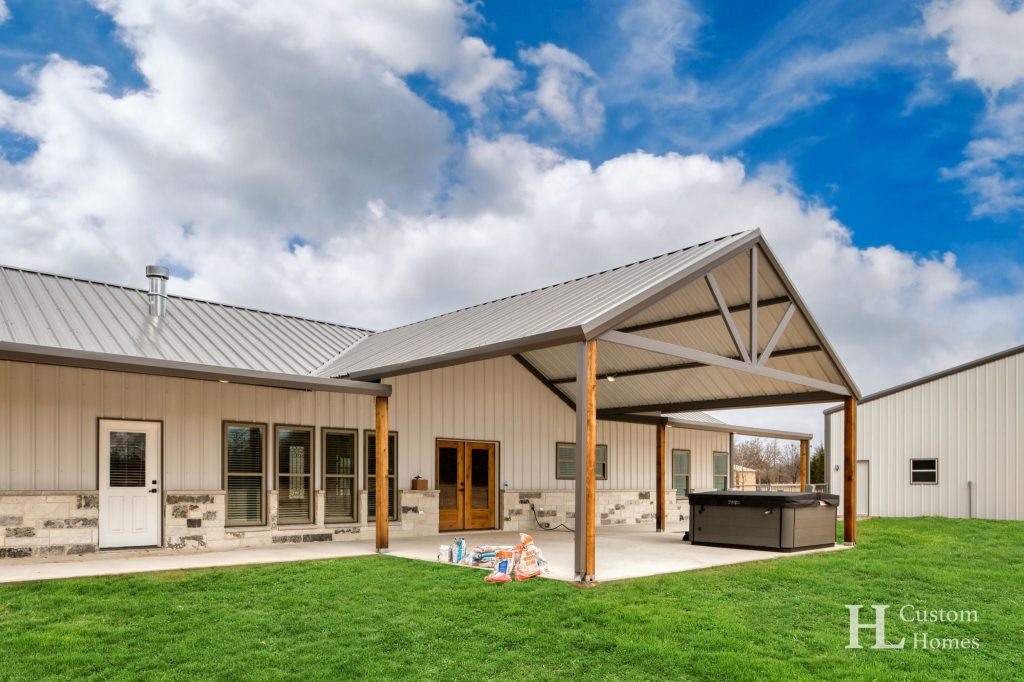 Another noticeable feature of this Springtown barndominium is the many large windows that ensure plenty of natural light fills the interior of this home.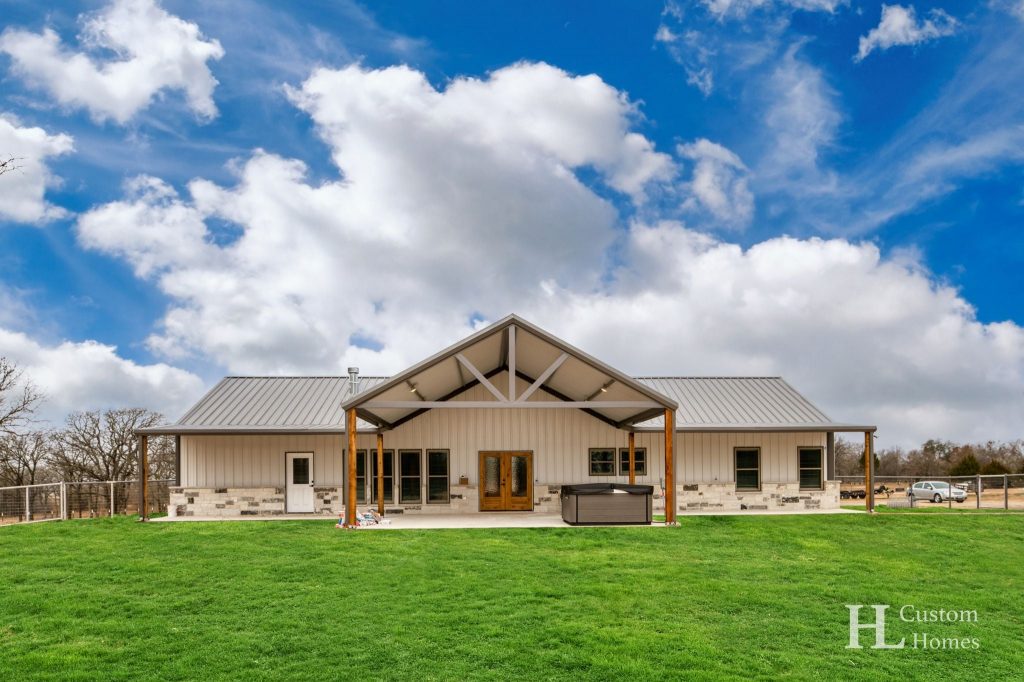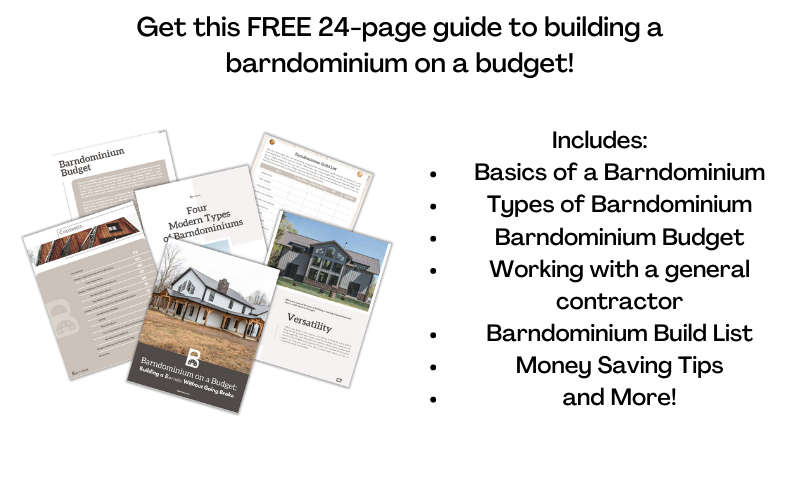 Interior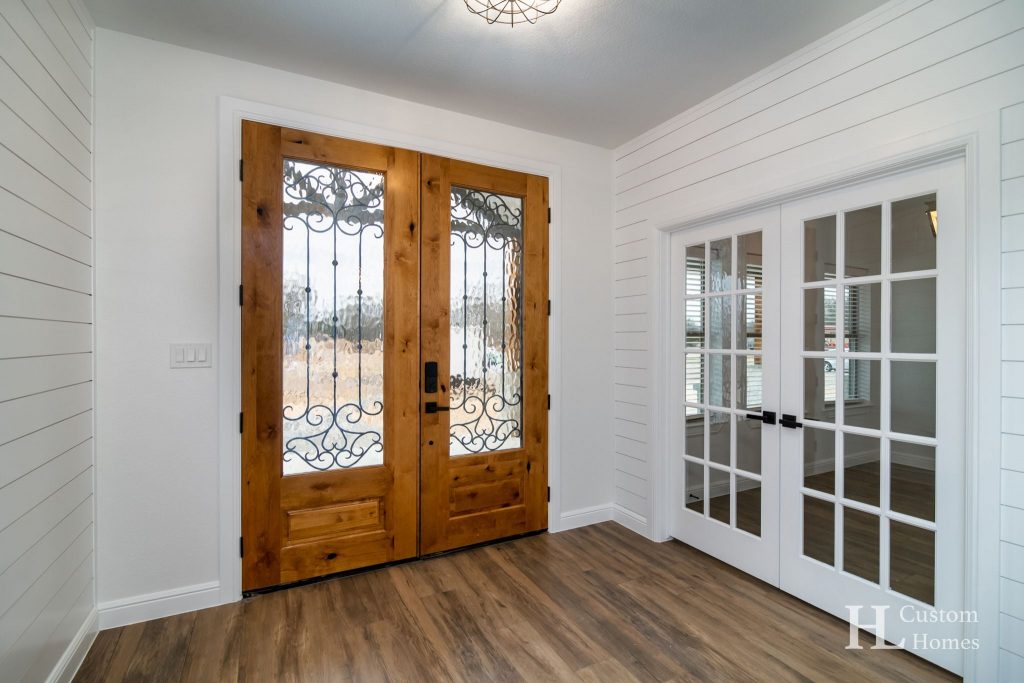 Upon entrance of the spacious and open concept barndominum by HL Custom Homes, we can see that the rustic chic theme has been brought indoors as evident by the crisp white shiplap. Offering a clean and cohesive look, this wall treatment is carried throughout the home.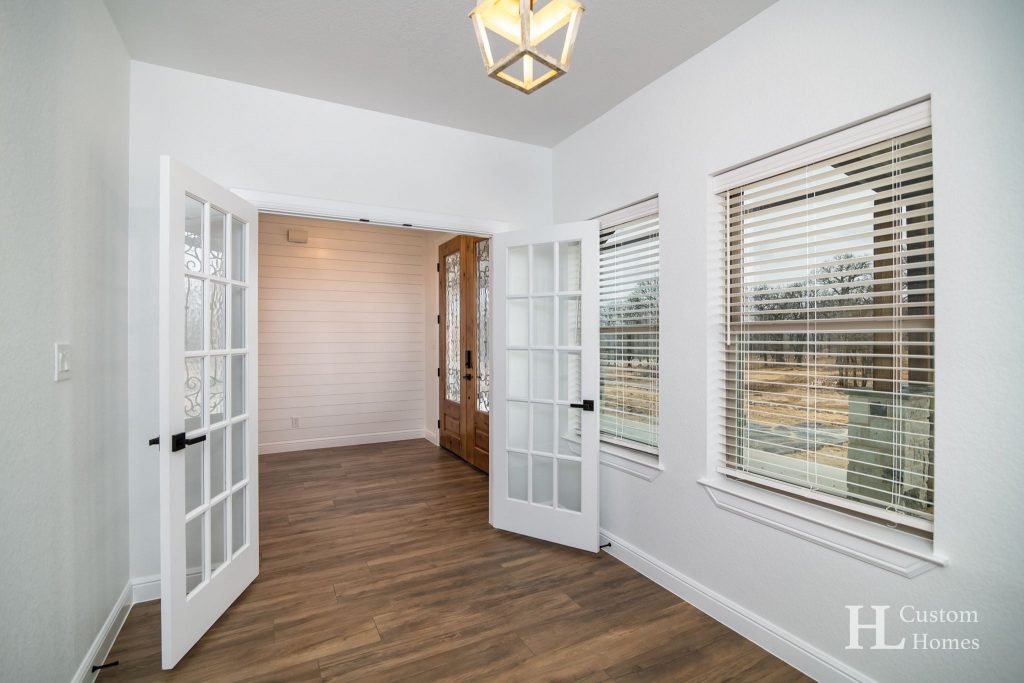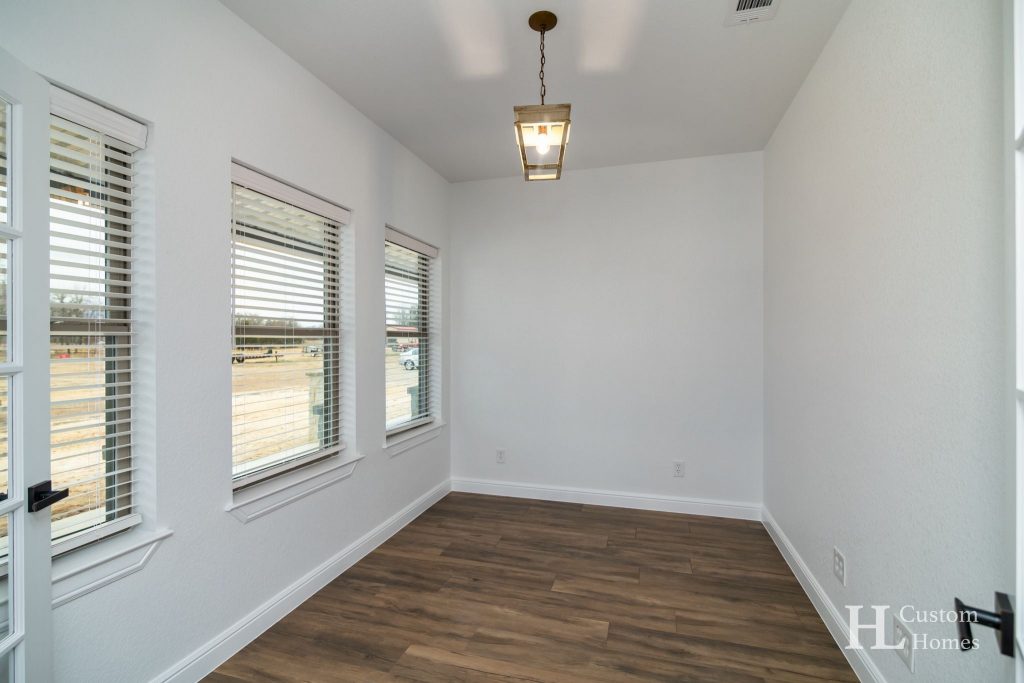 Right off of the entryway, we find a bonus room that can be used as an office or for another purpose. The barndominiums large windows ensure plenty of light fills this space.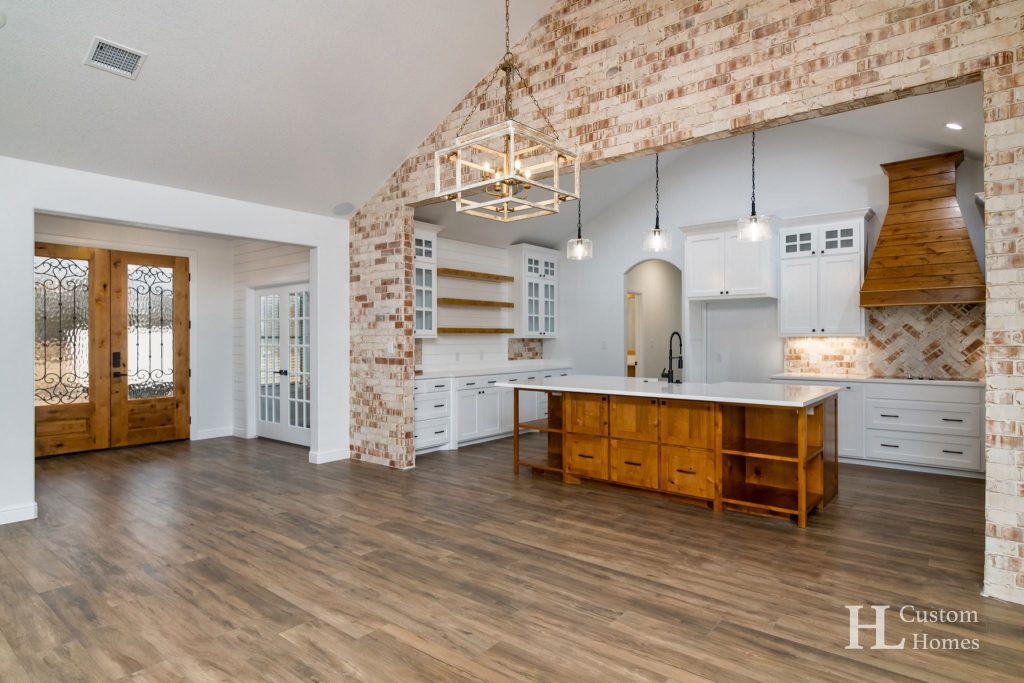 The bright entryway opens up into the main living area/kitchen which is the perfect place to gather with family and friends. This area oozes luxury and refinement with its soaring ceilings, gorgeous beams, and high-end finishes.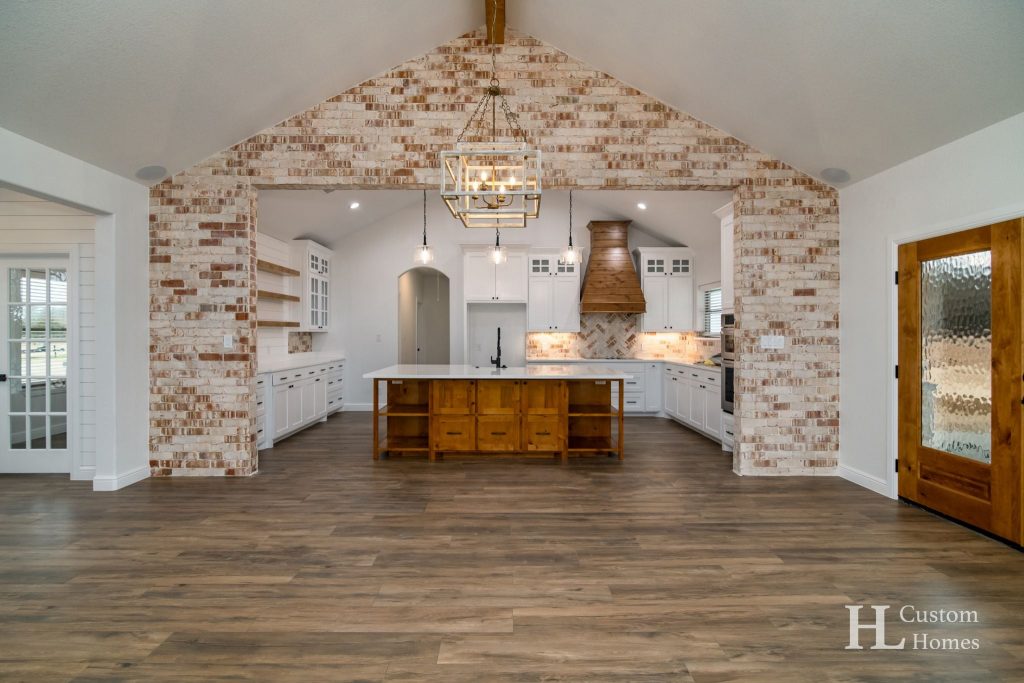 One of the most interesting design elements of this Springtown, TX barndominium by HL Custom Homes is a brick archway that subtly separates the kitchen from the living room. Not only does it offer a bit of privacy for those in the kitchen, but it also adds a touch of architectural intrigue and matches perfectly with the backsplash.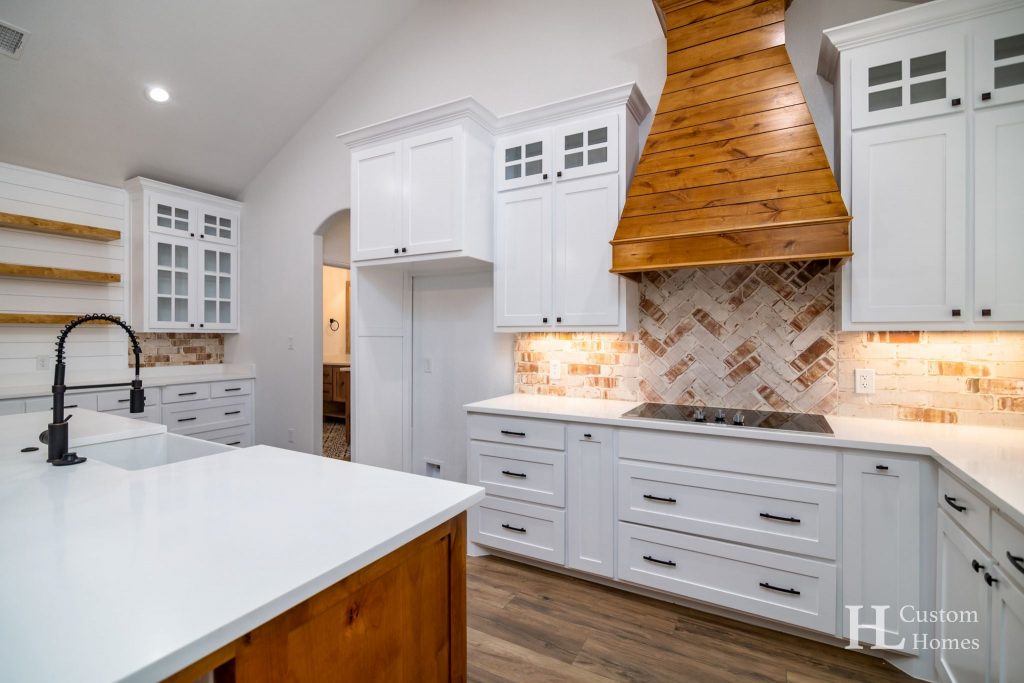 Careful consideration is evident in this barndominium as accent pieces such as the wooden range hood both blends in and stands out at the same time. Without looking overdone, this kitchen has been accessorized perfectly.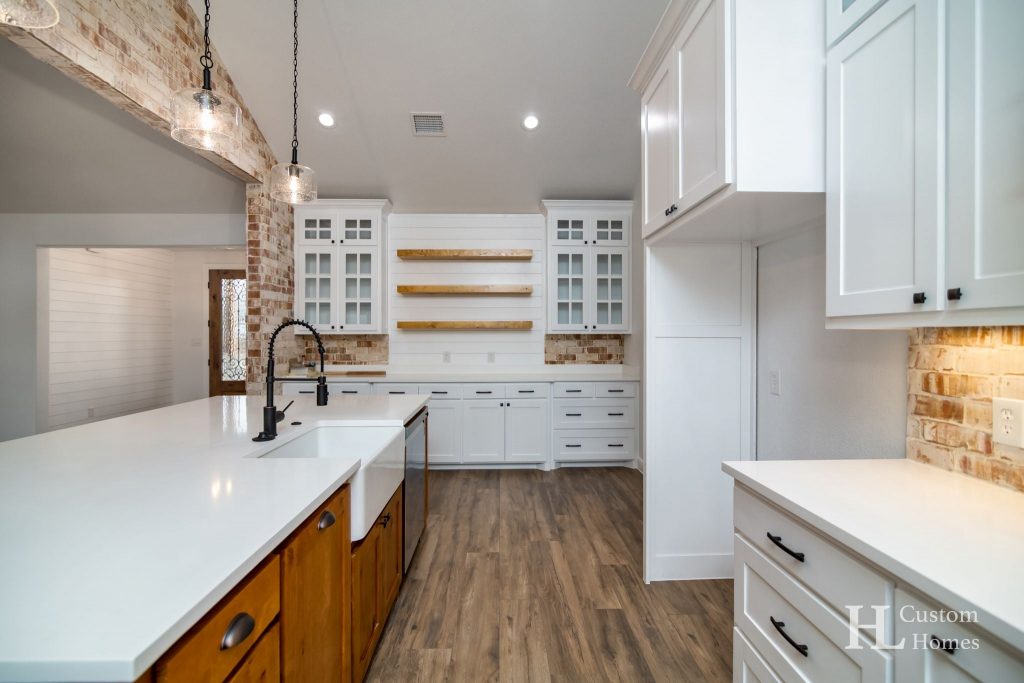 Stark white cabinetry is offset by gleaming wooden floating shelves and island, and the result is a kitchen that is both elegant and inviting. The use of black throughout the space (on the faucet, industrial-style pendant lights, handles, etc.) adds just the right amount of contrast and makes this barndominium's kitchen truly pop.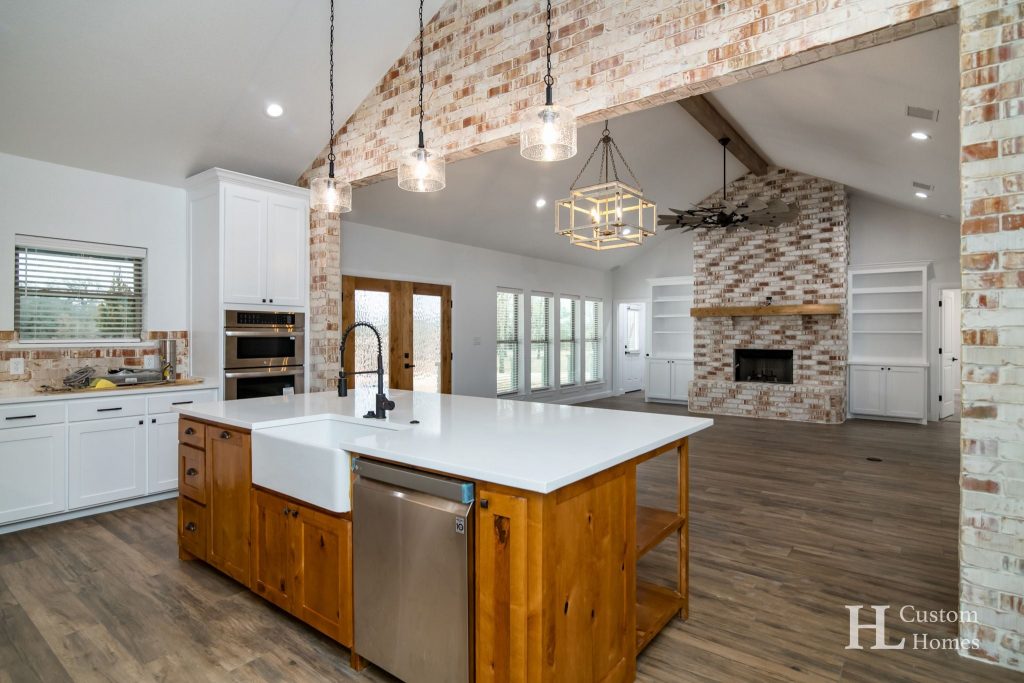 Alternative views of the kitchen show just how beautifully designed and full of storage the space is, as well as how the kitchen flows so seamlessly into the living room and outdoor areas.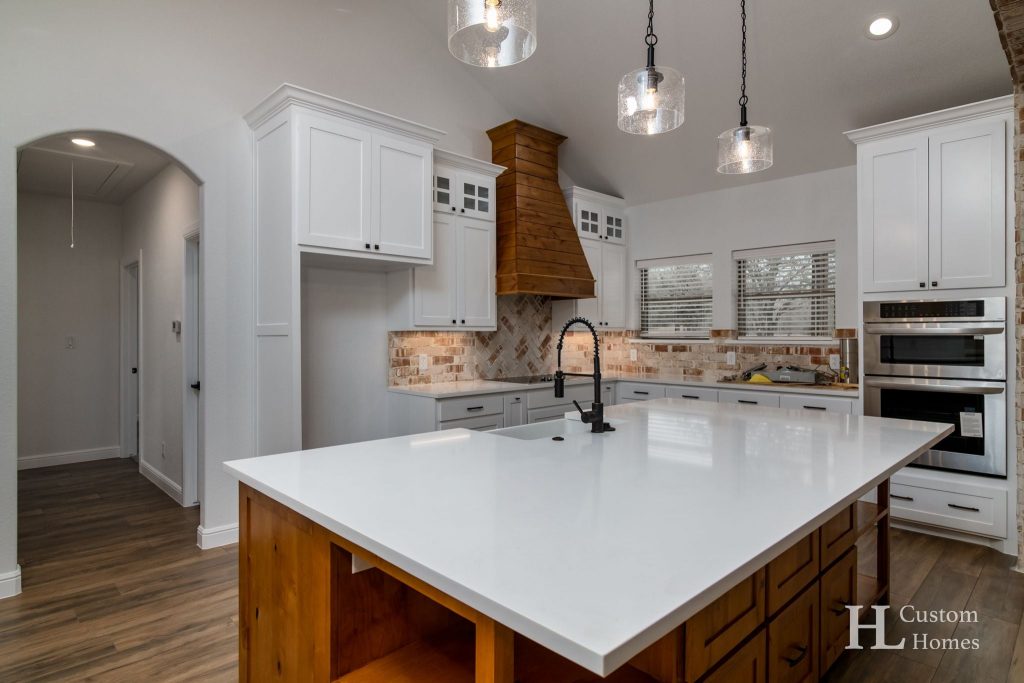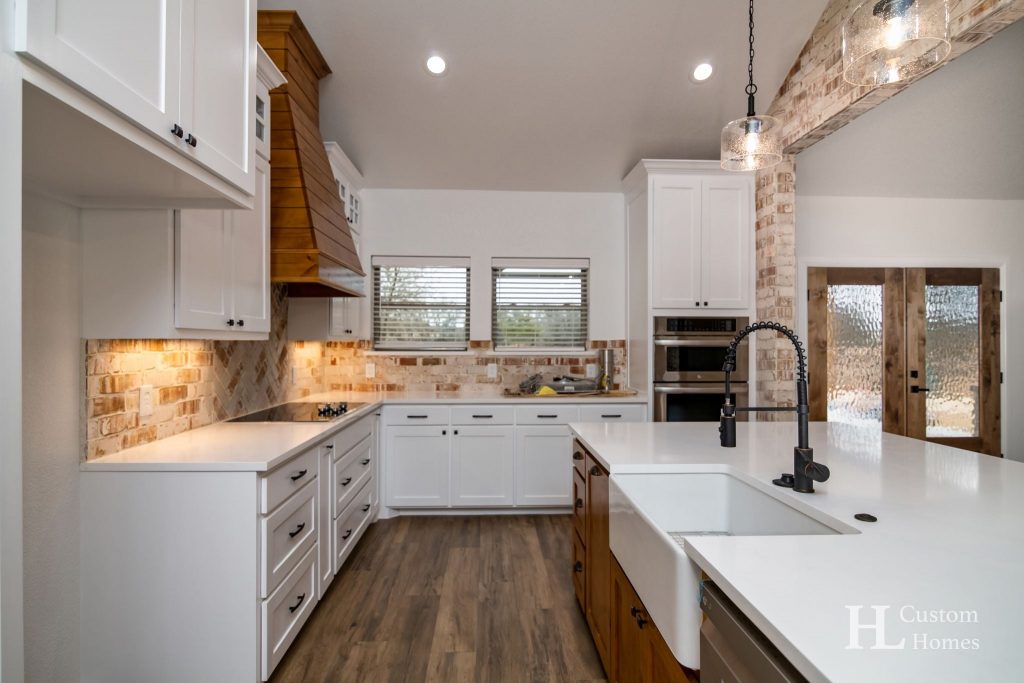 The living room continues the home's airy and open feel with its high ceilings, exposed beams, and oversized windows. The large stone fireplace is a stunning focal point in the room and perfectly ties in with all of the other rustic design elements.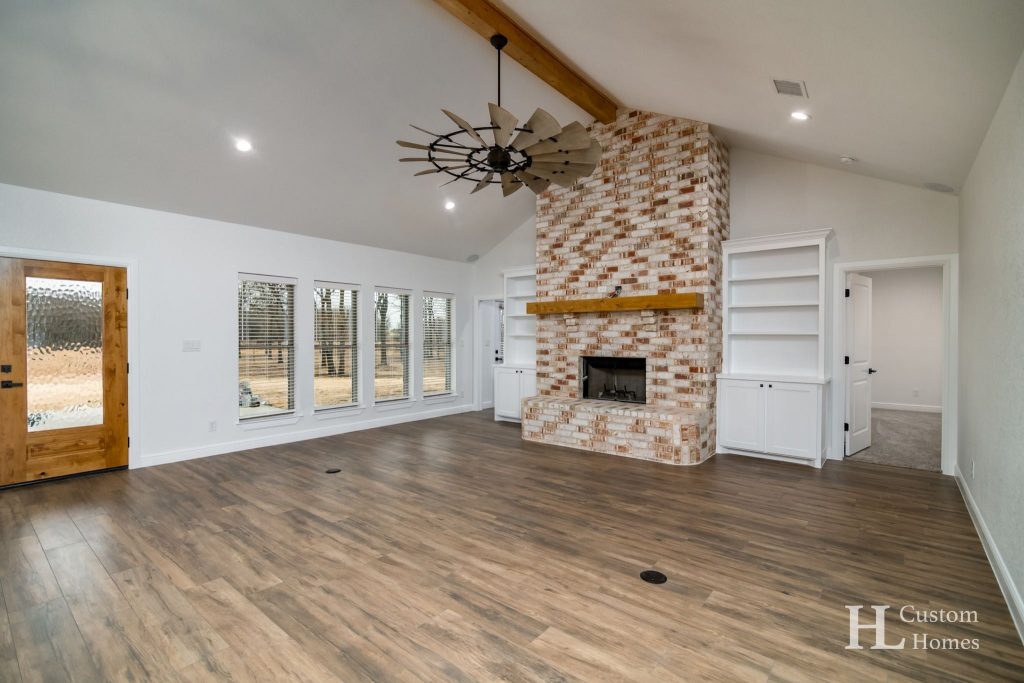 Matching built-ins on either side of the fireplace provide both aesthetic and functional value to the space. The perfect place to curl up with a good book or display family photos, these built-ins are not only pretty but also quite practical.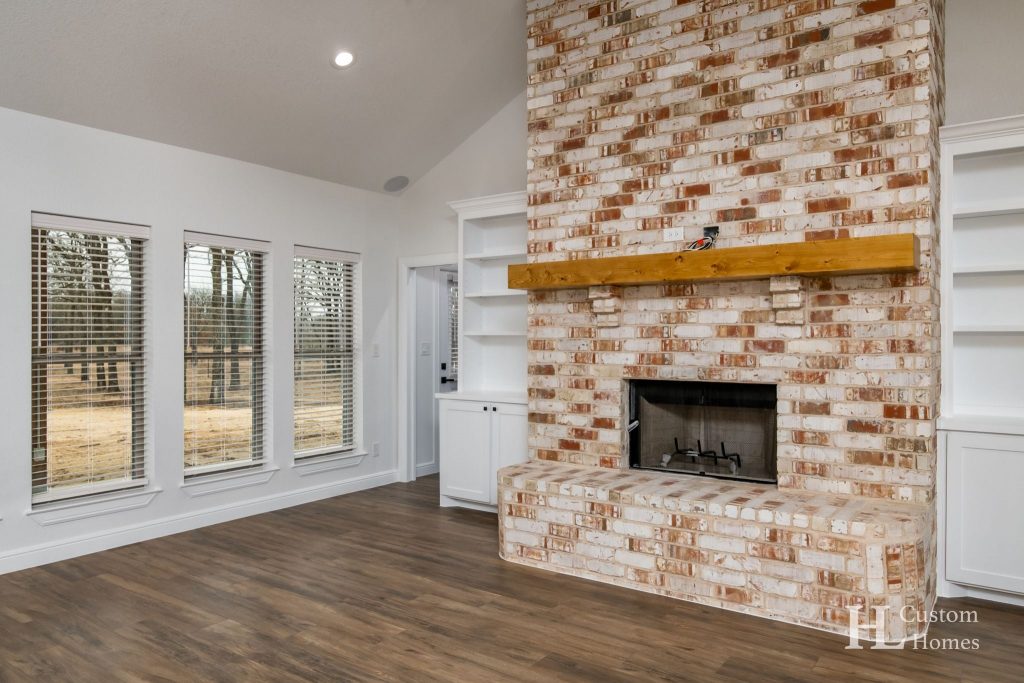 The home's floor plan is thoughtfully designed to provide maximum privacy for the bedrooms while still offering an open and airy feel throughout. Located on opposite ends of the fireplace, a guest bedroom and laundry space each have their own unique features that are sure to please.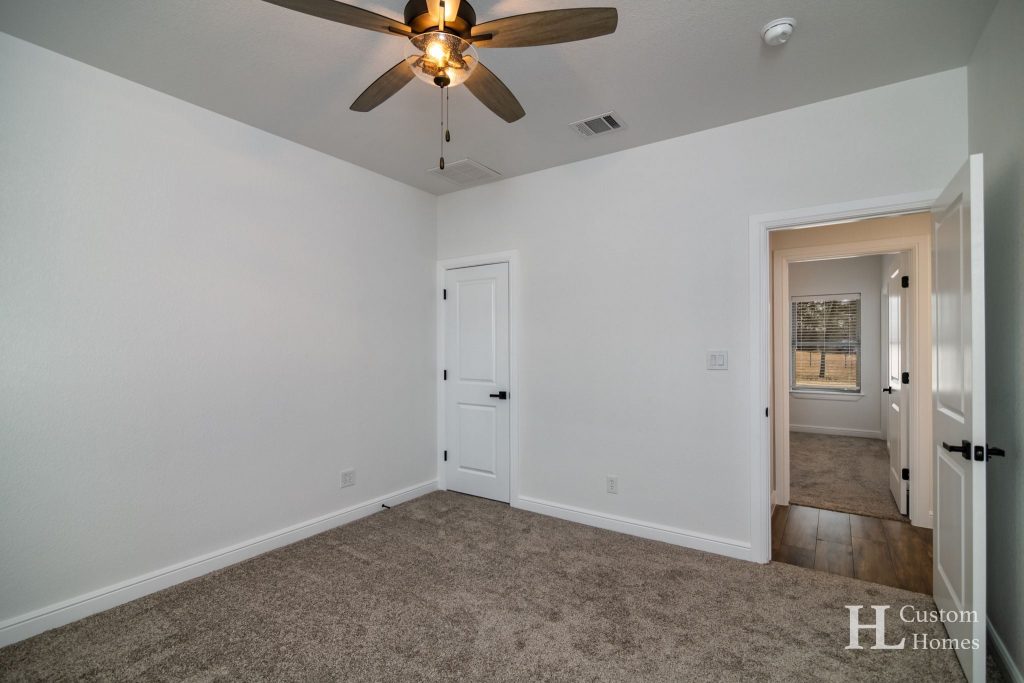 The bedroom is bright, and airy, and boasts beautiful views of the property thanks to its large windows.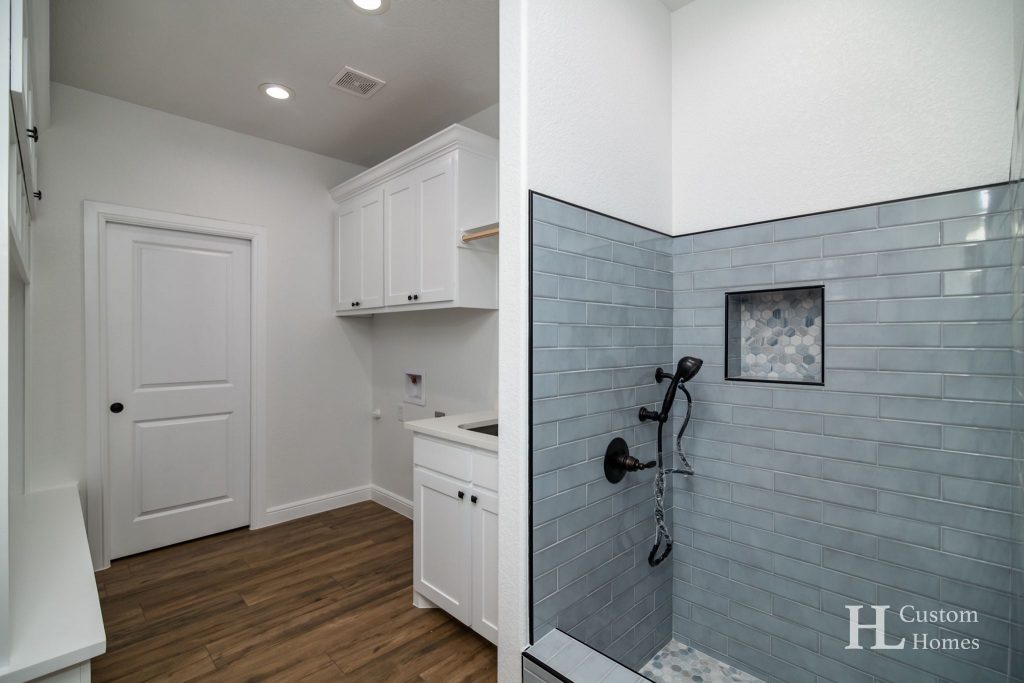 The laundry room blends function and style and even features a pet shower with separate outdoor access to ensure no muddy paws make their way inside.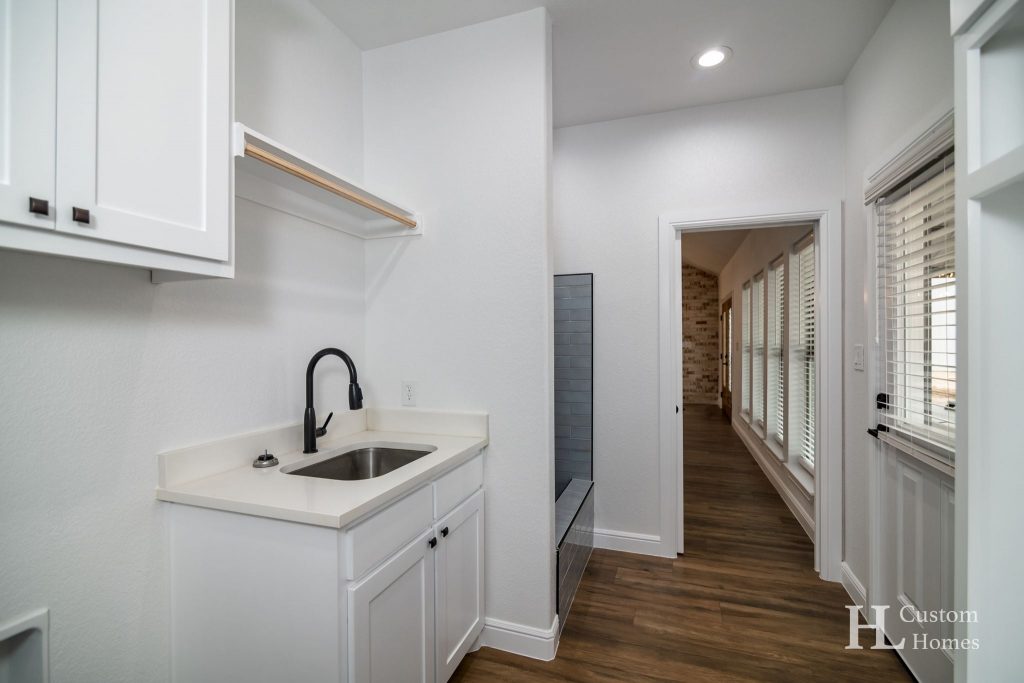 We can see plenty of storage space available for cleaning supplies and the likes as well as a separate laundry sink for added convenience.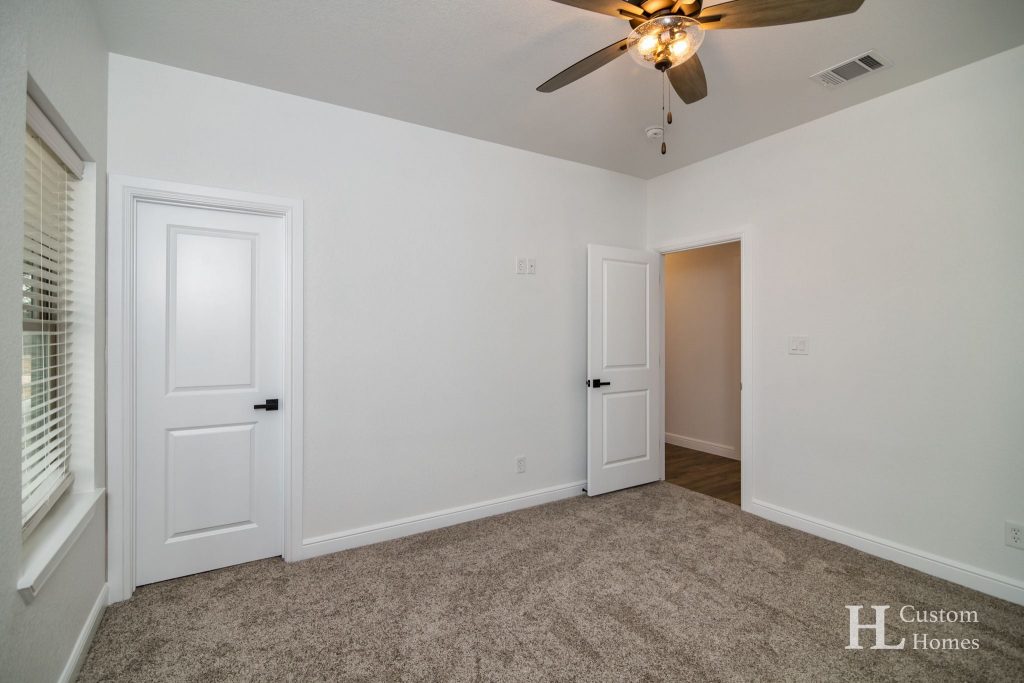 On the other side of the home, the master suite features an envy-inducing walk-in closet that features tons of space to hang clothes as well as a large island for shoes, accessories, and much more.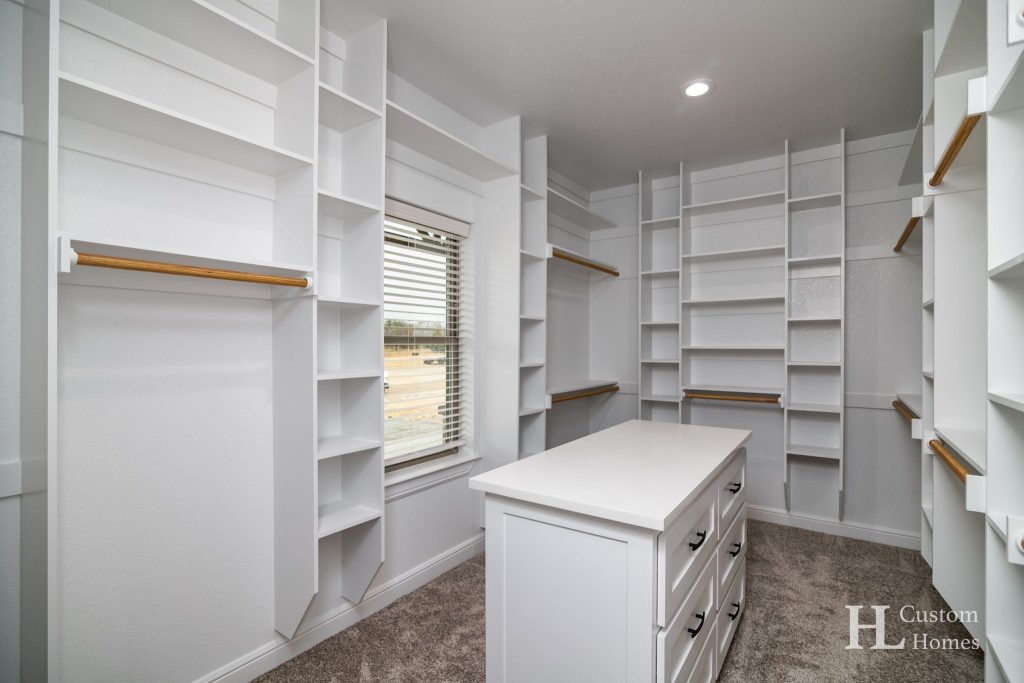 HL Custom Homes' Springtown, Texas barndominium is outfitted with two bathrooms, a guest bathroom as well as an ultra-luxurious ensuite.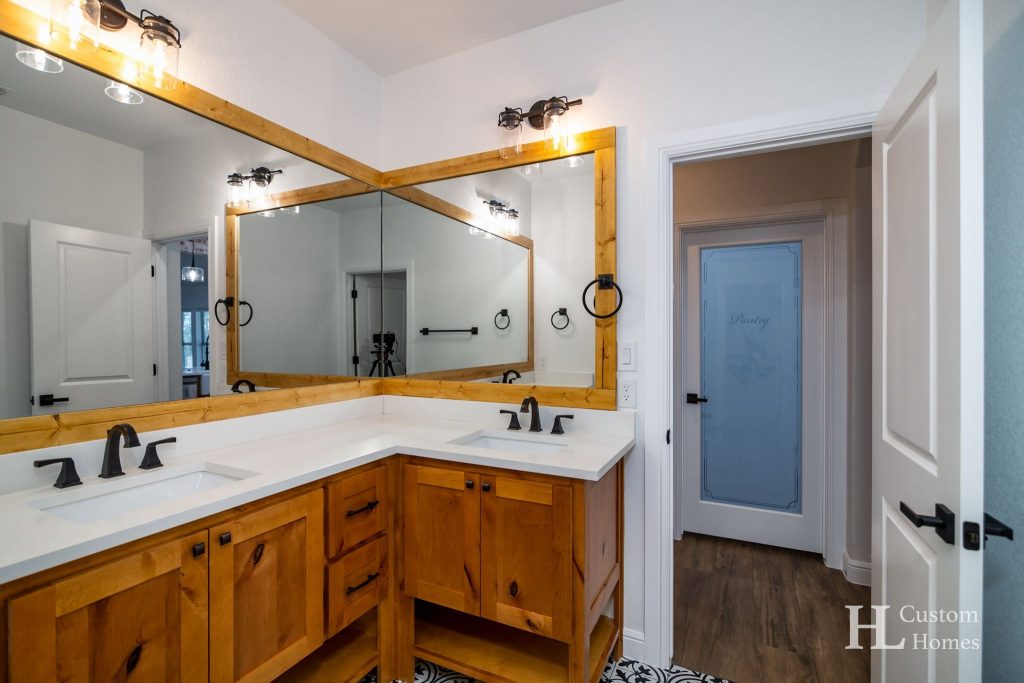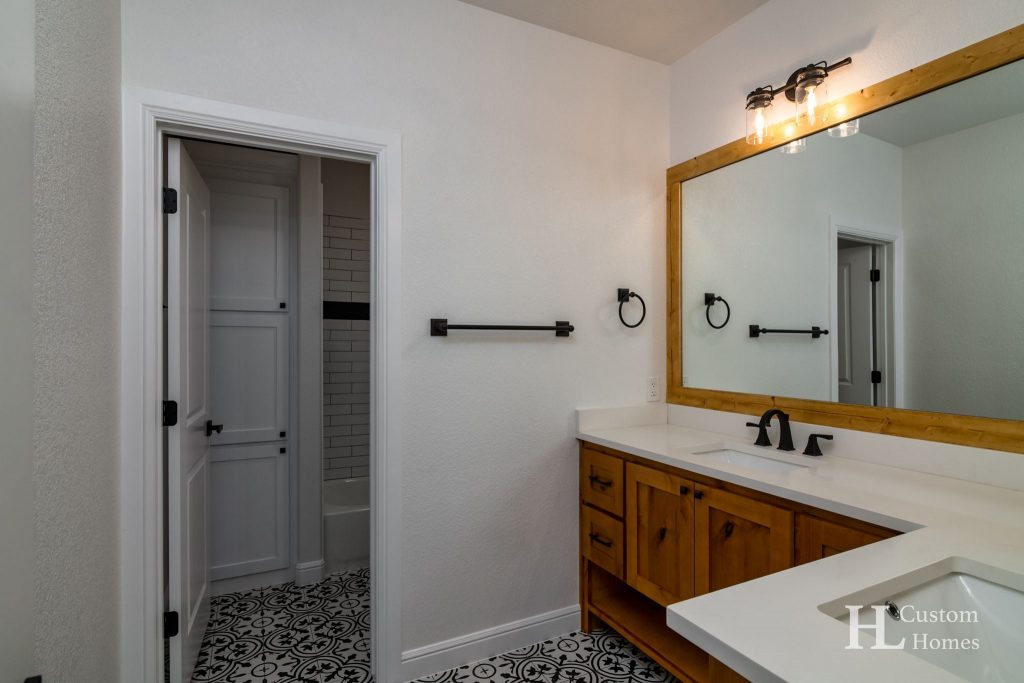 The large guest bathroom continues with the design elements as found throughout the home, however, adds a fun touch with the black and white patterned tile flooring. A large vanity that mimics the kitchen island is complemented by the white shiplap walls and black fixtures.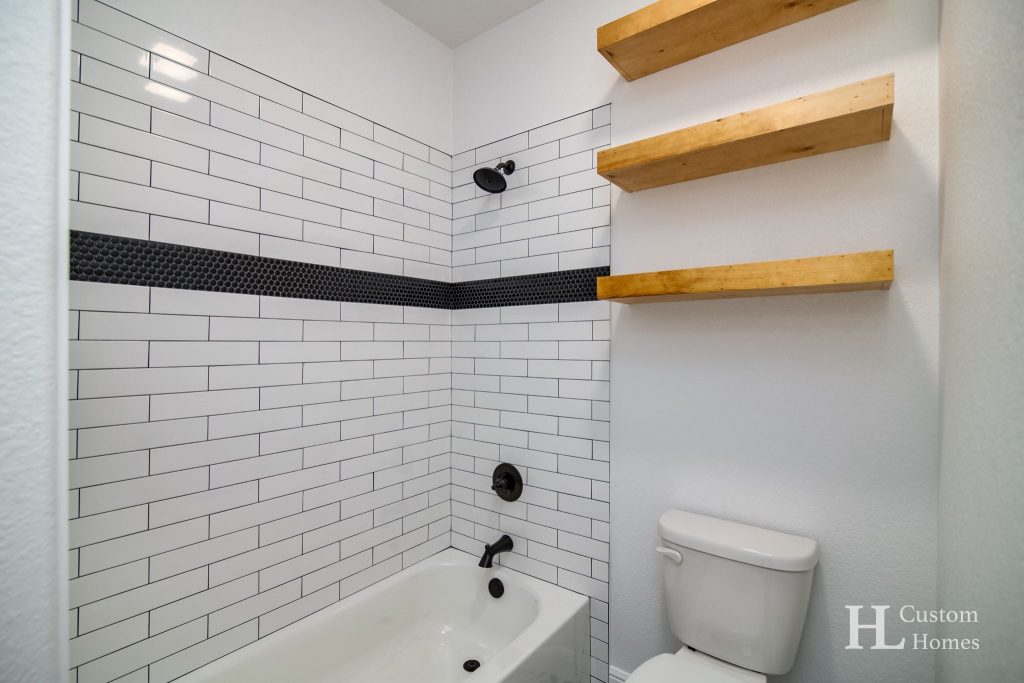 A separate tub/shower area can be spotted through the open door.
The ensuite bathroom is a true oasis and offers the perfect place to relax and unwind at the end of a long day. The freestanding bathtub is truly a work of art and is perfectly positioned. A large walk-in shower with beautiful tile work, a separate toilet area as well as his and her sinks finish off this space.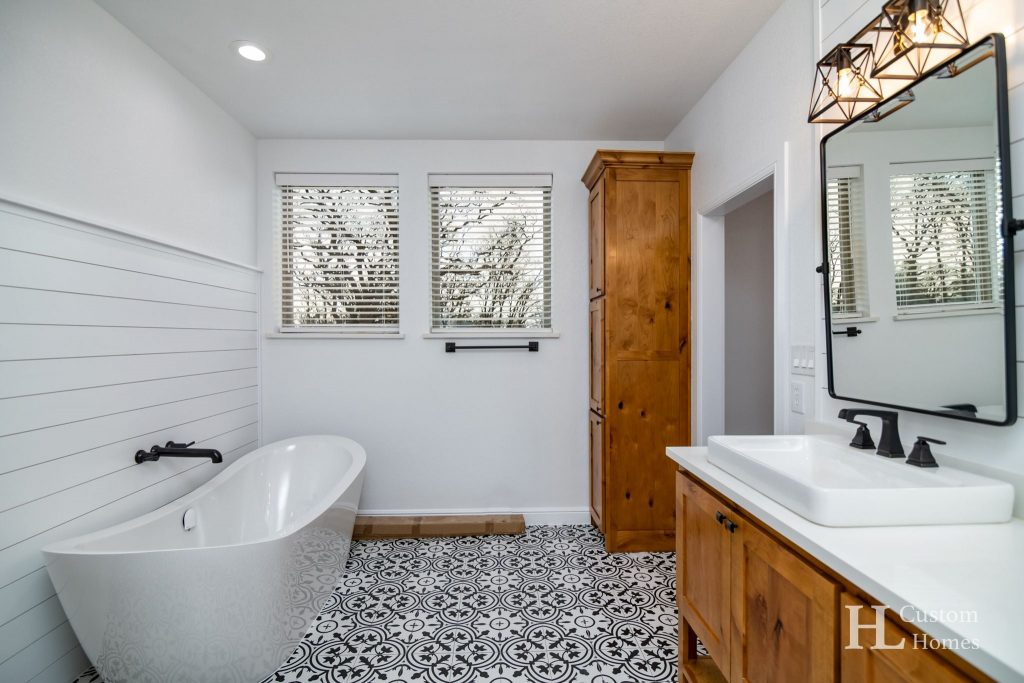 The wooden vanity and white walls pop against the industrial-style mirror, lights ad fixtures. This bathroom is both stylish and functional.
As you can see, HL Custom Homes has put a lot of careful thought into the design of their Springtown, Texas barndominium. Every detail has been considered, from the kitchen's stunning backsplash to the beautiful stone fireplace in the living room. No matter your taste, this home is sure to please.