If you're considering building a barndominium in Kansas, you're definitely not alone! This type of home is becoming increasingly popular, thanks to its unique mix of features and benefits. But before you start construction, it's important to know what's involved in this process.
In this guide, we'll take a look at everything you need to know about building a barndominium in Kansas. We'll discuss how to find a builder, insurance, and finance. So if you're ready to start your journey toward homeownership, we are here to help!
What is a Barndominium?
A barndominium is a type of home that combines traditional barn building techniques with modern construction methods and materials. These homes can be built from scratch or converted from an existing barn structure. Barndominiums are becoming increasingly popular, thanks to their unique combination of features and benefits. There are unlimited possibilities in how your barndominium can be structured and designed.
Benefits of Building a Barndominium in Kansas
There are many reasons why building a barndominium in Kansas may be the right choice for you. These homes are typically more affordable than traditional stick-built homes, thanks to their use of pre-engineered building components. Barndominiums are also very versatile, as they can be designed to meet various needs and preferences.
Another advantage of building a barndominium in Kansas is that these homes can be constructed relatively quickly. This is due to the use of pre-fabricated building components, which arrive at the building site ready to be assembled. This type of construction is often used for commercial projects, such as office buildings and warehouses. However, it is increasingly being used for residential construction as well.
If you're looking for a unique and stylish home, a barndominium may be the right choice for you.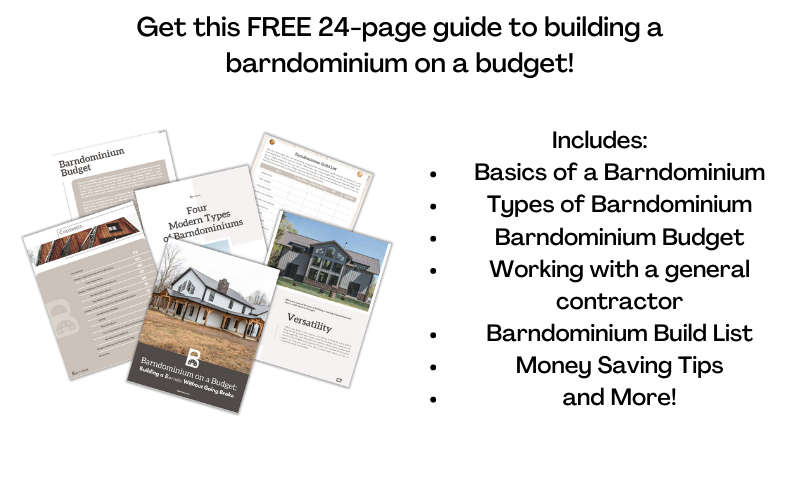 How to Build A Barndominium in Kansas
One of the main challenges about building a barndominium in Kansas will be where to find a piece of land on which you can put it. There are a handful of good sites online that will give you an idea of available sites where you could put your barndominium. Then you'll have to check if the location can be residentially zoned – if it can't, you can't legally live on it. That means ensuring you can connect the area easily to local infrastructures like the power grid and the water and sewerage networks.
Barndominium Kits for Kansas
A barndominium kit is a great option when it comes to building your new home. This option allows you to keep the cost down as well as work at your own pace. When you order a kit everything is delivered right to your property and you can then hire someone to assemble it at your own pace.
Barndominium Floor Plans in Kansas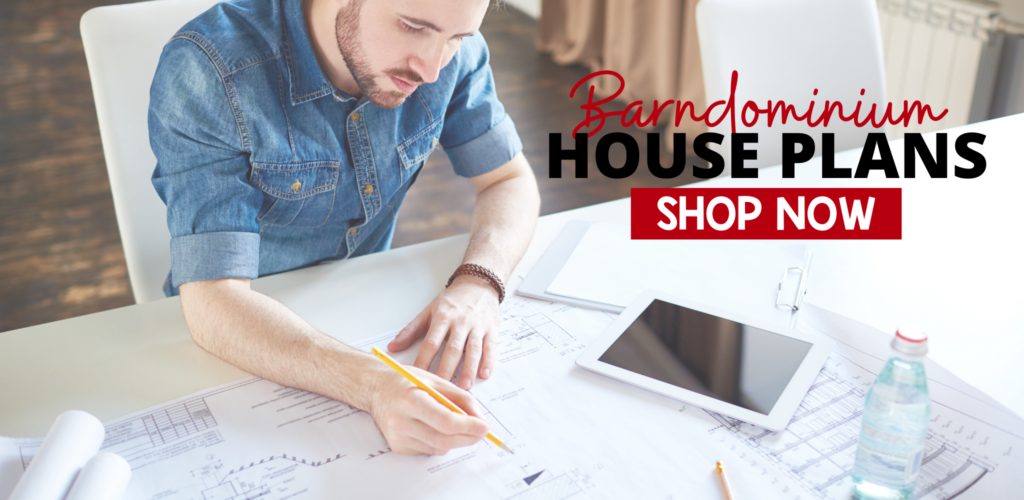 How to Finance A Barndominium in Kansas
One of the best resources for getting barndominium financing is by using BarndominiumLoans.com. They are a quote service that takes down your information and works behind-the-scenes with vetted lenders who are best for your location and financial situation.
Whether you have a perfect credit score or a subpar one, and whether you're located in South Carolina or South Dakota, you can submit your information to get a quote within 24-48 hours.
Barndominium Financing Request
It's worth noting, too, that while Kansas does not have a mandatory state-wide building code, it has an accumulation of regulations that need to be followed and obeyed if you're building any new residence in the state. It's worth looking at the Building Code 2018, the Fire Code 2018, the Residential Code 2018, and the Existing Building Code 2018, especially if you're converting an existing barn into a modern barndominium.
Here are two banks to check out when you start looking into how to finance your barndominium:
First Bank Kansas: First Bank Kansas has been offering agricultural loans for several years now to help farmers and others to kickstart agricultural construction projects as a way of helping the people of Kansas, and Kansas itself, to develop from its past into something new. First Bank Kansas can probably offer you financing for your barndominium project.
Citizens Bank of Kansas: Citizens Bank regularly helps people with barndominium projects get the financing they need to make the leap from their current situation into becoming barndominium builders and owners. Similarly, the Citizens Bank Of Kansas, founded in 1905, has always existed based on a principle of the Kansas community and the notion that those within a community have an obligation to help their neighbors in any way they can.
How much does it cost to build a Barndominium in Kansas?
If you've been thinking about building your own home in Kansas, the cost of doing so may have put you off before. The price of building a traditional home in Kansas is between $260-$320 per square foot, higher than in other rural states like Iowa. That price doesn't even include the fixtures, fittings, furniture, or infrastructures like insulation, electricity, water, and wi-fi.
Meanwhile, the price of a barndominium in Kansas is around the $210 per square foot mark – a potential saving of $110 per square foot. That translates into more money for interior décor – or even for extra square feet of floor space. Most importantly, though, I might well make the difference between a home build being affordable and beyond the dreams of many younger people.
Barndominium Builders in Kansas
When deciding which builder is best for your build, it is important to come into your meeting what your list of ideas and wants. When selecting your builder, ensure you are being heard and your wants and wishes are noted. You want to make sure your home is something that you love and your floor plans are what your family needs. Looking for some builder recommendations in Kansas for your barndominium be sure to contact these: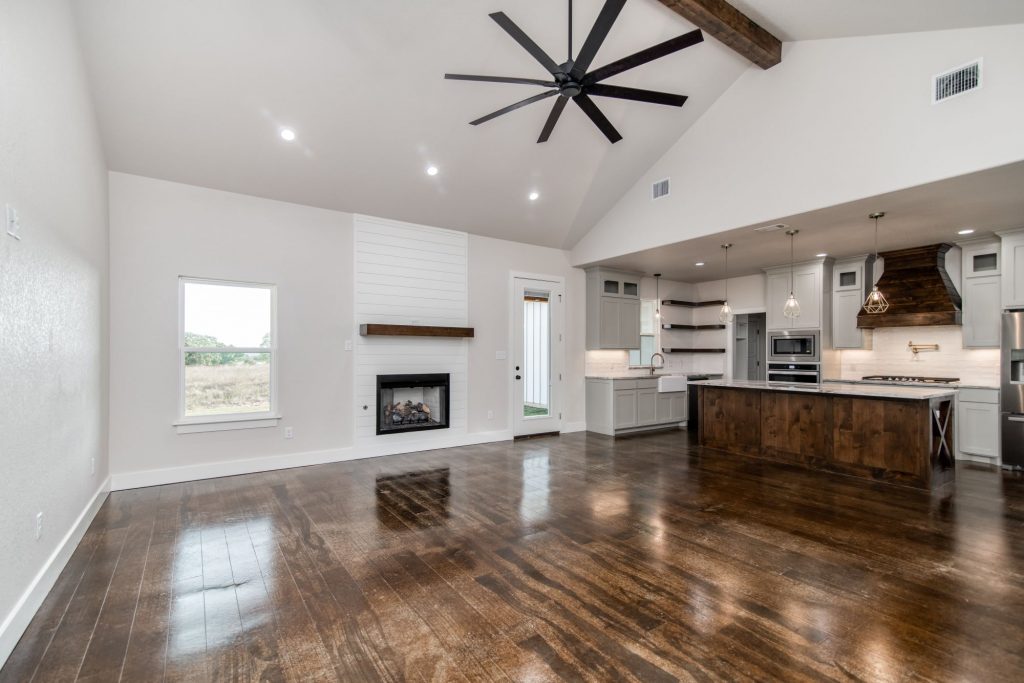 YCS: Yutzy Custome Structures is a company that specializes in post-frame buildings and slab/stub wall homes. With reliable post-frame construction that will last you for years, they offer this the most to their Kansas clients. Offering free quotes every day, they are equipped and ready to serve you in your future build. Note they also specialize in hobby shops if you are looking for a barndominium build for your business, they would be a great fit for you.
LaClef Construction: Located in Leon, Kansas, LaClef construction is known for its post-frame buildings. If you are looking for a company that knows everything about building a barn home, then this construction company is perfect for your new home build. They are a full contracting service that offers top-quality workmanship to help you build your ideal home.
How To Get Barndominium Insurance For Your New Build
One of the most important things to consider when building a barndominium in Kansas is insurance. Your home will likely be your biggest investment, so you'll want to make sure it is properly protected.
You should consider a few different types of insurance for your barndominium. The first is general liability insurance, which will protect you from lawsuits if someone is injured on your property. You should also consider building insurance, which will cover the cost of repairs if your home is damaged by fire, wind, or other natural disasters.
You can get barndominium insurance through a variety of different carriers. However, it's important to compare rates and coverage options before selecting.
Don't want all the hassle of building a barndominium from the ground up? Then you may want to buy an existing barndominium in Kansas! With our Barndominiums for Sale Marketplace, you can browse to your state and find a barndominium for sale near you.
The beauty of buying an existing barndominium is that it can be really easy to customize the floor plan to your liking. The previous owners' setup is just a starting point! Also, by buying a barndominium in Kansas, you bypass the potential troubles of the building process – delays, dealing with contractors and subcontractors, and city or county bureaucrats trying to make your build process a nightmare.
Don't delay – find a barndominium for sale in Kansas now!
Conclusion
Building a barndominium in Kansas can be a great way to achieve your homeownership goals. These homes are stylish, versatile, and affordable. However, it's important to be aware of the potential risks involved in any building project. Ensure you are properly insured and have a clear understanding of the building process before you begin construction on your new home.
If you have any questions about building a barndominium in Kansas, or if you need help finding a builder or insurance carrier, we can help. Check out our barndominium floor plans to help you create the barndominium of your dreams, or use a barndominium design software to help you plan out your space for your new home. For more helpful tips, visit our FAQ barndominium section as well to get answers to all your barndo questions.