Building a home for yourself is an incredibly commendable and rewarding project for all kinds of people. However, it can also be very difficult to achieve and expensive, making it inaccessible for most home buyers. That's why building a barndominium in Pennsylvania is such a great option.
In this guide, we have laid out everything you need to know about building a barndominium in Pennsylvania. With so many things to consider and options to take care of, it's important to be informed. Knowing what to expect throughout the process can help you make your barndominium project a success.
What is a Barndominium?
A barndominium is a home built using the structure and shell of a post frame building, also called a pole barn. These types of buildings are usually used for agricultural or farming purposes like warehouses, stables, or barns. However, they can also be used as the framework for a modern, custom home.
Barndominiums have a lot of benefits and advantages over traditional homes. One of the most prominent ones is their durability and longevity due to their all-steel construction. This is especially important in a snowy climate like Pennsylvania.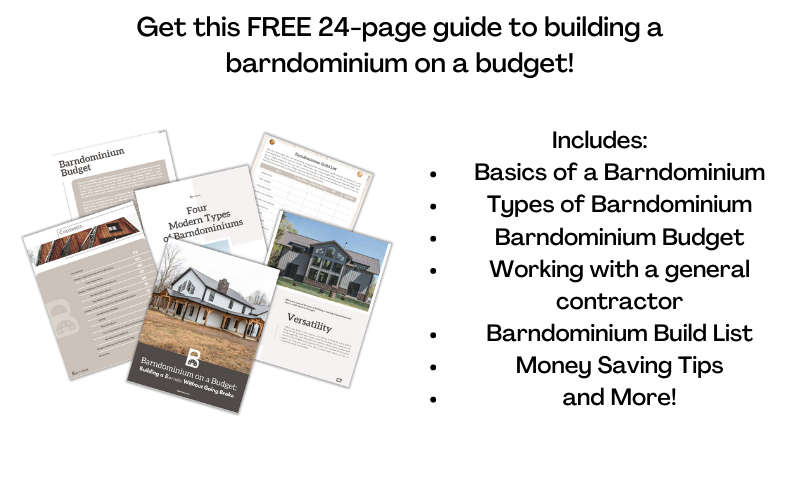 Is Building a Barndominium in Pennsylvania a Good Idea?
Let's start by determining whether it's actually a good idea to build a barndominium in Pennsylvania. Is it actually worth it? Wouldn't it be better to just have a normal traditional house? Well, a barndominium is a way more affordable and accessible option for a house, not only in Pennsylvania but in general, so that's a pretty good reason to build one! Of course, if you're inside a big city or there isn't much land space, a barndominium might not be the best option, as it's more of a country rural design, and it needs some space.
But in general, we think a barndominium is a great idea!
Here are some benefits to building a barndominium that might convince you:
One of the biggest and most significant benefits is the cost. A barndominium is a lot cheaper to build than a traditional house, so it makes the dream of building your own home more of a possibility!
Although barndominiums are traditionally built with a steel structure construction, and they have a barn conversion style of appearance, they can be modified and personalized to meet your design ideas. They can be easily personalized, and as they're cheaper, you should have more of a budget to achieve the ideal end result!
The solid steel structure of a barndominium makes it incredibly durable and tough. These buildings make comfortable homes that are also super safe, as they can withstand the most severe of weather conditions. They are even safe during tornadoes!
Barndominiums are mostly made out of metal sides and structures, making them super easy to maintain and clean. So they remain in top condition for a lot longer, with a lot less effort needed!
They look amazing! They are unique, stylish, and super convenient. What's not to love about them?
How to Build a Barndominium in Pennsylvania:
So…you've decided that you do, after all, want to build a barndominium in Pennsylvania. An excellent idea, by the way! How should you go about it? Well, there are a few different factors that you need to take into consideration, so we recommend making a checklist and double-checking everything so the plan is solid. Here are some of the main things you need to plan and that are absolutely vital: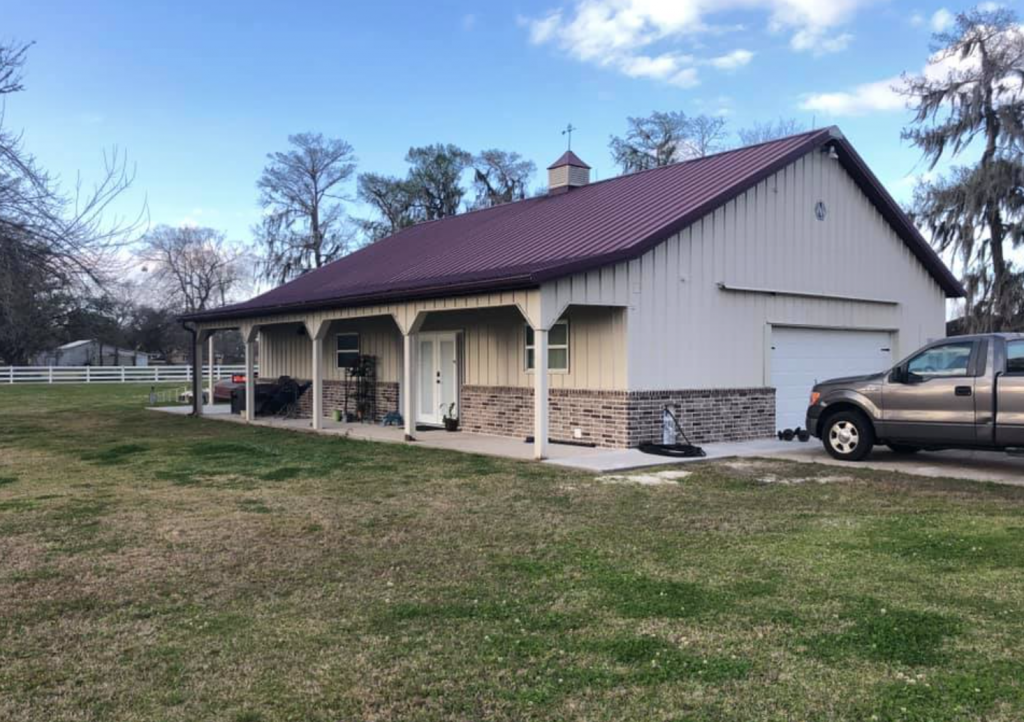 Unless you're a professional builder yourself, you're going to need some experienced builders to actually put the barndominium together. Choosing the right building service is super important, as you need to find a balance between reliability, quality, and hopefully an affordable price!
Barndominium kit providers:
As we've mentioned, one of the best things about barndominiums is that you can often buy kits for them, with prefabricated structures and basically everything you need to build one from scratch. There are a few providers in Pennsylvania, so look them up and take your pick!
The location of your barndominium:
To build a barndominium, you need a plot of land, so this is really something that you need to have sorted out before construction begins. If you don't own land already, you need to account for the extra cost, and maybe take out a separate loan. But more importantly, double-check the regulations of the county or local area, so you're 100% sure that it's okay to build a residential barndominium there!
Barndominium Builders in Pennsylvania
JJ's Custom Builders
One of the major benefits of building a barndominium in Pennsylvania is the fact that there is a large Amish community there. The Amish construction culture is incredibly high-end and results in some amazing structures. JJ's Custom Builders is just one of these builders and they are known for their incredible work in the Pennsylvania area.
JJ's Custom Builders has a commitment to quality and they believe that every job they do is their most important job. They are fully licensed, bonded, and insured, which makes them perfect for your barndominium in Pennsylvania. They are a company that you can depend on for your project if you need help every step of the way.
Fisher Brothers Builders
​​Fisher Brothers Builders is a family-owned company that is dedicated to helping people build their barndominium in Pennsylvania. They have been in business since 1992 and in that time they have worked with many builders just like you. This makes them a great choice if you want a builder who knows how to work within the codes and laws of the state.
They are located in Juniata County, Pennsylvania and their experience in the state helps them with their designs. They have a complete in-house design and drafting team on hand for your barndominium in Pennsylvania. This means that you can cut out the middle man and work with you every step of the way.
Barndominium Kits in Pennsylvania
A barndominium kit is a great option when it comes to building your new home. This option allows you to keep the cost down as well as work at your own pace. When you order a kit everything is delivered right to your property and you can then hire someone to assemble it at your own pace.
Morton Buildings
Morton Buildings is a national company that has delivered hundreds of kits to people building a barndominium in Pennsylvania. This allows them to have a unique insight into the wants and needs of the area. This is incredibly important if you want help with your kit and want to make sure you get everything you need.
Morton Buildings has experience with all kinds of metal building kits for a wide variety of purposes. This means that you have access to all kinds of designs and layouts. If you want options when it comes to your floor plan, they could be a great choice.
Metal Building Homes
The crew at Metal Building Homes has years of experience creating kits for barndominiums all over the United States. This includes many projects in the Pennsylvania area. If you want to work with a company that has a wide variety of options and a national network, they could be a good option for you.
Metal Building Homes offers both Quonset huts and rigid frame buildings for your barndominium in Pennsylvania. Not all kit providers offer these kinds of options, so this makes them a good choice. You can choose between the two types and pick one that works best for your needs.
Barndominium Floor Plans in Pennsylvania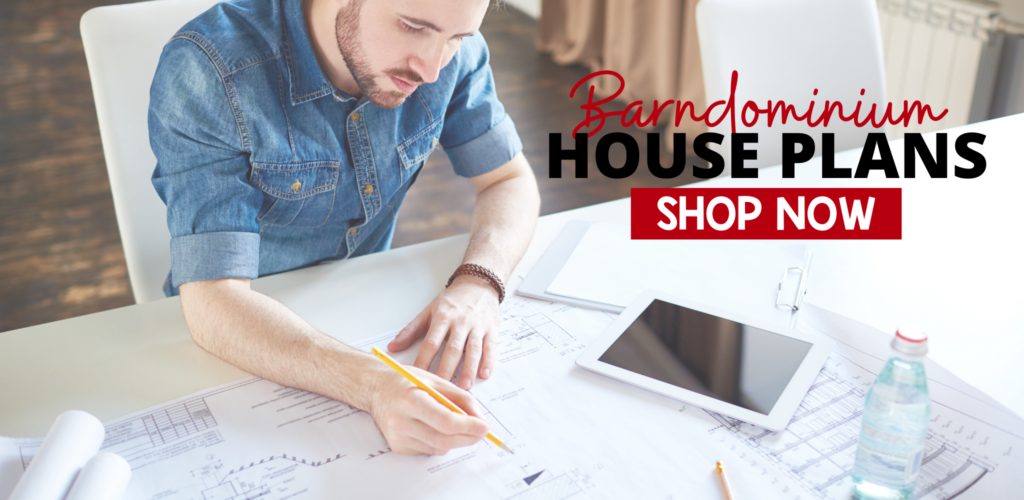 Barndominium Financing in Pennsylvania
When building a barndominium in Pennsylvania, you will most likely have to get financing. Getting any kind of construction loan can be difficult, but a barndominium in Pennsylvania can be incredibly challenging. Many banks and lenders still don't understand the ins and outs of barndominiums.
One of the best resources for getting barndominium financing is by using BarndominiumLoans.com. They are a quote service that takes down your information and works behind-the-scenes with vetted lenders who are best for your location and financial situation.
Whether you have a perfect credit score or a subpar one, and whether you're located in South Carolina or South Dakota, you can submit your information to get a quote within 24-48 hours.
Barndominium Financing Request
However, you can greatly improve your chances of getting a loan for your barndominium in Pennsylvania if you are prepared. Have a complete construction plan and floor plan when you go to meet with the loan officer that you can present to them. Knowing what builder you are hiring and the plot of land you are using will show the bank that you intend on finishing the project.
Barndominium Insurance in Pennsylvania
You will also have to get insurance for your barndominium in Pennsylvania, which can also be difficult. Some insurance companies won't know how to put a value on your home. This will also require some serious preparation and patience on your part if you want the right policy.
Throughout the building of your barndominium in Pennsylvania, keep track of all your expenses and what you are spending on the construction. Then, get the home evaluated by a professional home appraiser. This will help your insurance agent put a value on the home and get you a policy that will protect you and your family.
Cost of Building a Barndominium in Pennsylvania
One of the biggest benefits of building a barndominium in Pennsylvania is the relatively low cost. For example, building a traditional home in Pennsylvania will cost you around $260 per square foot. It's important to note that this price only includes things like the structure and basic shell of the home.
Conversely, building a barndominium in Pennsylvania costs around $200 per square foot. While this may not seem like a big difference at first glance, when it is spread out throughout the home, it can save you a lot of money. With that extra cash, you can afford all the furnishings and custom finishing work that you want for your barndominium in Pennsylvania.
Don't want all the hassle of building a barndominium from the ground up? Then you may want to buy an existing barndominium in Pennsylvania! With our Barndominiums for Sale Marketplace, you can browse to your state and find a barndominium for sale near you.
The beauty of buying an existing barndominium is that it can be really easy to customize the floor plan to your liking. The previous owners' setup is just a starting point! Also, by buying a barndominium in Pennsylvania, you bypass the potential troubles of the building process – delays, dealing with contractors and subcontractors, and city or county bureaucrats trying to make your build process a nightmare.
Don't delay – find a barndominium for sale in Pennsylvania now!
Conclusion
Building a barndominium in Pennsylvania is a great way to take advantage of the beauty that the state has to offer. By understanding the process that goes into a project like this, you can give yourself the best chance at getting your dream home. Be sure to check out the rest of Barndos.com for more helpful guides and tips and tricks from the pros.
If you are ready to start building the barndo of your dreams, check out our barndominium floor plans to help you create the barndominium of your dreams or use a barndominium design software program to help you plan out your space for your new home. When in the planning stages, be sure you also check out the barndominium financing and insurance options that are available. For more helpful tips, visit our FAQ barndominium section to get answers to all your barndo questions.