Today's featured barndominium is located in the beautiful community which surrounds Eagle Mountain Lake in the glorious state of Texas. An HL Custom Homes creation, this simply divine homestead is a mix of rustic charm and luxurious features. At first glance, this carefully-crafted and expertly designed property is warm and welcoming, perfectly blending into its natural surroundings.
The clean white batten-style siding offers a neutral backdrop for the standout features of the exterior – the hardwood double doors and matching pillars. The dark tin-style roof and trim work around the windows create interest with a modern flare, reminding us that building a barndominium does not mean you have to sacrifice personal tastes and preferences.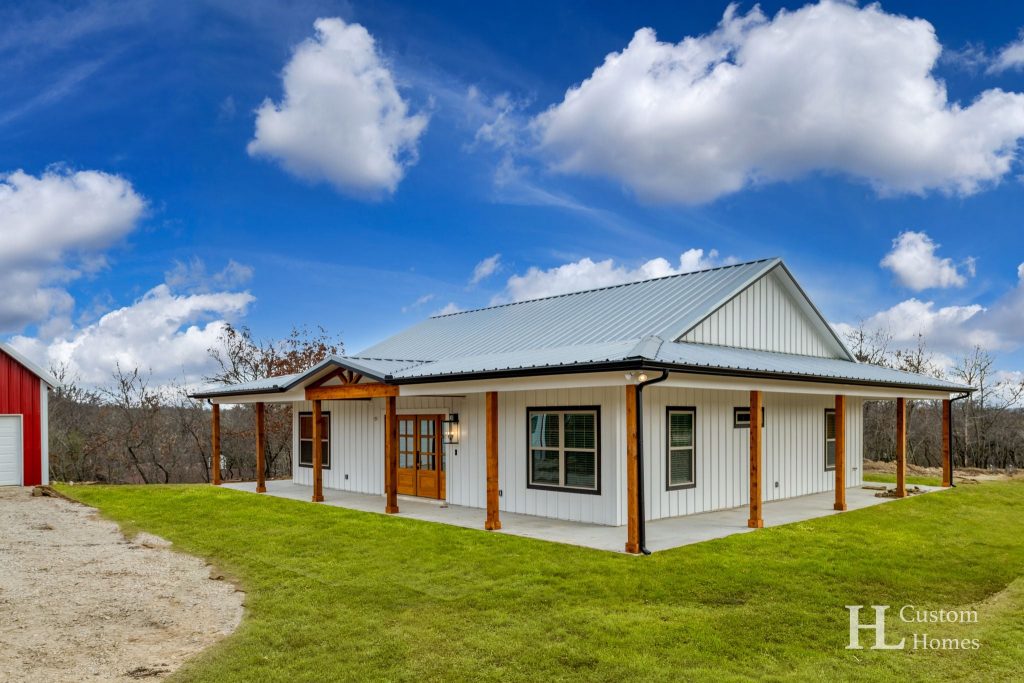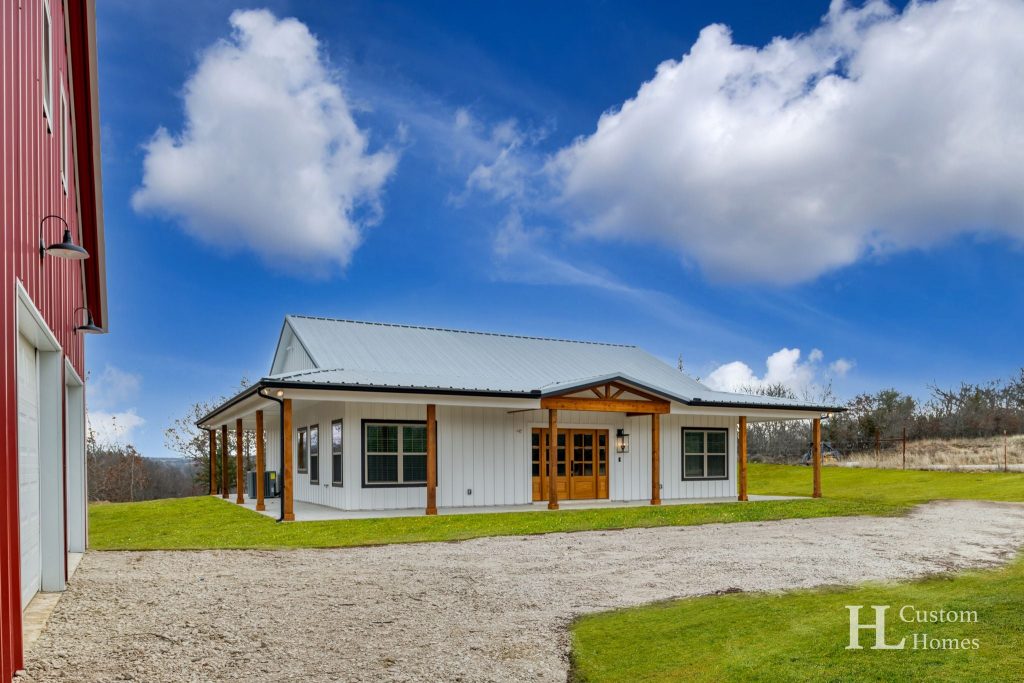 Alternate views of this trendy HL Custom Homes' Eagle Mountain Lake barndominium showcase the literal wrap-around porch that encompasses the entire home. Coffees in the morning, or a cold drink in the evening, there will always be a space to sit protected from sun or rain. The simplicity of the barndominiums exterior also makes it the perfect blank slate for holiday decor and personal touches such as outdoor furniture and more.
The back of the home also features a large covered patio area with two separate entrances to the home. The spacious concrete pad is covered and well-lit, and even features a fan to get the air moving during a Texas heat wave.
As we make our way around the Eagle Mountain Lake barndominium we can see the many windows that allow tons of natural light to stream in regardless of the time of day.
Options for this outdoor space are numerous! We can just as easily picture a large harvest-style table for outdoor dining as well can an all-weather outdoor area rug with a conversation set for a cozy place to chat, read a book, or enjoy a beautiful sunset.
While some barndominium owners may have opted for a white barn to match the home, we think the cherry red found at this Eagle Mountain Lake, Texas retreat suits the property perfectly. Matching batten siding ensures continuity between the barn and home design, but the bright red paint provides a huge pop of color and tons of excitement to the property!
With two bay doors, the large barn is sure to provide more than enough space for parking vehicles, storing large items, or offering ample amounts of covered room for various projects! The second-story windows allude to a loft which could also offer various uses.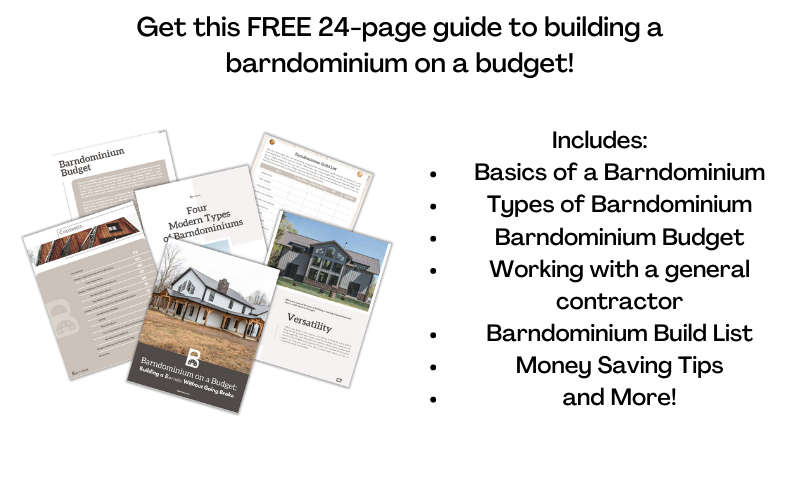 Interior
The large wooden french doors make for a grand entranceway when stepping into today's stunning featured Texas barndominium. Not only do they allow for plenty of light to make its way inside, but they also create a pretty stunning focal point against the light walls.
Stepping back and taking in the living room area as a whole, we can see the cohesiveness between the front doors and the exposed beam. A standout feature of this Eagle Mountain Lake, Texas barndominium is most definitely the high-gloss painted concrete floors. A deep rusty-red, these gleaming floors give the space, and the entire home, a very unique look.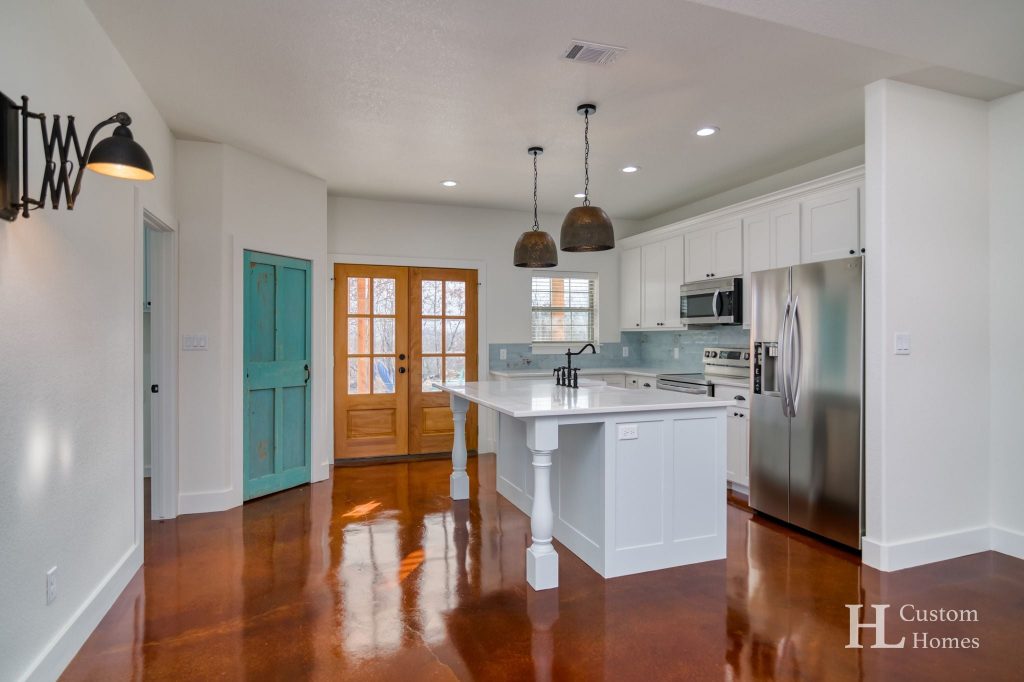 The spacious living room flows directly into the kitchen area, which also features a smaller version of the natural wood french doors found on the opposite end of the room. Acting as beautiful bookends to this space, both doors have large windows. One of our favorite splashes of color found in this Eagle Mountain Lake barndominium by HL Custom Homes is the rustic turquoise door that leads to the pantry closet. The charming weather feature is a fun and simple way to add a personal touch to the kitchen.
The kitchen's clean white, shaker-style cabinetry is classic and timeless, whereas the lightly weathered light blue backsplash is a fun incorporation to the room. Additional unique aspects of the kitchen include the faucet, white farmhouse sink, and industrial over-island lighting.
Laundry Room
Attached to the kitchen is a spacious laundry room/mudroom. Similar cabinetry continues throughout this space, which provides the barndominium's residents with storage galore. Another incorporation of a rustic, weathered decor item can be seen hanging below the window and beautifully offers a spot for plants, personal items, and more.
The laundry room/mudroom has a separate door point which is perfect for accessing the back patio area. Kick off the muddy shoes before entering the kitchen or living room area or easily bring laundry to be hung outside to dry.
Bedrooms
HL Custom Homes' lovely Eagle Mountain Lake barndominium features three bedrooms. Each room has multiple windows to keep the space bright and breezy as well as plenty of closet space.
As found throughout the rest of the home, the painted concrete floor is beautifully bronze and absolutely pops against the stark white walls.
Master Bedroom
The master bedroom is an owner's sanctuary, and today's featured barndominium by HL Custom Homes' offers no exception.
Three large windows keep the room fully illuminated, and without a doubt allow for a glorious cross breeze on cooler evenings.
Master Ensuite
What truly sets apart the master bedroom from the rest is the jaw-dropping, spa-style master ensuite. Calming white walls, frosted windows, and a large soaker tub offer a perfect place to relax and unwind.
The black fixtures found on the shower, tub, and sink offer contrast between the otherwise predominately light room.
If a quick shower is all you have time for, you will not be sacrificing luxury! Glassed in and featuring an extra-large showerhead, this stylish walk-in shower reconnects us to nature with the weathered birch-wood tiling and stone-style flooring.
The rustic farmhouse decor continues on the mirrors making them both functional and stylish, and the country-style sconce lighting mounted overtop only adds to the charm.
Walk-In Closet
Continuing through the master ensuite we find our way to another divine Eagle Mountain Lake barndominium feature- a walk-in closet! Fully equipped with custom shelving and cabinetry, there will be no bickering about space! From shoes to accessories and every article of clothing in between, this beautiful barndominium's master walk-in is any homeowner's dream!
Bathroom
The guest bathroom found in today's barndominium is simple and clean looking with small decor touches that tie in with the remainder of the home. The dark fixtures are similar to the ones we saw in the master ensuite as well as the kitchen, and the weathered wood tiles match the shower.
Everything about this Eagle Mountain Lake, Texas barndominium is on par with what we commonly see in HL Custom Homes properties. Beautifully designed, constructed, and decorated, this single-level barndominium is, simply put, simply stunning.
If you have been interested in finding out more about building your own barndominium, or this is your first glance at what the properties can offer – be sure to take a peek through more of our featured homes and information articles. You can learn everything you need to know about barndominiums, how they are built, and even find "state guides" for your area!
If you are ready to get started building the barndo of your dreams, be sure to check out our barndominium floor plans to help you create the barndominium of your dreams or use a barndominium software program to help you plan out your space for your new home. When in the planning stages be sure you also check out the barndominium financing and insurance options that are available. For more helpful tips visit our FAQ barndominium section as well to get answers to all your barndo questions.