Today's barndominium is a stunning rustic barndominium located in the beautiful town of Rayville, Texas. A spacious and well-designed home, Braxton Morris' spectacular country estate shows just how stylish and livable a barn-style home can be. We can't wait to tour this Rayville, Texas barndominium and see all of its unique features!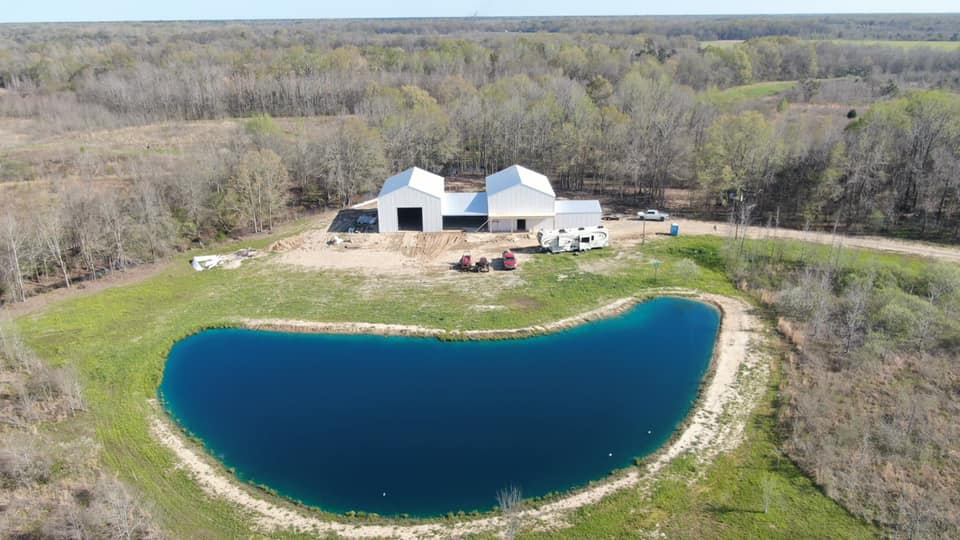 As you can see from an aerial shot of the property, you are immediately met with a stunning view of the sprawling country estate. The main house is a large two-story home that is set close to a beautifully turquoise pond, surrounded by lush nature. A truly private property, this Rayville, TX barndominium is the perfect place to get away from it all and relax in style.
Exterior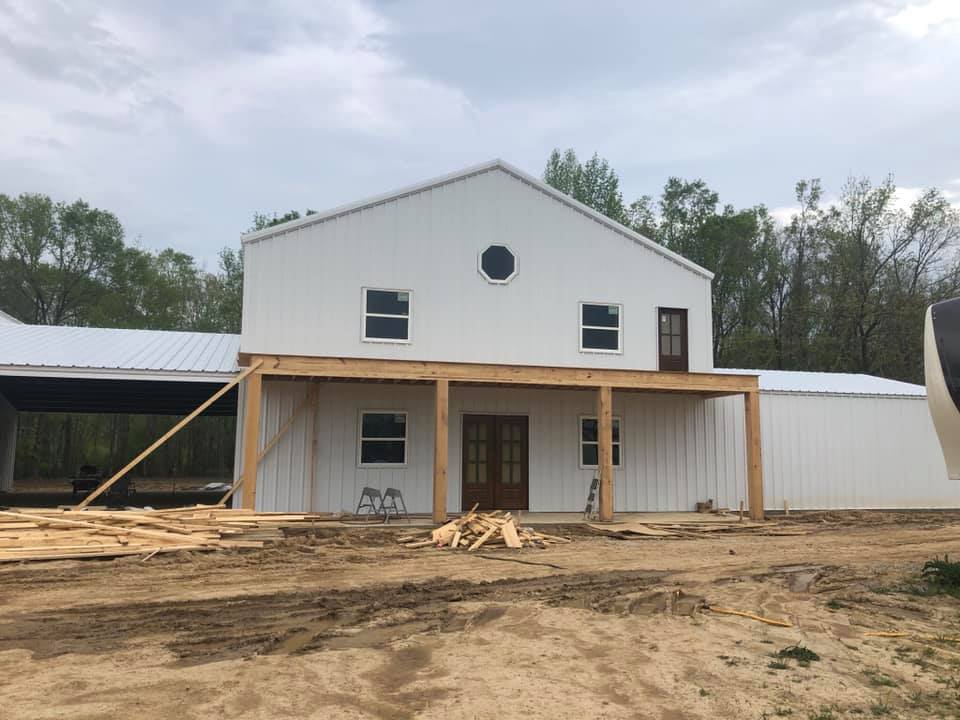 The home's exterior is a classic white with a large wrap-around porch that is perfect for enjoying the views of the property. We love the rustic charm of the home's design, which we will find has been carried throughout the interior as well. Even while still under construction, we can see that the home is going to be a show-stopper!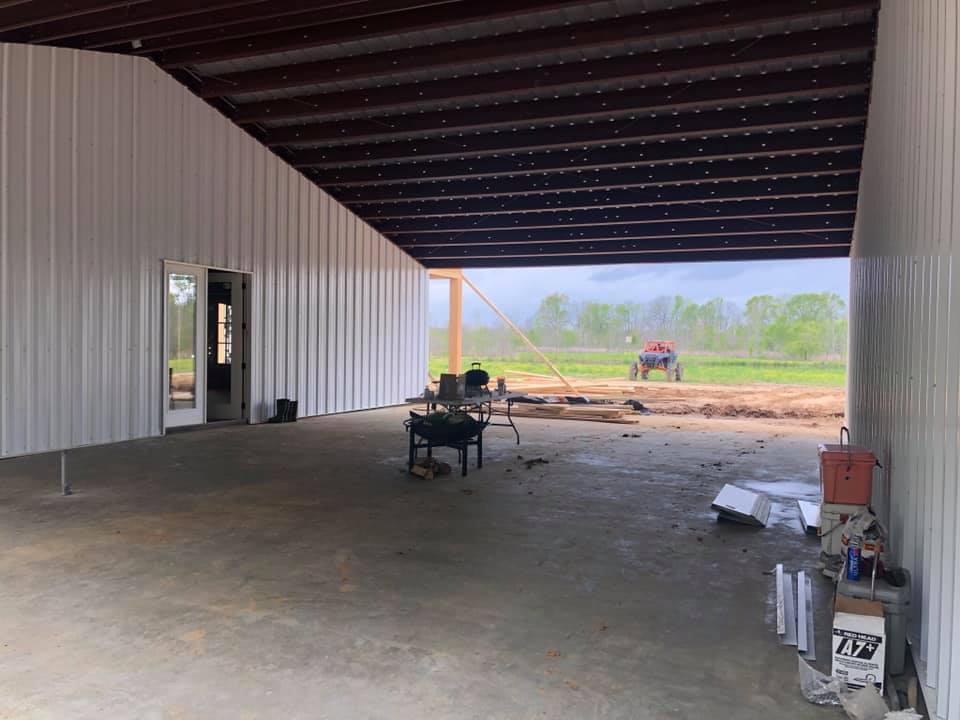 From the previous aerial view of the property, we can see that the main home was conveniently connected to a matching barn by way of a very large breezeway. This is a great design for those that want the best of both worlds, allowing you to have all the storage and workshop space you need while still being close to the main house. From additional storage to parking, extra entertaining space, and more, the uses are endless.
Before we make our way inside to check out the interior features of Braxton Morris' Rayville, TX barndominium, let's pause to appreciate the beauty and simplicity of the front door. Large windows and french-style wooden doors provide a stark contrast to the concrete patio and white siding of the barndominium.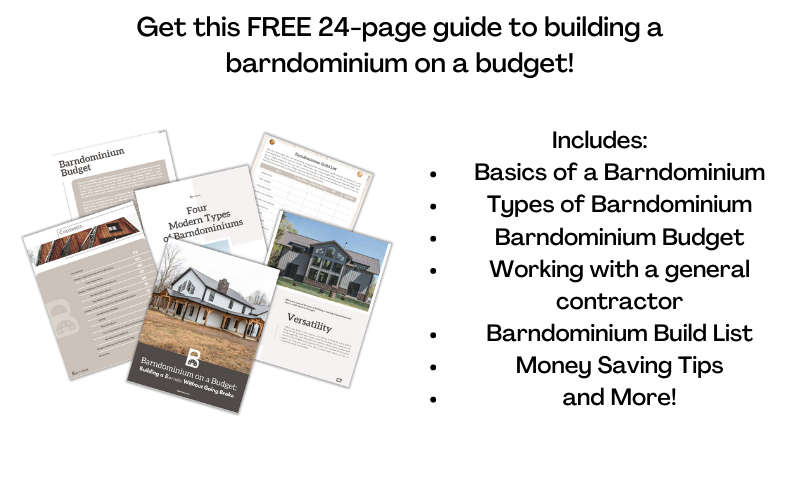 Interior
As we step inside, we are immediately met with a soaring two-story ceiling and an abundance of natural light. We can see that the home's rustic aesthetic has been carried throughout the interior, with wood beams and accents adding to the country feel.
Living Room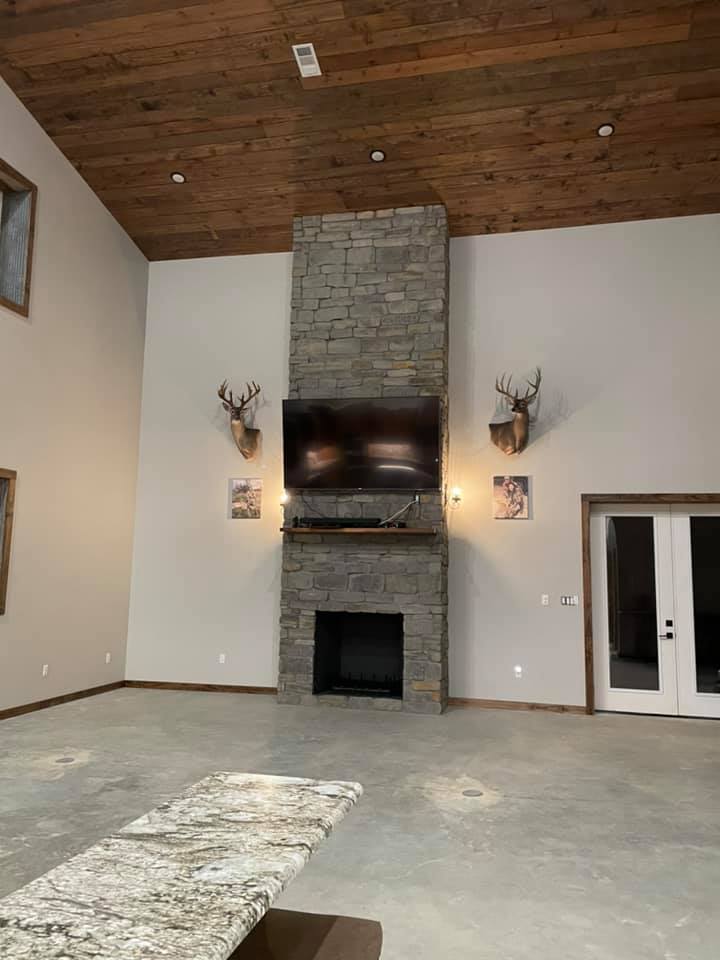 Morris' Rayville, TX barndominium continues to impress as we take in the living room. Towering ceilings give the space a feeling of grandeur, while the large stone fireplace provides a cozy and inviting focal point. The gleaming wood ceiling ties together with the many wooded accents found throughout the living room. From the stairs to the finer detail work, such as the trim, it's clear that no detail has been overlooked in this home.
Kitchen
The kitchen is another great example of the mix of rustic and modern elements that are found throughout the home. While the overall design is very traditional, we can see a handful of unique features that set it apart.
One of the most unique features of Morris' barndominium is the U-shaped kitchen island with stools around the outside and bench seating in the interior. The stools provide additional seating for guests, while the bench allows for more intimate conversations. The U-shape also offers plenty of preparation space, as well as storage options. And, because it's located in the center of the room, the U-shaped kitchen island is perfect for entertaining large groups.
An aerial snap of the kitchen shows off just how large the area really is. Between the ample amounts of counter space to the seemingly endless cabinets, this kitchen has everything you need to cook up a feast. We also love natural wood cabinetry and the detailed countertop, which add a touch of character to the space.
Between the U-shaped island and preparation sink that looks over the main living area, it's easy to see that Morris' barndominium was designed with entertaining in mind. From dinner parties to holiday gatherings, this stunning country-style barndominium is the perfect setting to host family and friends.
Loft
Braxton Morris' Rayville, Texas barndominium is a two-story estate-style home that features a large loft area. To find out way up to the second story, the beautiful stairway provides the home with more than just function.
Edged with wooden trim and horizontal railings, this stairwell stands out, without overtaking the space.
The second-story loft area is just as open and airy as the space below and can be used for a multitude of purposes. From a small home office area to a cozy reading nook, a space such as this is easily transformed! Rustic features continue upstairs with the wooden trim and upcycled light, which appears to pay homage to the original tin barn siding.
Bedrooms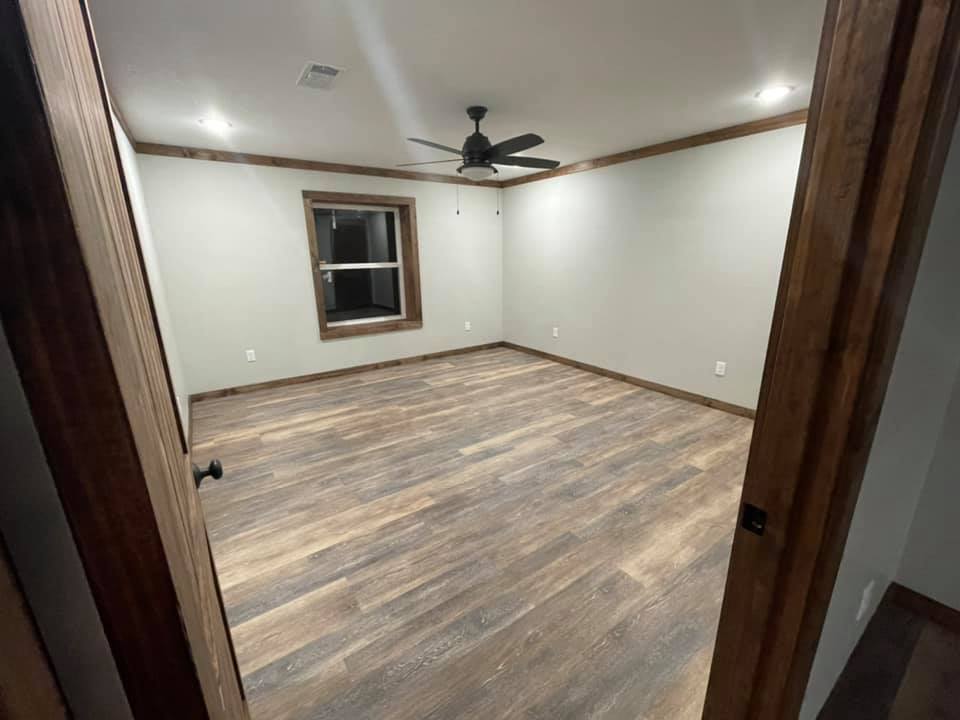 Bedrooms found throughout the home are all spacious and well-lit, acting as blank canvases just waiting to be decorated. Large windows, the signature wooded trim, and plenty of space to move around make these rooms perfect for both lounging and resting.
Bathrooms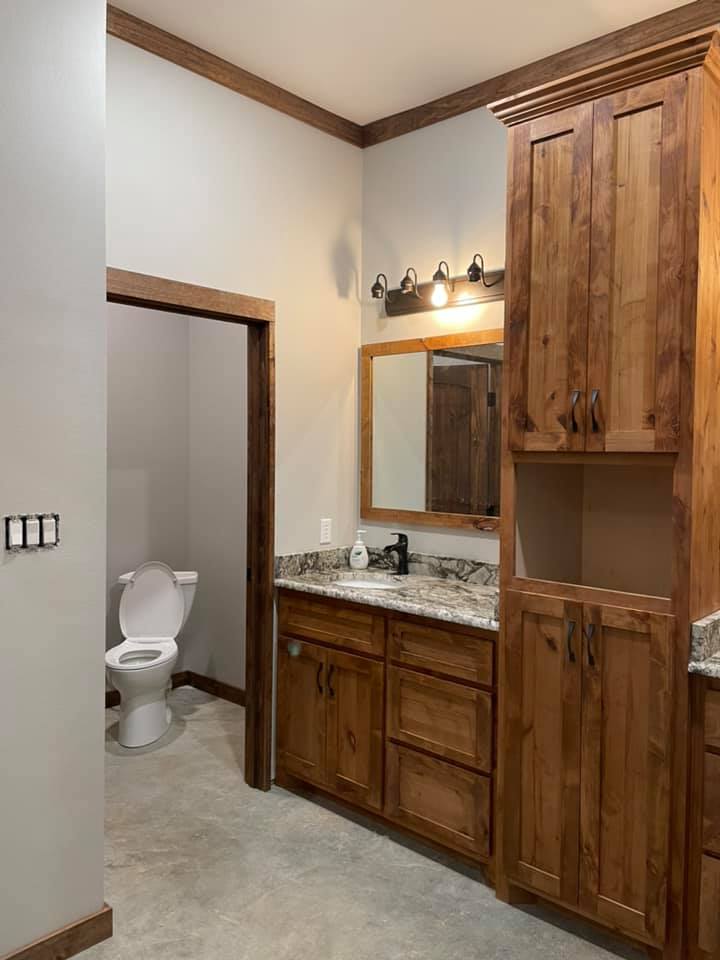 There are multiple bathrooms located throughout Braxton Morris' Rayville barndominium, all of which are spacious, well-designed, and family-friendly. From his and her sinks to separate washroom areas, these bathrooms have everything you need and more.
In this stunning cheater-ensuite takes his and her sinks to a new level and opts for his and her vanities! No more fighting over the sink or mirror, and with a doorway in between, there will be no issues when it comes to space. The bathroom's decor theme stays on target perfectly and incorporates subtle farmhouse chic vibes that can be seen in the vanities and lighting.
A separate shower room is a brilliant addition, especially for larger families or those who entertain overnight guests. Though not taking up a ton of space, this simply beautiful shower area allows for plenty of room to privately shower.
The design trends continue as we peek into another one of the restrooms found in Braxton Morris' barndominium. A theme that we can see time and time again, throughout this stunning home, is simplicity. Forgoing unnecessary bells and whistles, what was chosen for this home was done impeccably well.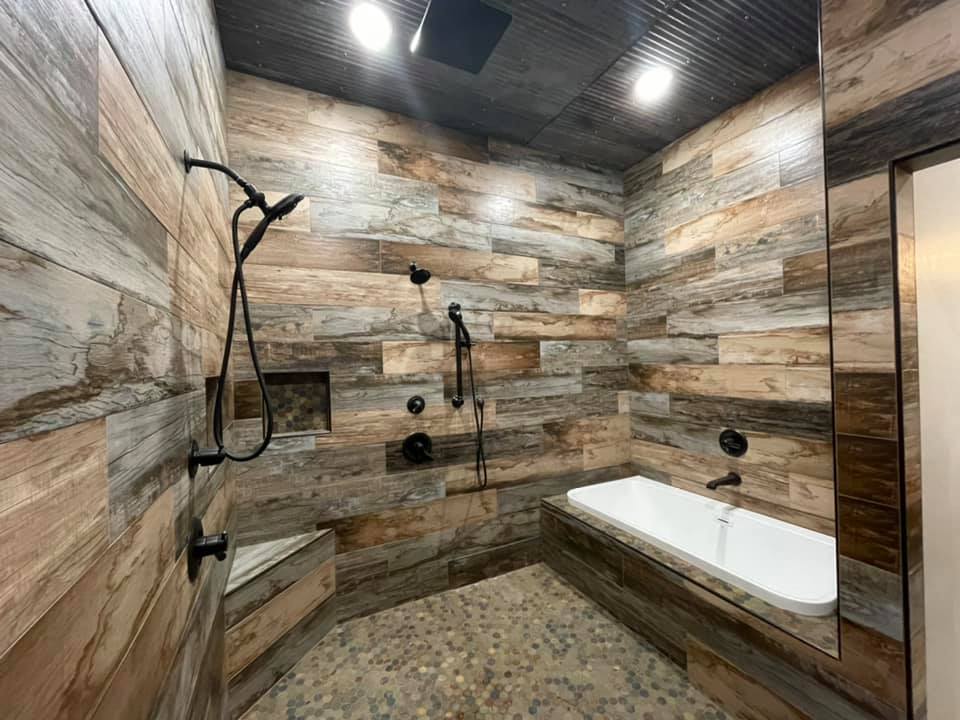 The shower room is a private oasis that beckons tired visitors to simply slow down and unwind. From the various shower heads to the large soaker tub, this space was very clearly designed with relaxation in mind. The wooden slat tiling keeps the shower room perfectly tied in with the rest of the home, however, there is a definite sense of luxury.
Laundry Room
The laundry room found in Braxton Morris' Rayville barndominium is a blend of style and function. A pop of blue is spotted behind the crisp white cabinetry, and not one, but two, sets of stackable washers and dryers ensure that laundry day around this home is a breeze.
Today's barndominium is a testament to how spacious, beautifully and truly unique these homes can be! If you are interested in everything barndominiums have to offer, be sure to check out more barndominium floor plans, "how-to" guides, and more throughout our website.