Barndominiums, or barndos as they are often called, are a fantastic cost-effective way of building a new home. These barn structure homes are much more affordable to build than a traditional home. If you are considering building a barndominium in Idaho, then here is some helpful information to help you on your building journey.
What Is a Barndominium?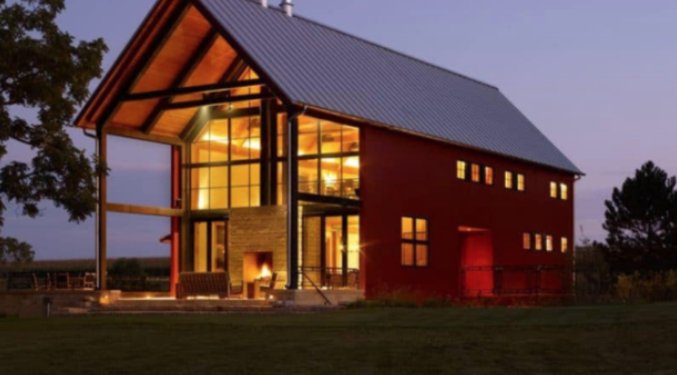 A barndominium is a type of building that combines the features of a barn and a home. It's a barn that has been converted into a living space, usually with luxuries like open floor plans, workspaces, and air conditioning. Barndominiums can be used as primary residences, secondary homes, or even businesses with attached living spaces.
Can You Build a Barndominium In Idaho?
You can indeed build a barndominium in Idaho. The one crucial element for building the barndominium of your dreams is finding the right piece of land for your needs.
Your piece of land should also be zoned for housing, as well as be accessible to all necessary utilities and emergency services. You wouldn't want a home that can't access basic amenities.
As long as your chosen plot of land covers the points we've mentioned, you'll know it's perfect for your needs. You will need to ensure that your plot of land is suitable for the size of the barndominium that you wish to build.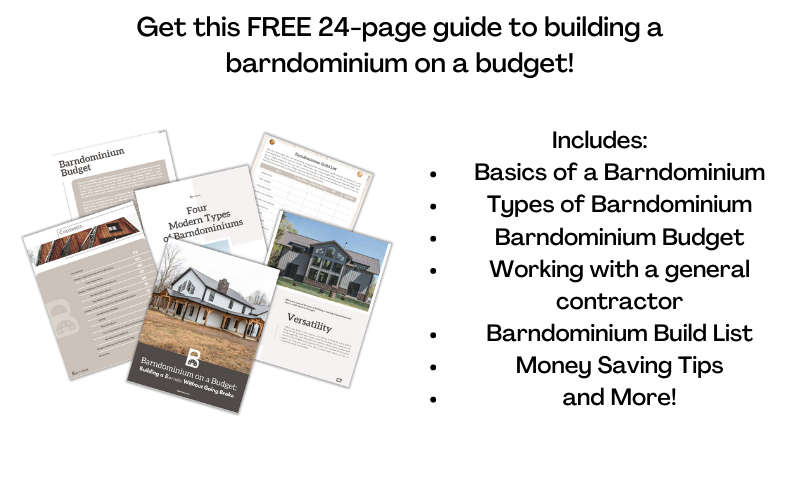 How Much Does it Cost to Build a Barndominium in Idaho?
The cost of building a barndominium in Idaho will depend on a number of factors, including the size and location of the property, the materials used, and the labor costs. However, you can expect to pay anywhere from $100 to $200 per square foot for the construction of a barndominium in Idaho.
Building traditional homes in Idaho will cost roughly $240 per square foot. You should also bear in mind that this cost also doesn't account for non-livable spaces, such as attics or garages. Any other factors that you want to add to your homes, such as custom cabinetry, luxury flooring, or appliances, will also be an additional cost for you to consider.
It's also worth remembering that the overall cost of building a barndominium in Idaho will differ depending on the materials you choose to use.
Wood vs Metal Barndominiums
Metal barndominiums are overall cheaper than wooden barndominiums. You can typically buy barndominium kits to help with these types of builds. The barndominium kits are much easier to build than the wooden variant, too, as you can often build these yourself. You should weigh up the benefits of each to determine which barndominium you would prefer to build in Idaho. Mostly it will come down to personal taste as to which you prefer out of the two.
Barndominium Builders in Idaho
There are a number of barndominium builders in Idaho that can help you with your project. Some of these builders specialize in building barns, while others have experience building both barns and homes. When choosing a builder, be sure to ask about their experience building barndominiums specifically.
Some of the most popular builders are:
Cannon Farmhouse: With many years of of experiencing in building custom homes, especially in farmhouse barn style homes, Cannon Farmhouse Custom Homes is a great start when wanting to find someone who can guide you every step of the way, making the journey to your dream home easy and enjoyable
West Valley Construction: West Valley Construction has the know-how and experience to handle any construction project. They can provide you with everything from design, to assisting with all the building phases on their own so that there is no need for outside help or contractors.
Tru-Bilt Buildings: Tru-Bilt Buildings is a great company that customizes in building pole barn homes with high value add ons, full porches, and a huge range of color and style choices to choose from.
Barndominium Kits
A barndominium kit is a great option when it comes to building your new home. This option allows you to keep the cost down as well as work at your own pace. When you order a kit everything is delivered right to your property and you can then hire someone to assemble it at your own pace.
A great supplier and manufacturer of pre-engineered metal buildings for 50 years. With a supplier right in Idaho, this company gives the residents of Idaho the benefit of not having to fork out high shipping costs when they purchase their barn dominium kits. Offering a variety of barndominium kits their website provides a free building quote for your convenience.
Olympia Steel Buildings offers a variety of kits for Idaho homeowners. They have Bardominiums and framed houses to choose from, with most floor plans available as well! This company provides each kit with a 40-year limited warranty on paint, and rust, and prides itself on being made in America. Get an estimate on their website today.
Barndominium Floor Plans in Idaho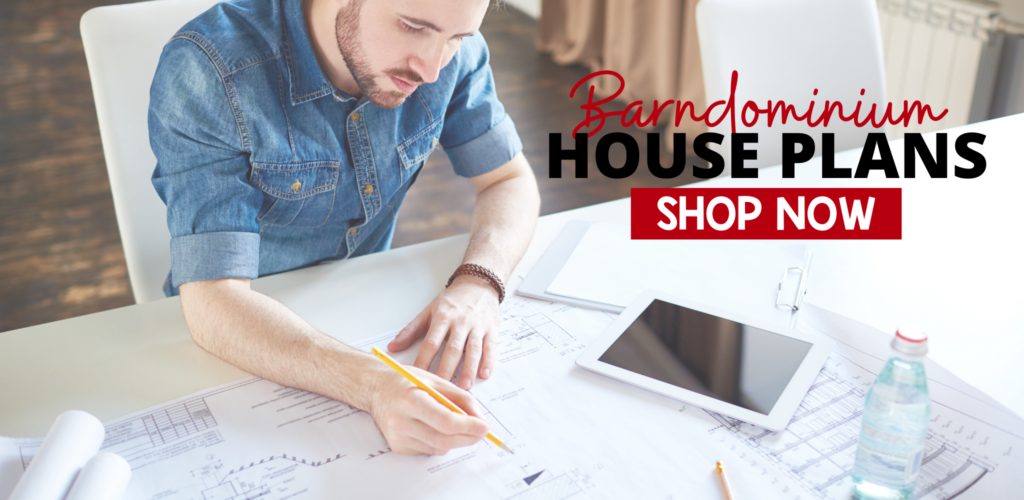 Are Barndominiums A Good Investment?
Barndominiums are generally considered to be a good investment. This is because they are often cheaper than building a traditional home from scratch and come with a range of other benefits.
They do have some negative points, true, but barndominiums are not for everyone. Typically they are built in more rural areas because they require your own plot of land to build them. This will be much better suited for those who want to escape the fast-paced city life.
Other benefits of building a barndominium over a traditional home include the fact that they offer superior durability, as well as the fact it takes a lot less time to build one. There will be fewer upkeep issues with a metal barndominium than you would have with a traditional home, which can be a lifesaver if you don't have the time to be constantly surveying your home for damage.
Another great advantage of barndominiums is that you can customize the space to suit your needs. A good quality barndominium will be able to suit multiple purposes because of the greater space. If you're self-employed or work from home, this gives barndominiums a massive advantage over traditional homes, which can limit you in terms of usability.
Barndominium Financing in Idaho
When it comes to financing your barndominium, there are a few things you need to know. First, you'll need to get pre-qualified for a loan. This will give you an idea of how much money you can borrow and what interest rate you'll be paying. Second, you'll need to find a lender that offers new build loans. These are loans that are specifically for people who are building their homes from scratch.
Third, you'll need to get quotes from a few different lenders. This will help you compare interest rates and terms. Once you've found the right lender, you can start working on your down payment and getting your barndominium built!
One of the best resources for getting barndominium financing is by using BarndominiumLoans.com. They are a quote service that takes down your information and works behind-the-scenes with vetted lenders who are best for your location and financial situation.
Whether you have a perfect credit score or a subpar one, and whether you're located in South Carolina or South Dakota, you can submit your information to get a quote within 24-48 hours.
Barndominium Financing Request
Finding Barndominium Insurance in Idaho
Once you've found the perfect barndominium floor plan and financing, it's time to find insurance. This is important because it will protect your investment in case of any accidents or damage. You'll want to get quotes from a few different companies so that you can compare rates and coverage.
Don't want all the hassle of building a barndominium from the ground up? Then you may want to buy an existing barndominium in Idaho! With our Barndominiums for Sale Marketplace, you can browse to your state and find a barndominium for sale near you.
The beauty of buying an existing barndominium is that it can be really easy to customize the floor plan to your liking. The previous owners' setup is just a starting point! Also, by buying a barndominium in Idaho, you bypass the potential troubles of the building process – delays, dealing with contractors and subcontractors, and city or county bureaucrats trying to make your build process a nightmare.
Don't delay – find a barndominium for sale in Idaho now!
Conclusion
Building a barndominium in Idaho is a great way to take advantage of the beauty that the state has to offer. By understanding the process that goes into a project like this, you can give yourself the best chance at getting your dream home. Be sure to check out the rest of Barndos.com for more helpful guides and tips and tricks from the pros.
If you are ready to start building the barndo of your dreams, check out our barndominium floor plans to help you create the barndominium of your dreams, or use a barndominium design software program to help you plan out your space for your new home. When in the planning stages, be sure you also check out the barndominium financing and insurance options that are available. For more helpful tips, visit our FAQ barndominium section to get answers to all your barndo questions.