Building a custom home can be incredibly exciting, and it has a lot of amazing benefits. However, it can also be very difficult and expensive, and it can cause a lot of stress, making it inaccessible to a lot of people. That's why building a barndominium in Massachusetts is such a great alternative for a lot of builders.
In this article, we have put together a complete guide to building a barndominium in Massachusetts. By understanding everything that goes into a project like this, you can give yourself the best shot at success. Being as prepared as possible will allow you to make your project a big success.
What is a Barndominium?
A barndominium is a home built using the shell and frame of a post frame building or pole barn. These types of buildings are usually reserved for things like warehouses, stables, storage, and barns. However, with a little design and imagination, they can also be turned into beautiful custom homes.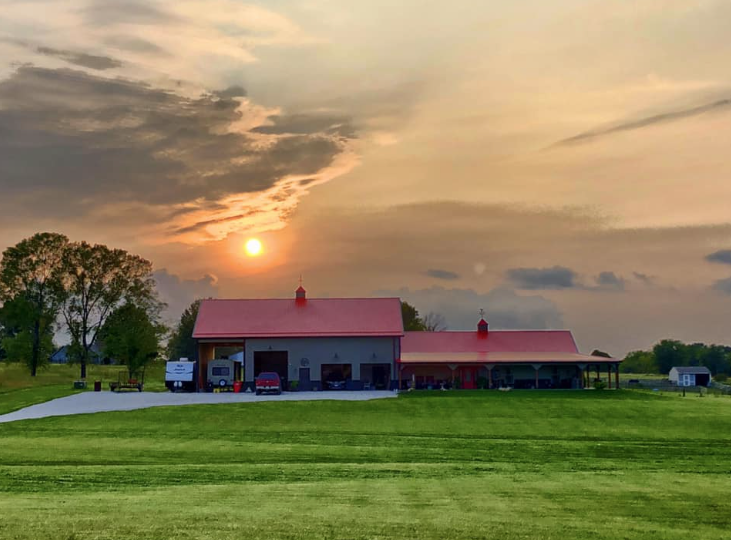 Barndominiums have a lot of benefits, but one of the most important is their durability. Their all-steel construction makes them very resilient to snow, ice, and moisture. In an area like Massachusetts, this can end up saving you a lot of money in the long run.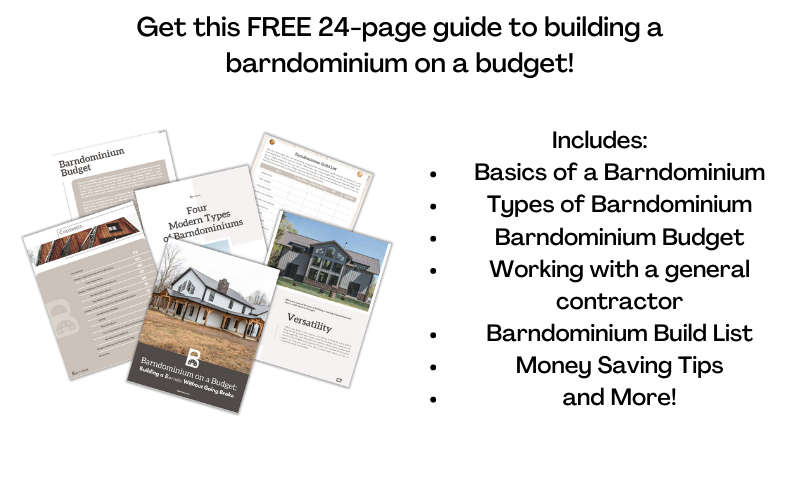 Barndominium Builders in Massachusetts
Morton Buildings
Morton Buildings is one of the largest builders of steel buildings in the Massachusetts area. They have been around since 1903, and they have built thousands of buildings in the New England region. They use this experience every single day when working on barndominiums in Massachusetts.
Morton Buildings is a 100% employee-owned company that believes in dedicating itself to the customer. They want to make sure that you are happy with every single aspect of the build. They will also ensure all your needs are met when designing the building and getting it done.
Back Forty Building Company
Back Forty Building Company is one of the rare builders that is completely dedicated to barndominiums. They not only build these unique homes, but they also live in them and know all about the lifestyle. If you want a dedicated company to build your barndominium in Massachusetts, they are a fantastic option.
One of the benefits of working with Back Forty Building Company is their ability to see you as a partner. They want to ensure you get everything you want once your home is built. They also give you the option to pick from a stock design or to completely create something new for your barndominium in Massachusetts.
Barndominium Kits in Massachusetts 
A barndominium kit is a great option when it comes to building your new home. This option allows you to keep the cost down as well as work at your own pace. When you order a kit everything is delivered right to your property and you can then hire someone to assemble it at your own pace.
DC Builders
DC Builders is one of the largest barndominium kit providers in the country. They have delivered thousands of kits all over the United States and hundreds in Massachusetts. If you want to be sure your barndo kit will be perfectly suited to your project, they are a fantastic option.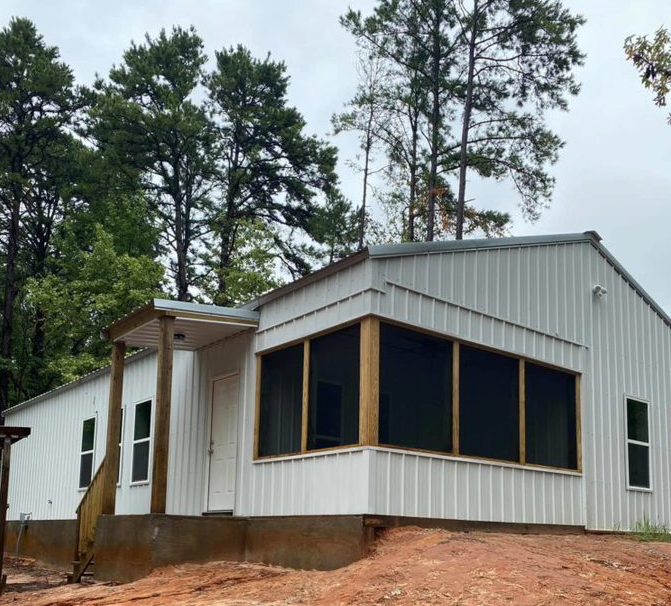 DC Builders also offers design services that allow you to create something truly unique for your barndominium in Massachusetts. They will work with you throughout the whole process and make sure you are thrilled with your home. Having such a large company on your side is a great way to get your perfect custom dream home.
Great Western Buildings
At Great Western Buildings, they have a philosophy of great customer service for their New England clients. They have delivered all kinds of building kits to the people of Massachusetts over the years, and they do it with their best interests at heart. If you want to work with a local company that believes in service, they are a great option.
One of the things that Great Western Buildings prides themselves on is their durability. Because they are based in New England, they understand the load requirements for buildings. They ensure that all their kits are strong enough to become a barndominium in Massachusetts.
Barndominium Floor Plans in Massachusetts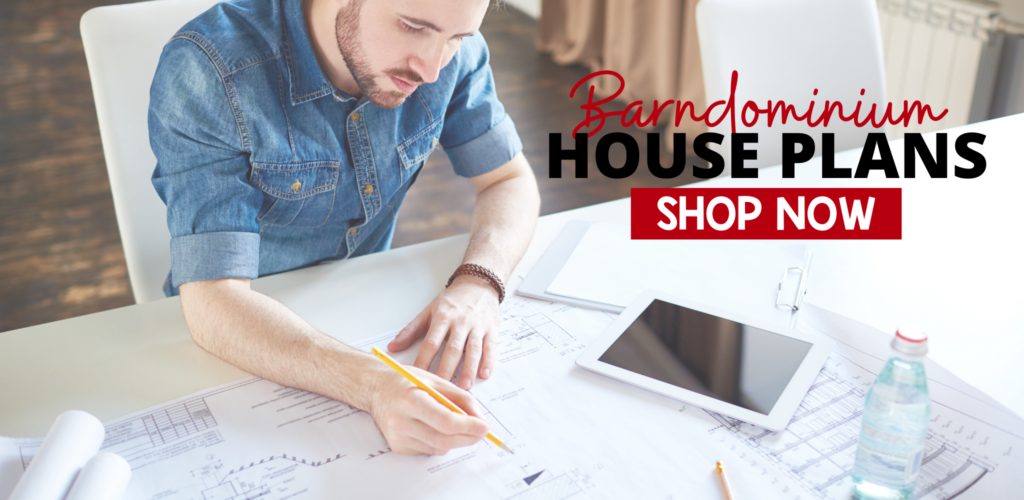 Barndominium Financing in Massachusetts
You will have to get financing for your barndominium in Massachusetts, no matter what kind you are building. Unfortunately, getting the financing, you need for your project can be incredibly difficult. Many banks and lenders won't quite understand what to do with your needs and financial requirements.
One of the best resources for getting barndominium financing is by using BarndominiumLoans.com. They are a quote service that takes down your information and works behind-the-scenes with vetted lenders who are best for your location and financial situation.
Whether you have a perfect credit score or a subpar one, and whether you're located in South Carolina or South Dakota, you can submit your information to get a quote within 24-48 hours.
Barndominium Financing Request
To give yourself the best possible chance at success for your barndominium in Massachusetts, you need to be prepared. Make sure you have your construction plan fully completed and a thorough floor plan. This will show the lender that you are serious about finishing the project and that you are not a risk.
Barndominium Insurance in Massachusetts
You will also most likely have to get insurance for your barndominium in Massachusetts. If you want to be sure your investment and your family are protected, it is essential. Unfortunately, just like with financing, it can be very difficult to get a good policy for your barndominium in Massachusetts.
If you want a better chance at getting the right policy, keep track of all your expenses while building. Then, get the home appraised by a professional appraiser once it is completely built. This will help the insurance agent find the best possible policy for your barndominium in Massachusetts.
Cost of Building a Barndominium in Massachusetts
One of the biggest benefits of building a barndominium in Massachusetts is its lower cost. For example, building a traditional home in the state will cost around $400 per square foot. It is important to note that this will only get you the house's structure and not any of the finishing work or furnishings you might want.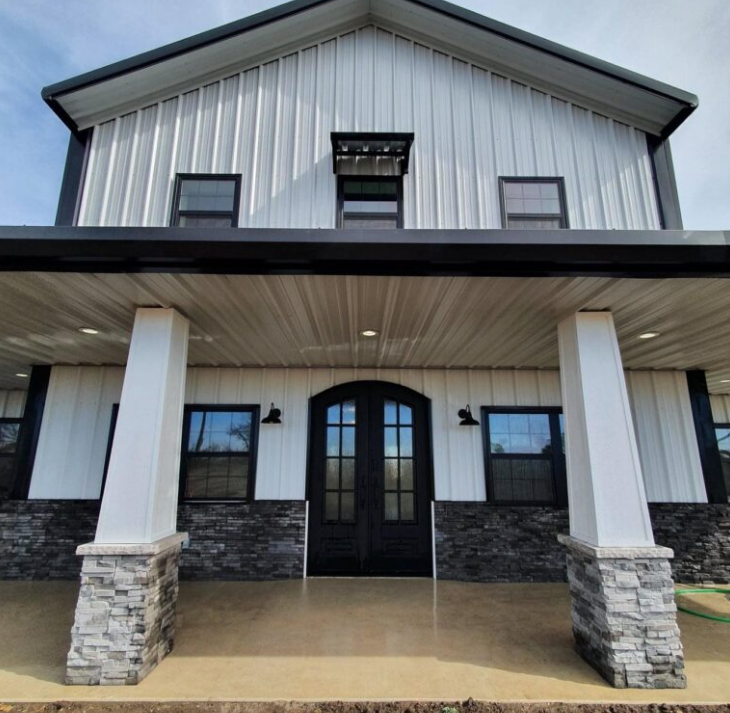 On the other hand, building a barndominium in Massachusetts is much cheaper. You can usually get a barndo built for around $260 per square foot. With this extra money, you should be able to get all the custom furnishings and things you would want when building a custom dream home.
Don't want all the hassle of building a barndominium from the ground up? Then you may want to buy an existing barndominium in Massachusetts! With our Barndominiums for Sale Marketplace, you can browse to your state and find a barndominium for sale near you.
The beauty of buying an existing barndominium is that it can be really easy to customize the floor plan to your liking. The previous owners' setup is just a starting point! Also, by buying a barndominium in Massachusetts, you bypass the potential troubles of the building process – delays, dealing with contractors and subcontractors, and city or county bureaucrats trying to make your build process a nightmare.
Don't delay – find a barndominium for sale in Massachusetts now!
Conclusion
Massachusetts is an amazing state with so many benefits and great features. If you are interested in building a barndominium in Massachusetts, check out the rest of Barndos.com. You will find all kinds of guides like this one and tips and tricks from the pros.
If you are ready to start building the barndo of your dreams, check out our barndominium floor plans to help you create the barndominium of your dreams or use a barndominium design software program to help you plan out your space for your new home. When in the planning stages, be sure you also check out the barndominium financing and insurance options that are available. For more helpful tips, visit our FAQ barndominium section to get answers to all your barndo questions.