Building your own home is incredibly exciting and can get you the custom home you have always dreamed of. However, the cost and stress that a project like this can create make it much less accessible than you might think. Because of that, building a barndominium in Washington could be a fantastic alternative for all kinds of people.
In this article, we have put together a complete guide to building a barndominium in Washington. By understanding everything that goes into a project like this, you can give yourself the best chance at success. Knowing everything you can will help you get the best possible final product for you and your family.
What is a Barndominium?
A barndominium is a home built using the frame and structure of a post frame building or pole barn. While these buildings are usually reserved for things like warehouses or stables, they are also great structures for homes. You can get a beautiful custom home with a little modification and imagination.
There are all kinds of advantages to building a barndominium in Washington. One of the most important, though, is their durable all-steel construction. In a place like Washington that gets a lot of rain, this can save you a lot of money on repairs in the long run.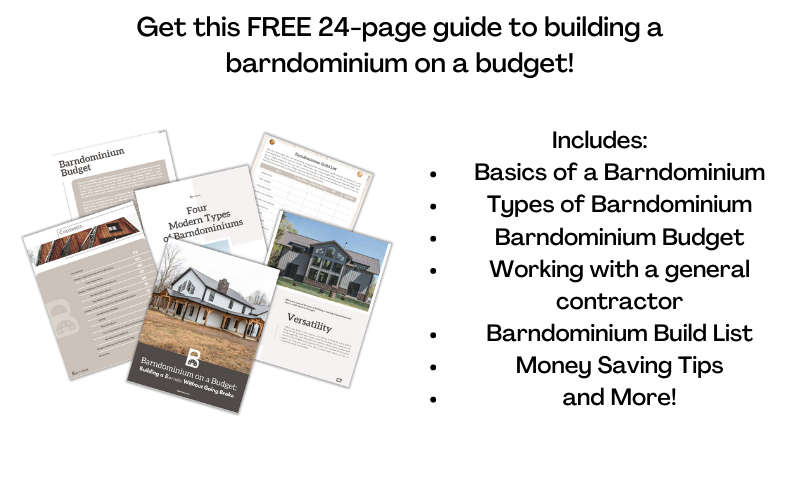 Barndominium Builders in Washington
Spane Buildings
Spane Buildings is a local builder for your barndominium in Washington with many years of experience. Because they are located in Washington, they understand everything it takes to build in the area. They know all the zoning laws and codes and can help you navigate the complicated process of building a home.
One of the biggest benefits of working with Spane Buildings for your barndominium in Washington is their experience. They have been around since 1945 and are deeply connected to the community. This makes them a great choice for your barndominium in Washington if you want to work with a local company.
Steel Structures America
Steel Structures America is a large national company but they are headquartered in Washington state. They are, without a doubt, the largest builder of steel buildings in the area, and they have years of experience. This makes them a great option if you want to get as much help as possible for your barndominium in Washington.
One of the biggest benefits of working with Steel Structures America for your home is their experience. They have built over 12,000 structures, and they continue to add more buildings to their portfolio. They will be able to tackle any issues that might come up and keep the stress levels very low.
Barndominium Kits in Washington
Worldwide Steel Buildings
Worldwide Steel Buildings has provided barndominium kits for all over the country. They believe that barndominiums should be unique to the particular customer and suit their needs. They will ensure that your kit is exactly built to your specifications and has everything you need for your perfect home.
Worldwide Steel Buildings also ensures that their barndominium kits are easy to build and low maintenance. This means that you can save money on both construction and upkeep. These things can cost you a lot of money if you aren't careful, and a kit from Worldwide Steel Buildings can mitigate those factors.
Solid Structures
Solid Structures is a kit provider for your barndominium in Washington that is dedicated to quality. They have old-school values and pride themselves on being as old-fashioned as possible. Regarding customer service, they believe that some things take precedence and priority.
Solid Structures has a wide variety of kits available for you to choose from for your barndominium in Washington. Whether you want to build a completely custom kit or just want a standard barndo, they have one for you. They are a fantastic option for all customers wanting to build a barndominium in Washington.
Barndominium Financing in Washington
You will have to get financing for your barndominium in Washington if you don't want to pay in a lump sum. Unfortunately, it can be difficult to get a bank or lending institution to give you a loan for a unique home. Getting a construction loan is hard enough as it is, and with a custom barndo, you could face challenges.
One of the best resources for getting barndominium financing is by using BarndominiumLoans.com. They are a quote service that takes down your information and works behind-the-scenes with vetted lenders who are best for your location and financial situation.
Whether you have a perfect credit score or a subpar one, and whether you're located in South Carolina or South Dakota, you can submit your information to get a quote within 24-48 hours.
Barndominium Financing Request
One of the things you should do to increase your chances is to be as prepared as possible. Have a detailed construction plan ready and a complete floor plan. This will show the lender that you are serious and plan on seeing the project through to the end.
Barndominium Insurance in Washington
You should also get insurance for your barndominium in Washington if you want to protect it. However, just like with the loan, it can be hard to find the right policy that will cover you and your investment. You will have to do some preparation to get the coverage you need.
While you are building your barndominium in Washington, be sure to keep track of all the spending you are doing. Then, get the home appraised by a professional home evaluator. This information will allow you and your insurance agent to find the perfect policy for your barndominium in Washington.
Cost of Building a Barndominium in Washington
One of the biggest advantages of building a barndominium in Washington is their lower construction price. For example, building a traditional home in Washington will cost around $310 per square foot. This price will only get you the structure and not any of the custom finishing work or furnishings you might want.
On the other hand, building a barndominium in Washington will cost around $230 per square foot. With this extra money, you will be able to get the custom features you would want when building your own home. This makes the time and effort it takes to get a project like this well worth it.
Don't want all the hassle of building a barndominium from the ground up? Then you may want to buy an existing barndominium in Washington! With our Barndominiums for Sale Marketplace, you can browse to your state and find a barndominium for sale near you.
The beauty of buying an existing barndominium is that it can be really easy to customize the floor plan to your liking. The previous owners' setup is just a starting point! Also, by buying a barndominium in Washington, you bypass the potential troubles of the building process – delays, dealing with contractors and subcontractors, and city or county bureaucrats trying to make your build process a nightmare.
Don't delay – find a barndominium for sale in Washington now!
Conclusion
Washington is a beautiful state that has all kinds of fantastic features and benefits. If you want more information about building a barndominium in Washington, check out the rest of Barndos.com. You will find all kinds of guides like this one and tips and tricks from the pros.
If you are ready to start building the barndo of your dreams, check out our barndominium floor plans to help you create the barndominium of your dreams or use a barndominium design software program to help you plan out your space for your new home. When in the planning stages, be sure you also check out the barndominium financing and insurance options that are available. For more helpful tips, visit our FAQ barndominium section to get answers to all your barndo questions.